DHFL Shares Rally Nearly 10% on Good Results
Jun 7, 2021
Shares of Dewan Housing Finance Corporation (DHFL) jumped nearly 10% today after the company reported a consolidated net profit of Rs 967.5 m for the quarter ended March 2021.
The company, which is under the corporate insolvency process, had posted a net loss of Rs 75 bn in the same quarter last year.
However, the company's net revenue declined 14% to Rs 20.3 bn compared to Rs 23.8 bn in March 2020.
For the full year, DHFL reported a loss of Rs 150 bn while total income stood lower at Rs 88 bn. The company reported a negative net worth of Rs 206.4 bn.
DHFL Insolvency Case: NCLT Approves Piramal Group's Resolution Plan
The National Company Law Tribunal (NCLT) also approved the Piramal Group's overall resolution plan for Dewan Housing Finance (DHFL) today.
In its order, the tribunal asked the company's Committee of Creditors (CoC) to consider giving more money to small, fixed deposit (FD) holders under the approved resolution plan.
The CoC may thus consider re-allocation of funds.
--- Advertisement ---
This is a Powerful Mega Trend Playing Out in India

We have uncovered a powerful mega trend that is playing out in India right now.

It could potentially generate immense wealth for early movers.

Our co-head of research Tanushree Banerjee has also zeroed in on one specific stock riding this mega trend.

It's her #1 stock pick right now.

And she believes, this could be one of the top stocks to get to potential Rs 7 crore wealth over the long term.

Tanushree will reveal all the details about this mega trend and her #1 stock at her special online event on July 29.

At the event Tanushree will also show you, how to potentially accumulate Rs 7 crore in wealth over the long term.

What you learn at the event could possibly change your financial fortunes forever.

Click here to reserve your FREE seat.
------------------------------
The approval of NCLT for the resolution plan is a major step in the DHFL resolution saga.
DHFL's resolution has been ongoing since November 2019 when it became the first non-banking finance company (NBFC) to be taken to the NCLT by the lenders.
DHFL owes its lenders around Rs 910 bn.
State Bank of India is its biggest creditor, with an exposure of around Rs 100 bn.
Other lenders include Bank of India, Canara Bank, NHB, Union Bank of India, Syndicate Bank, and Bank of Baroda.
The Reserve Bank of India (RBI) had on 20 November 2019, superseded DHFL's board of directors on account of 'governance concerns and defaults by DHFL in meeting various payment obligations.'
Following this, the CoC in January accepted the Piramal Group's resolution bid. This was approved by the RBI on 18 February.
Piramal Enterprises, a diversified Indian conglomerate, got more than 94% votes for its bid whereas Oaktree, an American asset management company, secured around 45% votes. Adani Capital is believed to have got 18% votes.
Oaktree's bid for DHFL was at Rs 384 bn against Piramal's Rs 372.5 bn. However, Piramal's offer had a higher upfront cash payment and is likely to have swung support in its favour.
Wadhawan had proposed to pay 100% principal amount to all DHFL's creditors, including the holders of non-convertible debentures and fixed deposits.
Free Signup: The Smallcap Revival Summit
In a revised proposal of Rs 911.6 bn for the creditors, he promised to make an upfront payment of Rs 90 bn. His offer is Rs 500 bn higher than what the Piramal Group offered.
However, lenders are not too keen on this based on legal advice from their counsel.
How the stock markets reacted to DHFL's Results
Shares of DHFL opened higher at Rs 20.8 on both the BSE and the NSE today.
The stock rallied 9.7%, its highest trading permissible limit for the day after the company reported its March quarter earnings.
It has gained 43% in the last 12 months. However, it's down more than 3,000% from its high of 678 in 2018.
The scrip touched its 52-week high of Rs 43 on 14 December 2020 and its 52-week low of Rs 12 on 9 October 2020.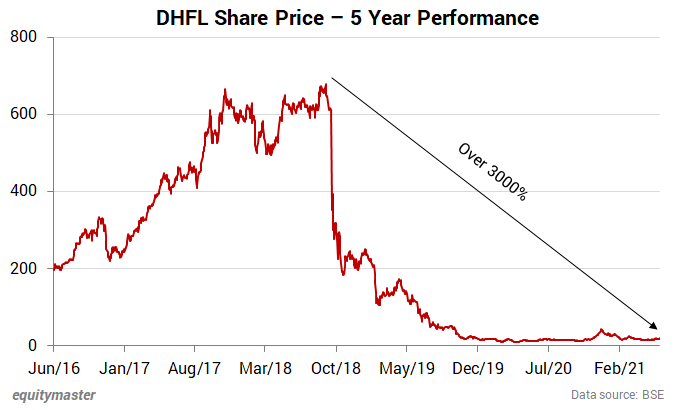 About DHFL
Dewan Housing Finance Corporation Limited (DHFL) is a deposit-taking housing finance company, headquartered in Mumbai with branches in major cities across India.
DHFL was established to enable access to economical housing finance to the lower and middle income groups in semi-urban and rural parts of India.
It's the second housing finance company to be established in the country. The company also leases commercial and residential premises.
For more details about the company, you can have a look at DHFL's factsheet and DHFL's quarterly results on our website.
You can also compare DHFL with its peers.
DHFL vs Power Finance Corporation
To know what's moving the Indian stock markets today, check out the most recent share market updates here.
Ayesha Shetty is a financial writer with the StockSelect team at Equitymaster. An engineer by qualification, she uses her analytical skills to decode the latest developments in financial markets. This reflects in her well-researched and insightful articles. When she is not busy separating financial fact from fiction, she can be found reading about new trends in technology and international politics.