Union Bank of India Swings to Profit as Asset Quality Improves
Jun 8, 2021
In its latest quarterly results, Union Bank of India (UBI) posted a standalone net profit of Rs 13.3 bn for the quarter ended March 2021.
The state-run lender had reported a loss of Rs 25 bn in the same period last year.
Union Bank of India clarified that the financial results for the year 2021 and its fourth quarter are not comparable to corresponding figures in the year-ago period as working results for the quarter/year ended March 2021, include operations of erstwhile Andhra Bank and erstwhile Corporation Bank.
The central government had approved the scheme of amalgamation of the three banks on 4 March 2020, which came into effect on 1 April 2020.
For the full year 2020-21, there was a net profit of Rs 29.1 bn on a standalone basis. In 2019-20, the bank reported a net loss of Rs 29 bn, as an unamalgamated entity.
Operational performance
Total income during March quarter was Rs 200.3 bn. In the year-ago period it was Rs 113.1 bn.
The company's total income during the year was recorded at Rs 801 bn, against Rs 424.9 bn in the previous year.
Operating Profit of the bank improved by 40.4% at Rs 51.8 bn during the March quarter, compared to the same quarter last year.
For the full year, the company's operating profit stood at Rs 192.6 bn, up 6.5% compared to Rs 180.8 bn in the previous financial year.
Asset quality improves
The bank saw its asset quality improve, with gross non-performing assets (NPAs) decline to 13.7% of the gross advances as of 31 March 2021, against 14.2% by the end of same month last year.
Net NPAs or bad loans came down to 4.6% from 5.5%.
The bank said it has not classified the borrower account of Delhi Airport Metro Express (DAMEPL) as NPA in accordance to a supreme court order.
However, following Reserve Bank of India (RBI) directives dated 21 June 2019, the bank has not treated Rs 949 m as NPA against DAMEPL and made the provisions to the tune of Rs 433.1 m in accordance with the Income Recognition and Asset Classification and Provisioning (IRAC) norms, notionally treating the account as NPA.
Further, the bank also has exposure of Rs 32.7 bn with two borrower accounts belonging to another business group.
In terms of national company law tribunal (NCLT), Kolkata bench order dated 21 October 2020, the bank has not declared these accounts as NPA and maintained status quo until further orders. As a prudence, the bank has made a provision of Rs 5.5 bn pending final decision.
Other key highlights
Bank continues to demonstrate a strong liability franchise

The CASA (current account and savings accounts) deposits have increased by 13.2% YoY. Total deposits base stood at Rs 9.2 bn at the end of the fourth quarter.

CASA ratio improved to 36.3% from 34.2% a year ago.
Credit in retail, agri and MSME (RAM) segments grown by 8.4% YoY

Bank registered 10.5% growth in retail, 11.9% growth in agriculture, 3.2% growth in (micro, small & medium enterprises) MSME advances.

Average advances has grown by 3.1% YoY. Domestic advance including CP and corporate bonds has grown by 1.1% YoY.
Reduction in slippages

Slippages during the financial has reduced by 30.6% compare to the previous year (from Rs 251.5 bn during FY20 to Rs 174.4 bn during FY21).

Net NPA during the March quarter stood at 4.6%.
Provision coverage ratio of the bank improves

Provision coverage ratio of the bank improved to 81.3% as on 31 March 2021 against 78.2% in the same period last year.
Robust performance on EASE 3.0 parameters during the third quarter of 2021

Under EASE (enhanced access and service excellence) bank has secured third position in overall ranking and top 3 position in 4 themes out of 5, amongst public sector banks (PSBs) during the last quarter of 2021.
On the impact of Covid-19 pandemic, Union Bank of India said,
Though the situation continues to remain uncertain, the bank is continuously monitoring the situation and taking all possible measures to ensure continuance of full-fledged banking operations.

The management believes that there would not be any significant impact on bank's performance in future and going concern assumptions.
Union Bank to sell Rs 78 bn loans to NARC
CEO Rajkiran Rai said he expects loan growth to pick up pace to between 8% and 10% and net NPA to fall below 3% this fiscal year.
This along will cost savings associated with the merger of Corporation and Andhra Bank with UBI last April will boost profitability.
"We estimated Rs 36 bn of cost benefits over three years after the merger out of which Rs 12.4 bn has already come. We plan to shut down 750 branches out of which 400 are in the process or identified. Costs will also come down from savings in IT and other harmonies," he said.
The bank restructured loans of 1.3% of its loan book in the financial year 2021.
However, Mr Rai said it is too early to estimate the restructuring through the second window opened by RBI in April even as he expressed hope that collection efficiency will improve as lockdown restrictions ease from June.
As chairman of the banker's body, Indian Banks' Association (IBA), Mr Rai has been instrumental in preparing the base for a new national asset reconstruction company (NARC).
UBI has identified 17 accounts worth Rs 78 bn for sale to the NARC out of which it is the lead bank in two of them.
"Though there are modalities to be worked out it is estimated that the banking system will put up Rs 890 bn of loans to sale to the NARC in the first round," Mr Rai said.
UBI itself plans to step up its bad loan recoveries to Rs 130 bn this year Rs 90 bn of which will come outside the insolvency and bankruptcy code (IBC) mechanism, after recovering Rs 108 bn this year.
It expects it loan delinquency rate to be at 2.5% or below after pressure on recovery eases as growth picks up following a difficult first quarter.
Union Bank of India's Shareholding Pattern as on 25 May 2021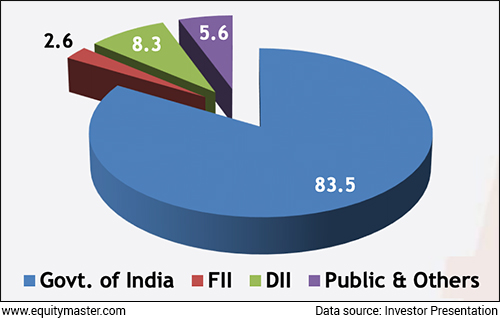 Equitymaster's view on Union Bank of India's March quarter performance
We reached out to Aditya Vora, Research Analyst at Equitymaster, for his view on the company's quarter four performance.
Here's what he has to say...
The asset quality of Union Bank is relatively better than majority of its public sector peers. With the likely transfer of Rs 78 bn of bad loans to the bad bank, we believe the stress in the balance sheet is likely to come down.

Union Bank trades at 0.4 FY23 P/B, offering valuation comfort.

Going forward, Union Bank is well placed to capitalise on the pickup in the corporate credit cycle.
How the stock markets reacted to Union Bank of India's March quarter numbers today
Shares of Union Bank opened the day at Rs 36.6 on the BSE and Rs 36.5 on the NSE.
Union Bank share price ended on a flat note today on the BSE.
The share touched its 52-week high of Rs 45.3 and 52-week low of Rs 23.1 on 18 February 2021 and 16 October 2020, respectively.
Over the last 30 days, the Union Bank share price is up 2.8%. Over the last one year, the company's share price is up 25.6%.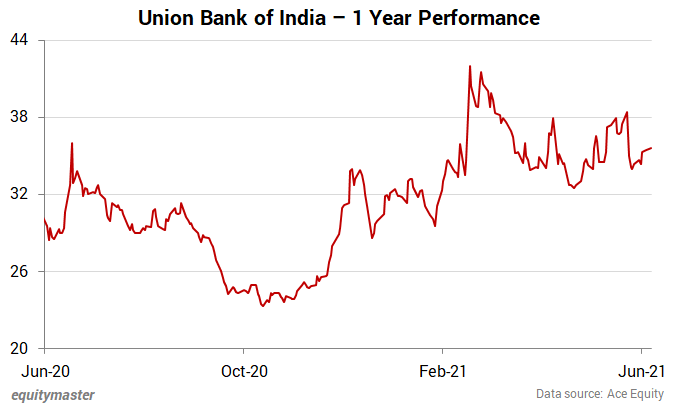 About Union Bank of India
Union Bank of India is one of the largest Indian government-owned banks. It is under the ownership of Ministry of Finance, with more than 120 m customers and a total business of US$106 bn.
After the amalgamation with Corporation Bank and Andhra Bank, which came into effect on 1 April 2020, the amalgamated entity becomes the fifth largest PSU bank in terms of branch network.
UBI now has around 9,500 branches after the amalgamation. Four of these are overseas in Hong Kong, Dubai, Antwerp, and Sydney.
UBI also has representative offices at Shanghai, Beijing, and Abu Dhabi.
Lastly, UBI operates in the United Kingdom through its wholly owned subsidiary, Union Bank of India (UK).
Union Bank of India was the anchor bank for both Andhra Bank and Corporation Bank, which came into effect on 1 April 2020 as announced by finance Minister of India Nirmala Sitharaman.
For more details about the company, you can have a look at Union Bank of India's factsheet and quarterly results on our website.
You can also compare Union Bank of India with its peers.
Union Bank of India vs Punjab National Bank
Union Bank of India vs Bank of Baroda
To know what's moving the Indian stock markets today, check out the most recent share market updates here.