Jubilant Pharmova Drops 6% on Weak March Quarter Numbers
Jun 8, 2021
Drug maker Jubilant Pharmova on Friday reported a consolidated net profit of Rs 2.1 bn for the fourth quarter ended March 2021.
The company had posted a net profit of Rs 2.6 bn in the January-March quarter of 2019-20.
For the entire financial year, the company reported a consolidated net profit of Rs 8.4 bn. It was Rs 9 bn in the last year.
Sales stood at Rs 15.5 bn for the fourth quarter while the same was at Rs 15 bn in the same period of the last year.
The drug company noted that the figures for the current quarter and year were not comparable with previous periods since the life science ingredients (LSI) business demerged from it with effect from February 2021.
Earnings before interest, taxes, depreciation and ammortisation (EBITDA) for the quarter ended March 2021 was Rs 4.6 bn against Rs 5.6 bn during the previous year, down 17.9%.
The company's EBITDA for the financial year was Rs 19.2 bn, down 4% from Rs 20 bn reported last year.
Revenues and EBITDA continued to see impact of Covid-19 on the pharmaceuticals business particularly radio pharma.
Key Financial Indicators

The Debt Profile
The company reduced its gross debt to Rs 26 bn from Rs 33.6 bn as on 31 March 2020.
Jubilant Pharmova's net debt (in constant currency) reduced by Rs 2.2 bn during the year 2021. Consolidated net debt (in constant currency) reduced by Rs 12.93 bn.
Reduction in the year 2021 includes the transfer of external debt of Rs 6.1 bn on 1 February 2021 to Jubilant Ingrevia (due to the demerger of LSI business).
Equity dividend
The company's board has recommended a final dividend of Rs 5 per equity share of the face value of Rs 1 each for the financial year ended 31 March 2021.
The final dividend for the financial year will be paid on or before 20 October 2021, if approved by members.
Segment wise analysis for continuing operations
Radiopharma was impacted due to lower procedures especially related to lung scans due to Covid-19 and competition.
Regarding ruby-fill litigation, the company received a favourable and unanimous judgment from the United States court of appeals summarily affirming Jubilant's earlier favourable rulings from the US patent office ("PTAB") and the US international trade commission (ITC).
These two rulings by the appellate court deny the appeals filed by Bracco Diagnostics, Inc (Bracco).
Ruby-fill commercially launched in Europe in the third quarter of 2021, expanding distribution network for Ruby-fill in the country.
Contract manufacturing organisations (CMO) business revenue grew YoY based on strong demand from customers as well as Covid related deals.
Its research and development (R&D) for the quarter was Rs 500 m - 3.3% to segment sales.
Business outlook
Radiopharma: The company to build a long term pipeline of radiopharmaceuticals including generics as well as proprietary products being used as diagnostic, therapeutic, theranostic, and devices, via in-house R&D as well as strategic partnerships with key nuclear medicine companies.
It expects one product launch in radiopharma in FY22.
Radiopharmacy: The company will execute a detailed turnaround plan of radiopharmacies to grow top line strongly with new customer wins, expand network to service newer geographies and enhance cost and procurement efficiencies.
With a detailed turnaround plan of radiopharmacy, they expect to break even in the next two-three years.
Allergy: The company remains well positioned to expand volumes and growth in both venom and non-venom extracts in the US and non-US markets over the coming years.
CMO: The drug maker has a strong visible order book of Rs 36 bn that would be serviced over the next three years.
Against Rs 5 bn in revenues indicated earlier from the five CMO deals signed in the financial year 2021, they realised around Rs 5.4 bn.
These deals are estimated to contribute further revenues of approximately Rs 2 bn in FY22.
They are also adding a high speed fill/finish line with isolator technology at Spokane site to expand capacity by 50% that will come into commercial operations by end of 2024.
Generics: The company has seen pricing pressure in a few products in the US.
They plan to launch new products in the US via in-licensing and contract manufacturing.
The company is expecting to launch new products from Roorkee site once the warning letter is lifted.
Contract research and development services (CRDS): The business will continue to grow especially with upcoming commissioning of additional capacity.
Capex: The drug company said it plans to incur a capital expenditure of Rs 7-8 bn in the current financial year on the addition of a new high speed fill and finish line with lyophilizer at Spokane site (US) and expansion of CRDS (contract research and development services) capacity.
Jubilant Pharmova had a capex of Rs 2.8 bn in the financial year ended 2021.
Equitymaster's View on the Pharma Sector
We reached out to Tanushree Banerjee, Co-Head of Research at Equitymaster, and editor of the premium stock recommendation service StockSelect, for her view on the pharma sector.
Here's what she has to say...
The second Covid wave has given a new lease of life to pharma stocks. As the sector continues to invest in capacities for new drugs, the profitability will depend on the companies' ability to seek USFDA approval for the plants.

Or their ability to tie up with MNC pharma for producing variants of their vaccine.
How the stock markets reacted to Jubilant Pharmova March quarter numbers yesterday
Yesterday, Jubilant Pharmova share price closed at Rs 786.9 (down 5.9%) on the BSE and Rs 786.3 (down 6%) on the NSE.
Jubilant Pharmova share price closed at Rs 786.9 (down 5.9%) on the BSE and Rs 786.3 (down 6%) on the NSE.
At its current price, it is trading at a P/E of 14.
The share touched its 52-week high of Rs 1,047 and 52-week low of Rs 511.8 on 3 February 2021 and 8 June 2020, respectively.
Over the last 30 days, the Jubilant Pharmova share price is down 2%. Over the last one year, the company's share price is up 53.9%.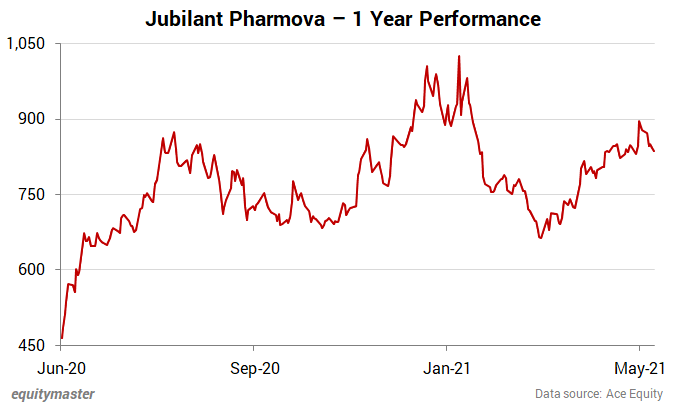 About Jubilant Pharmova
Jubilant Pharmova (formerly known as Jubilant Life Sciences) focuses on offering products and services with, excellence in research and manufacturing, catering to health needs at an affordable price.
It's an integrated global pharmaceuticals company having three business segments -pharmaceuticals, contract research and development services, and proprietary novel drugs.
Pharmaceuticals business through Jubilant Pharma is engaged in manufacturing and supply of radiopharmaceuticals with a network of 49 radiopharmacies in the US, allergy therapy products, contract manufacturing of sterile injectibles and non-sterile products, active pharmaceutical ingredients, and solid dosage formulations through six USFDA approved manufacturing facilities in the US, Canada, and India.
Contract research and development services business represented by Jubilant Biosys provides innovation and collaborative research to global pharmaceutical innovators through two world-class research centers in Bengaluru and Noida in India.
Proprietary novel drugs business through Jubilant Therapeutics Inc is an innovative patient-centric biopharmaceutical company developing breakthrough therapies in the area of oncology and auto-immune disorders.
For more details about the company, you can have a look at Jubilant Pharmova factsheet and quarterly results on our website.
You can also compare Jubilant Pharmova with its peers.
Jubilant Pharmova vs Divi's Laboratories
To know what's moving the Indian stock markets today, check out the most recent share market updates here.