PNB Reports Profit in March Quarter After Three-Way Amalgamation
Jun 8, 2021
State-owned lender Punjab National Bank (PNB), on Friday, reported standalone net profit of Rs 5.9 bn for the quarter ended March 2021 on the back of higher net interest income and other income.
The bank had reported a loss of Rs 7 bn in the year ago quarter.
Sequentially, the net profit has increased 16% from Rs 5.1 bn posted in the October-December quarter.
However, the year on year (YoY) numbers are not comparable as Oriental Bank of Commerce and United Bank of India merged into PNB from 1 April 2020.
For the complete financial year, the bank reported a net profit of Rs 20.2 bn.
The net interest income (NII) for the public sector bank jumped over 48% to Rs 69.4 bn on a standalone basis.
It was Rs 46.8 bn in the same quarter a year earlier.
The NII grew by 17% YoY to Rs 304.8 bn in the financial year 2021.
NII is the difference between interest earned by a bank through lending and interest paid to depositors.
Punjab National Bank reported 35.4% YoY rise in total consolidated revenues for the March 2021 quarter at Rs 227.8 bn.
The company saw a sharp spike in treasury income as well as income from wholesale banking and retail banking due to the three-way amalgamation of United Bank of India and Oriental Bank of Commerce with Punjab national Bank.
--- Advertisement ---
[Alert] Sell These 3 Stocks Immediately

These 3 stocks are ticking time bombs in your portfolio.

It is very likely that you could be owning these 3 overvalued...

fundamentally weak... ready to crash stocks... in your portfolio today.

Because many stock brokers have painted rosy pictures of these stocks. But the reality is starkly different.

If the market crashes, then these stocks could wipe out your wealth.

You should get rid of these stocks as soon as possible.

We are going to reveal details of these 3 landmines at our upcoming special event at 5 pm on September 24.

You can click here to sign-up. It's free
------------------------------
Business performance in key parameters
Total domestic deposits were at Rs 10.8 tn in the financial year 2021, against Rs 10.5 tn in the same period last year, up 2.8%.
Domestic advances stood at Rs 7.2 bn as at the end of March 2021, against Rs 7.4 bn in the previous year.
During the financial year, the company's domestic business stood at Rs 18 tn compared to Rs 17.9 tn in the last year.
CASA deposit (current account and savings account) came in at Rs 4.9 tn for the year ended March 2021 compared to Rs 4.4 tn in the same period last year, up 11.2%.
The company's current deposit stood at Rs 755.5 bn at the end the financial year, against Rs 703 bn in the last year with YoY growth of 7.5%.
Asset quality
Gross non-performing assets (NPAs) as a % of total loans fell to 14.1% in the March quarter, compared to 14.2% a year ago and 13% in the previous quarter.
Its net non-performing assets fell at 5.7% from 5.8% in the same quarter last year and 4% in the previous quarter.
The bank made provisions for NPAs to the tune of Rs 52.9 bn for the fourth quarter.
This is higher by 15% as compared to the provisions of Rs 46.2 bn in the same period, a year ago.
The provisioning coverage ratio of the lender was 80.1% as of 31 March against 77.8% last year.
The capital adequacy ratio of the lender stood at the same level as last year of 14.3%.
--- Advertisement ---
INSIDER SECRET: An Astonishingly Easy Way to Pile Up Potentially 40-60% Gains in Just 1 Year

India's most well-connected trader with over 35 years of experience just confessed...

"This Lucrative Market Segment Could Leapfrog Over Nifty in The Next 12-16 Months"

... thanks to a massive and irreversible mega-trend fueling its growth!

In fact, he and his partner have already identified 2 spectacular stocks from this segment... which are ready to rake in potentially 40-60% gains in just 1 year... and make you big, fat profits!

The best part of them all...

Their Details Are Packed in This Special Report (Discover How to Claim it for Free)
------------------------------
Digitalisation
For the financial year, internet banking services users increased to 25.6 m from 22.1 m reported in the last year.
PNB's mobile banking service users increased to 20 m in the financial year ended 2021, from 16.7 m in the last year.
Unified payments interface (UPI) transactions increased by 123.2% YoY to 1.3 bn.
National Automated Clearing House (NACH) transactions increased YoY by 49.2 % to 47.8 m.
NACH is a web-based platform to facilitate interbank, high volume, electronic transactions for banks, financial institutions, corporates, and the government.
It basically functions like an electronic clearing service available especially for banks.
Commenting on the results, the company said in a filing,
The current coronavirus situation continues to be uncertain and the bank is evaluating the impact on an ongoing basis.

The extent to which the Covid-19 pandemic will impact the results will depend on future developments, which are highly uncertain including among other things, the success of vaccination drive.
PNB to transfer bad loans worth Rs 80 bn to NARCL
Punjab National Bank has identified bad loans worth Rs 80 bn that it will transfer to the national asset reconstruction company (NARCL), expected to be operational from July, the lender's managing director S. S. Mallikarjuna Rao said.
The bad bank, initially proposed by the Indian banks association, and later endorsed by the government in the union budget, will have public sectors banks as its promoters, who will collectively hold 51% in the bad bank.
PNB's share in the bad bank will be little less than 10%, Mr Rao said.
The bad bank will help in aggregating the loan book of stressed assets from all banks, and facilitate an easy process of auctioning through the Swiss challenge method.
However, the operational guidelines are in final stages, and the decision whether such assets will have to be transferred to the bad bank at net book value, is yet to be taken, he added.
RESPONSE PENDING: Your Invitation to Attend the Super Smallcaps Summit
PNB'S asset sale
The bank's board has decided to exit Canara HSBC Oriental Bank of Commerce Life Insurance Company (CHOICE), and the sale process would take around 1-1.5 years as it would involve appointment of intermediaries and engagement with advisors.
The bank expects to exit the insurance venture at a good valuation.
The bank has also decided to exit asset reconstruction company India (Arcil), and currently doesn't have any plan to further cut its stake in PNB Housing Finance.
In current quarter, the bank expects substantial recovery from dewan housing finance corporation (DHFL), although there are some issues lingering at national company law appellate tribunal (NCLAT), Mr Rao said.
Overall recovery in April-June would be around Rs 80 bn - Rs 100 bn. The bank has already realised Rs 30 bn, he said.
Punjab National Bank's shareholding pattern as on 31 March 2021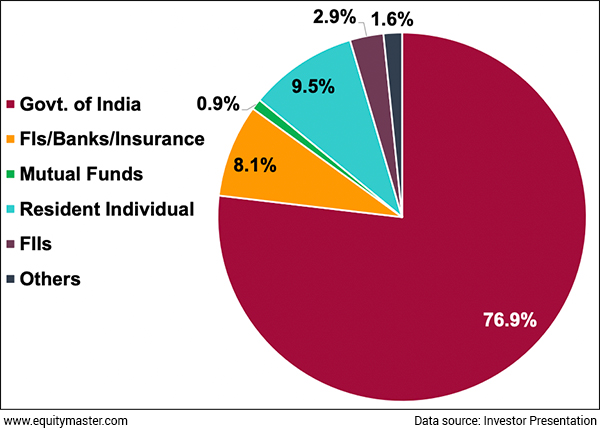 How the stock market reacted to Punjab National Bank's March quarter numbers today
Shares of Punjab National Bank opened the day at Rs 43 on the BSE and the NSE.
Yesterday, PNB share price closed at Rs 42.1 (down 2.3%) on the BSE and the NSE.
At its current price, it is trading at a P/E of 44.4.
The share touched its 52-week high of Rs 46.4 and 52-week low of Rs 26.3 on 19 February 2021 and 20 October 2020, respectively.
Over the last 30 days, the PNB share price is up 22.3%. Over the last one year, the company's share price is up 39.5%.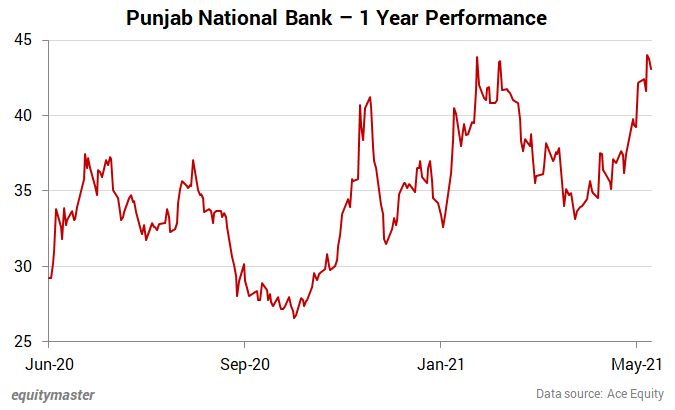 About Punjab National Bank
Punjab National Bank, abbreviated as PNB, is an Indian government owned bank.
It's under the ownership of ministry of finance, government of India headquartered in New Delhi, India.
The bank was founded in 1894 and is the second largest government owned bank in India, both in terms of business and its network.
The bank has over 180 m customers, 12,248 branches and 13,000+ ATMs post-merger with United Bank of India and Oriental Bank of Commerce, effective from 1 April 2020.
PNB has a banking subsidiary in the UK (PNB international bank, with seven branches in the UK), as well as branches in Hong Kong, Kowloon, Dubai, and Kabul.
For more details about the company, you can have a look at Punjab National Bank factsheet and quarterly results on our website.
You can also compare Punjab National Bank with its peers.
Punjab National Bank vs Canara Bank
Punjab National Bank vs Bank of Baroda
To know what's moving the Indian stock markets today, check out the most recent share market updates here.