Va Tech Wabag Shares Get a Boost on Good Financial Results
Jun 8, 2021
Shares of Va Tech Wabag, a leading player in water technology space, neared its 52-week high.
This after the company posted strong bottomline for the financial year and quarter ended March 2021.
Stock rose over 7% yesterday and is up 2.5% today.
Key financial highlights
Va Tech Wabag reported a 53% increase in its consolidated profit after tax (PAT) at Rs 466 m for the quarter ended March 2021 compared with a PAT of Rs 304 m last year.
Revenues grew 27% to Rs 10 bn compared with Rs 7.9 bn, on the back of strong order book.
--- Advertisement ---
This is a Powerful Mega Trend Playing Out in India

We have uncovered a powerful mega trend that is playing out in India right now.

It could potentially generate immense wealth for early movers.

Our co-head of research Tanushree Banerjee has also zeroed in on one specific stock riding this mega trend.

It's her #1 stock pick right now.

And she believes, this could be one of the top stocks to get to potential Rs 7 crore wealth over the long term.

Tanushree will reveal all the details about this mega trend and her #1 stock at her special online event on July 29.

At the event Tanushree will also show you, how to potentially accumulate Rs 7 crore in wealth over the long term.

What you learn at the event could possibly change your financial fortunes forever.

Click here to reserve your FREE seat.
------------------------------
The company's total order book stood at Rs 95.8 bn at the end of March 2021.
Here's a table comparing Va Tech Wabag's quarterly performance on key parameters.
Financial Performance
| (Rs m) | Mar-21 | Mar-20 | YoY (%) |
| --- | --- | --- | --- |
| Revenues | 9,993 | 7,851 | 27% |
| Cost of Sales | 7,991 | 6,075 | 32% |
| EBITDA | 764 | 748 | 2% |
| Profit after tax | 466 | 304 | 53% |
Data Source: Investor Presentation
For the full year ended March 2021, the company's consolidated PAT grew 21% to Rs 1.1 bn. This compared with Rs 910 m in the same period last year.
Full year revenues stood at Rs 28.3 bn compared to Rs 25.6 bn in financial year 2019-20. EBITDA came in at Rs 2.2 bn.
Revenue Breakup - Financial Year 2020-21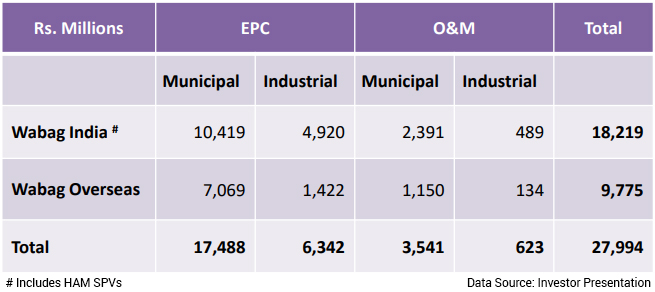 Commenting on the performance, the company's MD Rajiv Mittal said,
The performance for FY21, is a reflection of our cash focused approach to revert back to net cash positive and generate consecutive years of operational cash flow.

This was well aided by our quality of orderbook and annuity business.

We are well poised to improve further from here on and generate value for our stakeholders with close to 10,000 crore worth of orders to execute.
This was Va Tech Wabag's second consecutive year of free cash flow generation of Rs 960 m on consolidated basis and Rs 690 m on a standalone basis.
Free Signup: The Smallcap Revival Summit
Consistent progress over the years
The company's subsidiary, Wabag Water Services SRL was ranked the number four among the top 50 private water operators worldwide.
Wabag Water Services SRL in Bucharest is a specialist in innovative water solutions for industries.
It offers a complete portfolio of solutions for the realisation of turnkey wastewater treatment plants and as a professional plant operator.
It's the only Indian organization to be featured in the top 25 water companies globally.
Note that the company has been showing consistent progress over the years. It was ranked 10th in 2017 and 6thin 2019.
How the stock markets reacted to Va Tech Wabag's March quarter results
Va Tech Wabag share price rose up to 8% yesterday after the water treatment firm reported decent earnings.
Presently, the stock is trading up by 2.5%.
The scrip touched its 52-week high of Rs 309 today. It had touched its 52-week low of Rs 101 on 17 June 2020.
Over the past year, shares of the company have surged 1.5 times, as can be seen from the chart below.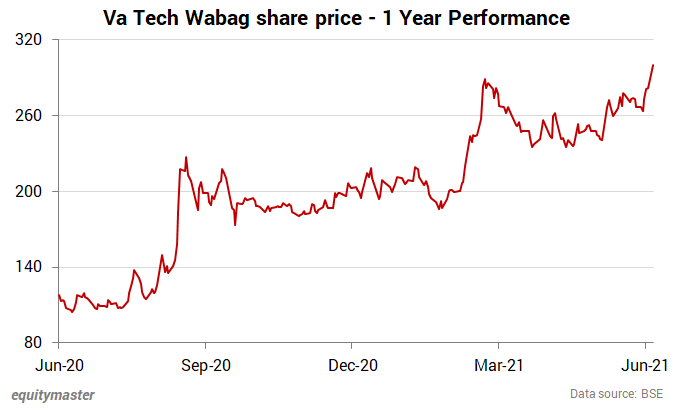 Ace investor Rakesh Jhunjhunwala held 5 m shares or 8.04% stake in the firm on behalf of his wife Rekha Rakesh Jhunjhunwala at the end of March quarter.
Jhunjhunwala had bought stake in the firm for the first time in August 2020. The stake purchase was a part of fund raising exercise.
At its current price, it is trading at a P/E ratio of 19.8.
The company commands a market-cap of Rs 18.8 bn.
About Va Tech Wabag
Incorporated in 1996, Va Tech Wabag provides turnkey solutions for water and waste water treatment to municipal and industrial segments.
The company undertakes turnkey contracts for design, engineering, procurement, construction, erection, commissioning and operation, and maintenance of water and waste water treatment plants.
The company has presence across India, North Africa, Middle East, China, and Europe.
It's one of the leading water management solutions provider across the world.
To know more about the company, check out VA TECH WABAG company fact sheet and quarterly results on our website.
For a sector overview, read our engineering sector report.
To know what's moving the Indian stock markets today, check out the most recent share market updates here.