Saurabh Mukherjea's Coffee Can Approach to Investing: Here's Everything You Need to Know
Jun 8, 2022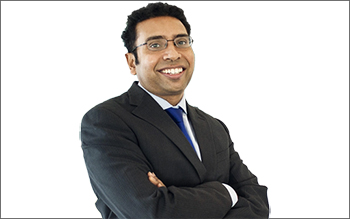 Saurabh Mukherjea is one of the most popular super investors out there.
He is widely followed by Indian retail investors for his consistent track record and performance of his investment services.
So, when the team at Equitymaster told me that Mukherjea has agreed to be a guest on Equitymaster's Investor Hour podcast, I knew I will get a lot of information for my 'go to bed smarter' folder.
Saurabh Mukherjea didn't disappoint as usual. Here's an excerpt from the podcast:
One of the three reasons for investing is to plan for retirement. For people wanting a middle-class retirement In India which isn't fancy, and plan to retire at 60, they need Rs 150 m in financial assets at the point of retirement in today's money terms to fund the retirement.

If one wishes for a fancy retirement, like a Dubai holiday, the number goes up to Rs 300 m.
Let's take an in-depth look at Saurabh Mukherjea and his famous Coffee Can investing strategy.
About Saurabh Mukherjea
Apart from being a bestselling author, Saurabh Mukherjea is the founder and chief investment officer of Marcellus Investment Managers.
Prior to setting up Marcellus, Mukherjea was the chief executive officer of Ambit Capital.
Mukherjea is known for his bold, often bearish, stance on the markets and the economy. Being the most erudite equity analyst, he is one of the most followed money managers on Dalal street.
Well, it's normal to follow stock market gurus. After all, everyone wants to know which is their next big stock picks!
Mukherjea is often referred as a 'blue collar' analyst due to his extensive leg work experience in the country's old and new industrial hubs like Coimbatore, Kolhapur, and Kolkata where he tried to understand the underpinnings of Indian industry.
Living by his thumb rule of 'sustainable growth', Mukherjea is often heard talking about entry barriers, market share potential, and at times, people running the show.
What is 'Coffee Can Investing'?
Investing your money in fundamentally strong companies and holding them for several years increases the chance of making multibagger returns.
For instance, Rs 10,000 invested in Wipro shares would have grown to over Rs 10 bn today (taking into consideration bonus shares and stock splits). That's the power of compounding.
This strategy of buying and holding shares for a very long period is known as coffee can investing. Primarily, it is suitable for passive investors with an investment horizon of more than a decade.
The term 'coffee can' originates from a traditional way of saving, where people would put money in an empty coffee can and forget about it for years until they needed the money urgently.
Does the 'Coffee Can Investing' really work?
Marcellus' Consistent Compounders PMS invests in a concentrated portfolio of heavily moated companies that can drive healthy earnings growth over long periods of time.
This indicates the fund is based on the refined 'Coffee Can Investing' strategy of Marcellus.
Hers's a list of companies in the PMS portfolio and their revenue growth in recent quarters: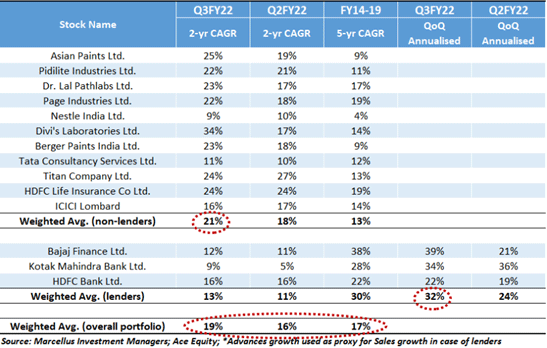 These rates of growth have significantly accelerated compared to the September 2021 quarter as well as compared to the years prior to the Covid-19 pandemic (i.e., financial year 2015-2019).
This clearly points toward the fact that fundamentally strong companies can sustain the worst of times and in fact come out stronger.
A recent addition to the 'Little Champs Portfolio'
Recently, Marcellus added Gujarat Ambuja Exports (GAEL) in March 2022 to its Little Champs Portfolio.
Founded in 1991, GAEL is engaged in processing Maize, Soya, and Cotton. It converts them into Starch & Starch derivatives, Soya meal & Soya oil, and Cotton Yarns.
Have a look at the share price performance of GAEL since it got listed on the BSE.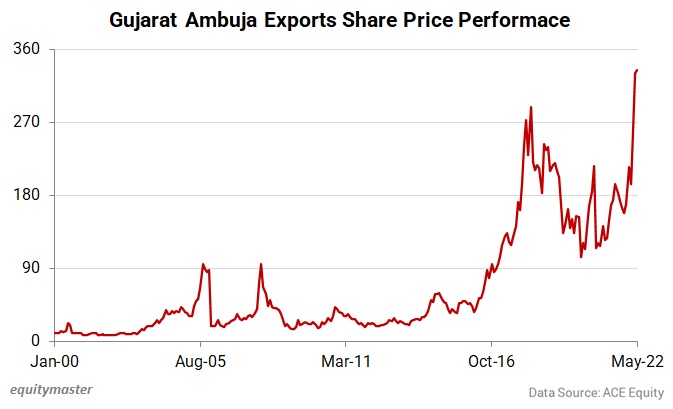 The company has given multibagger returns of 230% in the last 3 years. In 2022 so far, the stock is up 97%.
To know more about the company, check out GAEL's financial factsheet and its latest quarterly results.
Recent additions to the 'Rising Giants Portfolio'
Marcellus' Rising Giants Portfolio invests in mid-sized companies having a marketcap predominantly in the range of Rs 7 - 75 bn.
In a February 2022 interview with a leading financial newspaper, Mukherjea listed three aspects of the midcap universe namely financial lenders, specialty chemicals, and IT services, that the company was currently focused on.
With asset quality troubles for lenders largely behind them, Marcellus has identified midcap lenders posting phenomenal loan book growth along with profitability growth which is north of 25%.
The fund has been building larger positions in Cholamandalam Investment and Finance Company and Aavas Financiers to name a few.
Cholamandalam share price is up 26.6% in 2022 so far while Aavas Financiers is down 18.6% over the same period.
Mukherjea also mentioned the company has been building a larger position in ICICI Lombard via their Consistent Compounders PMS.
Specialty chemicals stocks have been the fund's preferred stocks over the last couple of years. The company believes the volume growth and the market share gains in the industry are structural.
Despite the recent margin pressure in specialty chemicals, the fund has built-up positions in companies like Alkyl Amines and GMM Pfaudler.
Although Alkyl Amines and GMM Pfaudler have been in consolidation in 2022 so far diving 24.1% and 14.8% respectively, the stocks have given multibagger returns over 3 years delivering 723% and 222% returns respectively.
The third bullish space for the fund is IT services. This doesn't come as a surprise!
While TCS has always been on Marcellus' list of favourite stocks, L&T Technology Services from the mid-cap IT space has joined the race.
According to Mukherjea, L&T Technology Services has a product suite around engineering R&D which will give it a solid five-six year growth runway whereas larger IT services companies find it hard to deliver 20-30% PAT growth consistently.
Following the recent sell-off trend seen in IT stocks, L&T Technology is down 37.7% in 2022. But the company has posted 110% return over the last three years.
A word of caution
Now before you start setting up trades in your demat accounts or call your traders, remember that you should not invest in a stock just because a market guru is taking positions in it.
The risk appetite of you, a retail investor, is quite different from the so-called market gurus.
Also, the investments discussed here are from a PMS point of view (minimum ticket size being Rs 5 m) and usually have a very long-term time horizon.
It might be difficult for a retail investor to be invested in such stocks during times of high volatility.
Though tracking a guru portfolio is not a bad idea, replicating the investments without understanding the risks, can be.
Saurabh was on Equitymaster's Investor Hour podcast recently, where he discussed his personal goals, successful calls, failures, and more.
In the hour long podcast, he also shared the investment mistakes to avoid and the one question he would like to ask Warren Buffett.
What follows is an interesting conversation with one of the best investing minds. We highly recommend you listen to the podcast.
We're sure you'll want to mark out many important points from the podcast and you'll think more deeply after listening to it.
A word about Marcellus Investment Managers
Founded in 2018, Marcellus Investment Managers is licensed by the market regulator to offer Portfolio Management Services (PMS) and Investment Advisory services.
Since its inception, the company has launched a couple of strategies including 'Consistent Compounders' which is based on the principle of Coffee Can Investing, and 'Little Champs' which is focused on the small-cap space.
The company's investing approach has three pillars: clean accounts, capital allocation, and competitive advantage.
Marcellus is known for holding companies for long periods of time, with little or no churn, thus reaping the benefit of compounding.
Over 9,150 investors have entrusted Marcellus with more than Rs 102 bn.
Investment in securities market are subject to market risks. Read all the related documents carefully before investing
Safe Stocks to Ride India's Lithium Megatrend
Lithium is the new oil. It is the key component of electric batteries.
There is a huge demand for electric batteries coming from the EV industry, large data centres, telecom companies, railways, power grid companies, and many other places.
So, in the coming years and decades, we could possibly see a sharp rally in the stocks of electric battery making companies.
If you're an investor, then you simply cannot ignore this opportunity.
Details of our SEBI Research Analyst registration are mentioned on our website - www.equitymaster.com
Disclaimer: This article is for information purposes only. It is not a stock recommendation and should not be treated as such. Learn more about our recommendation services here...