Full Update: India's Top 5 Defense Stocks and How They are Faring in 2022
Jun 8, 2022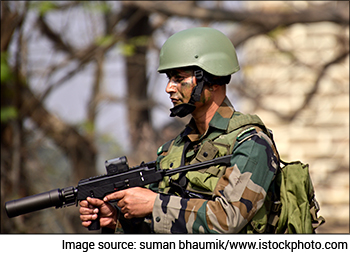 Earlier this year, we wrote about the top 5 defence stocks in India and why the prospects seem to be in favour of these stocks.
We highlighted stocks such as Avantel Software, Hindustan Aeronautics, Bharat Electronics, Cochin Shipyard, and Mazagon Dock Shipbuilders.
Here's an excerpt of what we wrote:
Overall, in the past decade, military spending has increased all over the world, indicating growing demand for defence equipment.

To capture this growing demand, the government of India opened up the defence sector to private firms.

It has also increased its spending to boost defence manufacturing within the country and included 209 items in the indigenisation list, indicating a ban on importing these products.

The government is also modernising its defence equipment to increase its exports.

All these indicate that the defence sector is set to grow rapidly over the next few years.
We still remain bullish on the defence sector and the sector's growth prospects over the long term.
As things stand now, the tide seems to be turning for defence stocks and in quick time. For the moment at least.
At a time when broader and benchmark indices have been reeling under pressure, defence stocks rose from the ashes and gained substantially.
This is because the Indian government approved Rs 763.9 bn towards modernisation of its military projects.
The Defence Acquisition Council (DAC) gave the go ahead for this huge effort this week.
The huge effort towards modernization
Under this huge effort, the Indian government will procure rough terrain fork-lift trucks, bridge laying tanks, wheeled armored fighting vehicles with anti-tank guided missiles, and weapon locating radars from domestic industries.
The procurement of next generation corvettes (NGCs) at an estimated cost of around Rs 360 bn was approved.
Meanwhile, the manufacturing of aero-engines for Dornier aircraft and Su-30 MKI by Hindustan Aeronautics (HAL) was also approved.
For the Indian Army, a fresh approval for the procurement of fork lift trucks among other things was approved.
India's Top 5 Defense Stocks and How They are Faring in 2022
Let's take a look at the top Indian defence stocks and how they are performing in 2022 so far...
Starting with Avantel.
#1 Avantel
2022 has so far been a good year for Avantel.
Trading at Rs 700 at the start of this year, shares of Avantel have zoomed to Rs 1,300 at present.
This translates into around 90% gains in under six months.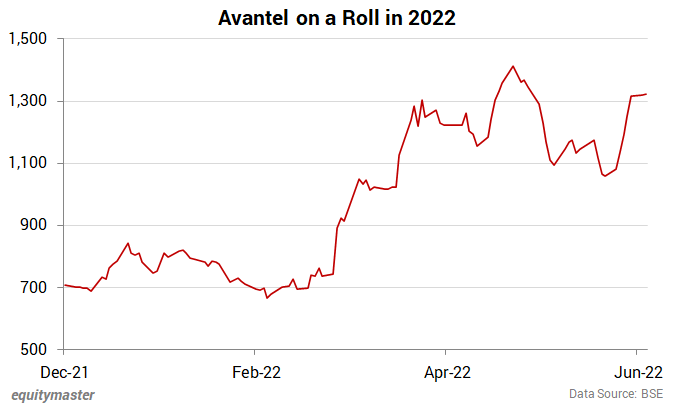 Most of the gains came in the month of April and at the start of this month.
The company's spectacular performance can be attributed to factors such as big orders, results impact, bonus issue, and the entire re-rating of the defence sector.
Avantel has a supply order worth Rs 1.3 bn for implementation of real time train information system. This order is in collaboration with L&T.
Coming to the results, the company's March 2022 quarter net profit rose 7% on the back of a strong 61% growth in sales.
Full year results are much better with net profit rising 17% while revenues also surged 35%.
While announcing its Q4 results, the company's board also approved issuing 3 bonus shares for each share held.
Avantel is engaged in developing customised solutions for Indian National Satellite (INSAT) based communication services for military applications.
It also develops wireless defence electronics, radar systems, and software applications for the defence and aerospace sectors.
To know more, check out Avantel's 2021-22 annual report analysis.
#2 Hindustan Aeronautics
Hindustan Aeronautics' (HAL) performance has been equally similar to Avantel.
Trading at Rs 1,200 at the start of this year, HAL shares have surged to Rs 1,900 at present, a whisker away from its 52-week high of Rs 1,942.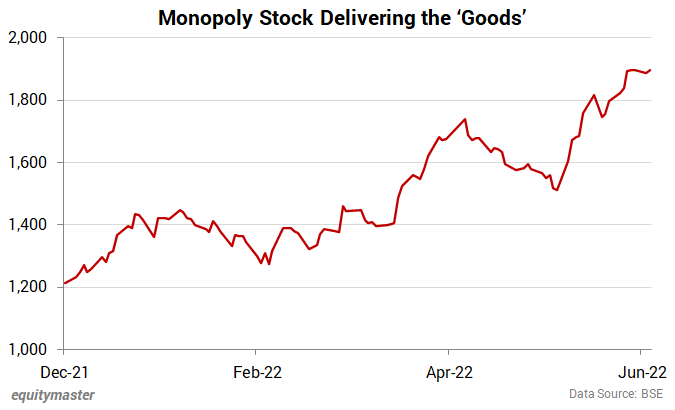 HAL's stellar performance this year can be attributed to good earnings, FIIs and mutual funds loading up shares, among other reasons.
The company's profit jumped a whopping 90% year on year (YoY) even as revenues remained muted.
At a time when FIIs are selling Indian stocks big time, they loaded up shares of HAL during the March 2022 quarter.
The latest shareholding pattern of HAL shows that even mutual funds have increased exposure.
The monopoly factor may as well be playing out for HAL as investors usually prefer strong monopolies.
What's more, the company's future prospects look amazing. Chairman and MD at HAL R Madhavan expects to double revenue growth from fiscal 2024 onwards, aided by a stronger order book and growing export opportunities.
At present, the company has an order book of Rs 820 bn, of which Rs 200 bn is from a repair and spare parts order, and Rs 615 bn is for manufacturing combat helicopters.
In one of the editorials, we highlighted why the sky is clear for HAL and how it could leverage on the opportunity.
You can read it here: HAL: Ready, Set, Fly.
#3 Bharat Electronics
Another defence stock trading close to its 52-week high is Bharat Electronics.
So far this year, shares of Bharat Electronics have gained 20%.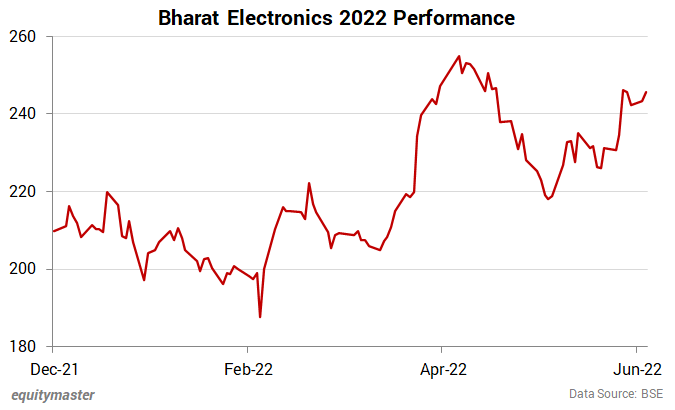 The gains here are less compared to others. This can be because of FII selling. FIIs changed course in the March 2022 quarter and sold around 0.5% of the total equity in Bharat Electronics.
Prior to this, foreign investors were so bullish on Bharat Electronics that they loaded up shares of the defence PSU for six consecutive quarters.
Check out the latest shareholding pattern of Bharat Electronics to know more.
Bharat Electronics full year sales rose a mere 9% while net profit grew 15%.
In line with government's initiatives, Bharat Electronics has lined up a long-term outsourcing and vendor development policy.
The company's order book keeps growing. The order book was Rs 519.7 bn in 2020 which rose to Rs 534.3 bn in 2021. 2022 saw a 7% growth to Rs 570 bn.
With government seeking more orders from domestic industries, Bharat Electronics stands to be the big beneficiary.
#4 Cochin Shipyard
The performance of Cochin Shipyard has been subdued this year.
Shares of the company were trading at Rs 360 back in January 2022. Skip forward to present, they trade a tad lower at Rs 320.
This is not the first time Cochin Shipyard has been a laggard. Have a look at the chart below which shows the company's underperformance over the years.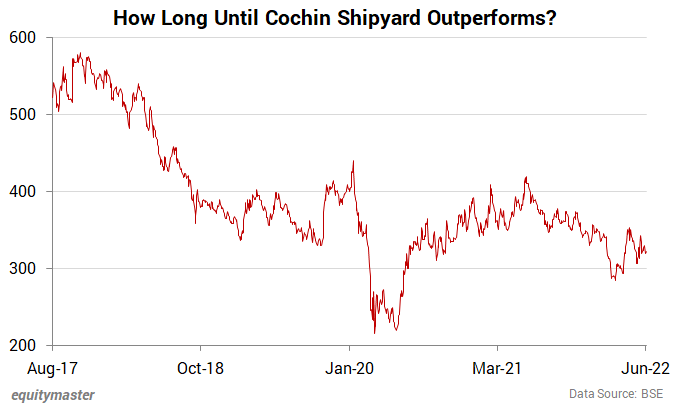 This year, Cochin Shipyard announced it will develop and build the first indigenous hydrogen-fueled electric vessel in the country.
It partnered with KPIT Technologies and Indian developers in the areas of hydrogen fuel cell, power train, and Indian Register of Shipping for developing rules and regulation for such vessels.
The hydrogen fuel cell vessel is expected to cost around Rs 175 m. Of this, 75% would be funded by the Government of India.
The project is expected to augment the efforts of the nation in achieving the ambitious target of becoming carbon neutral by 2070.
#5 Mazagon Dock
Another underperformer like Cochin Shipyard, shares of Mazagon Dock Shipbuilders have seen volatile moves this year.
Shares of the defence company are trading near the same level they were trading at the start of this year.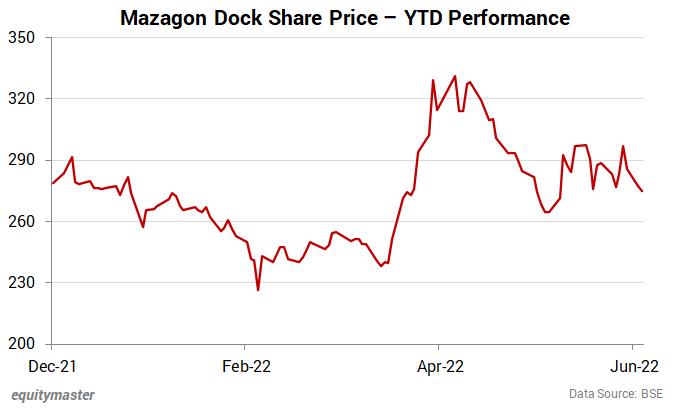 Shipyard stocks like Mazagon Dock Shipbuilders will continue to remain in focus for the time being, at least until the Sri Lanka uncertainties clear up.
According to reports, the economic uncertainties in Sri Lanka and the congestion at the Colombo port are forcing more ships to turn towards Indian ports in recent months.
Another plus point for Mazagon Dock is that institutional investors have turned bullish on the company.
The latest shareholding pattern of Mazagon Dock shows that mutual funds have been increasing their stake for the past three quarters while FIIs have been doing the same.
Mazagon Dock's revenue and net profit show a declining trend for the last three years.
However, with a strong order book, and the government's plans to boost Indian defence exports, the company's growth prospects look bright.
Why this is the best time to invest in defence stocks...
The Russian-Ukraine war has made one thing crystal clear. Countries need to have a strong and modern military.
Given the strained relationship with our two neighbours, China and Pakistan, the defence sector plays a crucial role in handling any possible aggression.
India is adopting to modern warfare techniques and raising military spending. There's a lot happening in drone technology.
No wonder foreign investors (FIIs) and domestic mutual funds are showing renewed interest in select defence stocks. Even the Adani group has forayed into the defense space.
In addition to this catalyst, the government's latest move for procuring defence related items from domestic industries makes it even more compelling to invest in defence stocks.
As India cuts dependence on imports for military equipment and domestic manufacturers get increased orders, the stage is set for defence stocks to deliver.
Don't forget to watch the video below where lead smallcap analyst at Equitymaster, Richa Agarwal, talks about the defence sector and the stocks to watch out from this space.
Happy Investing!
Disclaimer: This article is for information purposes only. It is not a stock recommendation and should not be treated as such. Learn more about our recommendation services here...