Suzlon Energy Share Price: Technical Breakout Suggests Bullish Trend
Jun 8, 2023
Suzlon Energy is a company engaged in the renewable energy sector, specialising in wind energy solutions.
Suzlon Energy share price is currently trading at its 52-week high, indicating strong price momentum and investor interest.
Moreover, the recent technical breakout from a long-standing resistance level further reinforces the notion this could be a new beginning for the stock.
The breakout suggests the stock has managed to overcome significant selling pressure and has entered a potentially bullish phase.
This development has attracted attention from traders and investors, who see it as a signal of a possible upward trend in the stock's price.
Technical Breakout
Let's look at Suzlon's weekly chart below and try to understand the possible breakout.
Suzlon Weekly Chart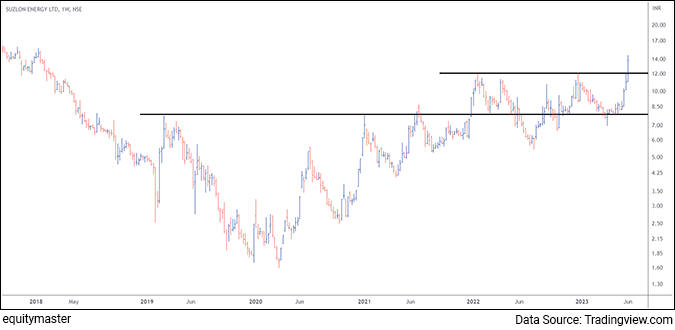 The recent price action witnesses the breakout from a 72-week resistance level indicating a strong bullish momentum and potentially signals a reversal in the stock's long-term downtrend.
The breakout suggests that the stock is seeing significant buying interest, as it has surpassed a key level of historical selling pressure.
Additionally, the stock price is exhibiting a higher high - higher low formation, on the chart. This is a bullish trend pattern as per Dow Theory.
This pattern indicates that each successive high and low in the chart is higher than the previous one. This pattern reflects an increase in demand for the stock.
A word of caution
It's important to note that Suzlon Energy tends to trend strongly only when the broader market is nearing all-time highs.
These stocks are influenced by market sentiment and overall market conditions, particularly in the renewable energy sector.
It's best to monitor the broader market trend, as well as the performance of other stocks in the renewable energy sector.
Also consider fundamental factors, such as the company's financial health and industry outlook. This can provide a comprehensive view for making investment decisions.
At present, Suzlon Energy is trading at Rs 13.32, down over 7% from its previous close of Rs 14.40.
The stock touched its 52-week high price of Rs 14.59 yesterday. It has a 52-week low of Rs 5.4 touched on 27 July 2022.
If you're interested in being part of my charting journey, join my telegram channel - Fast Profits Daily. You'll get access to the best trading ideas in the stock market.
Investment in securities market are subject to market risks. Read all the related documents carefully before investing
Safe Stocks to Ride India's Lithium Megatrend
Lithium is the new oil. It is the key component of electric batteries.
There is a huge demand for electric batteries coming from the EV industry, large data centres, telecom companies, railways, power grid companies, and many other places.
So, in the coming years and decades, we could possibly see a sharp rally in the stocks of electric battery making companies.
If you're an investor, then you simply cannot ignore this opportunity.
Details of our SEBI Research Analyst registration are mentioned on our website - www.equitymaster.com
Disclaimer: This article is for information purposes only. It is not a stock recommendation and should not be treated as such. Learn more about our recommendation services here...
Brijesh Bhatia Research Analyst and expert chartist, is the editor of Alpha Wave Profits. Fully committed to his craft, Brijesh has mastered the art of making money by trading using technical analysis. Brijesh has an MBA from ICFAI and 16 years of experience in India's financial markets. He began his career on Dalal Street as commodities dealer and it wasn't long before he developed his own unique trading system. Brijesh worked on his trading system until it could be expected to deliver 5 units of return for every unit of risk.