Welspun Corp Hits 52-Week High After Securing Orders Worth Rs 17.3 Bn
Jun 9, 2021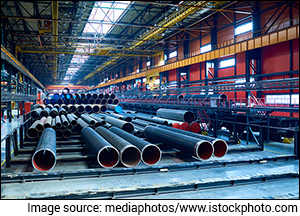 Welspun Corp spurted 6% to Rs 165 per share after the company secured multiple orders of approximately 164 kilo metric tonnes (KMT).
Welspun Corp on Tuesday announced that the company has received multiple orders of approximately 164 KMT valuing close to Rs 17.3 bn.
These orders include, reinstatement of an offshore sour pipes supply contract (270 km / 87 KMT) in Australia for the Barossa Offshore Development project.
Welspun Corp received this order last year, and intimated the bourses on 11 March 2020.
However, the same was subsequently deferred by the customer due to delay in Final Investment Decision (FID) as announced on 27 March 2020.
After the recent FID of the project, Welspun stated that the customer has given a go-ahead to Welspun for the execution of the contract.
The majority of the orders mentioned above will be executed from Welspun's facilities in India.
--- Advertisement ---
This is a Powerful Mega Trend Playing Out in India

We have uncovered a powerful mega trend that is playing out in India right now.

It could potentially generate immense wealth for early movers.

Our co-head of research Tanushree Banerjee has also zeroed in on one specific stock riding this mega trend.

It's her #1 stock pick right now.

And she believes, this could be one of the top stocks to get to potential Rs 7 crore wealth over the long term.

Tanushree will reveal all the details about this mega trend and her #1 stock at her special online event on July 29.

At the event Tanushree will also show you, how to potentially accumulate Rs 7 crore in wealth over the long term.

What you learn at the event could possibly change your financial fortunes forever.

Click here to reserve your FREE seat.
------------------------------
In its regulatory filing, Welspun said,
We are pleased to inform that since our last announcement, we have received multiple orders of approximately 164 KMT valuing close to Rs 17.3 bn.

These include reinstatement of an offshore sour pipes supply contract (270 km / 87 KMT) in Australia for the Barossa Offshore Development Project.
With these orders, the company's order book stands at 525 KMT valued at approximately Rs 48 bn, after considering execution up to May 2021.
Welspun Corp granted license to apply API monogram on its SAWH pipes
Two days back, Welspun Corp said that American Petroleum Institute (API), USA has granted license to manufacture SAWH pipes as per API specification 5L and to apply API monogram on the pipes from its Jamunia, Raisen, Madhya Pradesh facility with effect from 26 May 2021.
The facility is also certified for its quality management system as per API Specification Q1 compliance.
This would help the company to cater to critical needs of the Indian oil & gas market by supplying coated API pipes as this facility also has a modern 3LPE/DFBE/FBE coating facility attached to the pipe mill.
They intend to facilitate oil & gas pipeline network development and reach the remote corners of the country towards east, north east and south India from this modern set up.
Free Signup: The Smallcap Revival Summit
JSW Steel updates on acquisition on acquisition of Welspun's PCMD division
JSW Steel entered into an agreement to acquire the high-grade steel plates and coil business of Welspun group for Rs 8.5 bn.
According to a leading financial daily, JSW Steel announced that a further amount of Rs 5 bn has been paid to Welspun Corp on 8 June 2021 towards consideration for acquisition of its PCMD division.
Further, the company also paid Rs 1.5 bn to Welspun Corp on 8 June 2021 for purchase of a parcel of land pertaining to PCMD business.
An amount of Rs 2.3 bn has already been received by the company as on 30 April 2021.
Dividend summary of Welspun Corp
For the year ending March 2020 Welspun Corp declared an equity dividend of 210% amounting to Rs 10.5 per share.
At the current share price of Rs 165 apiece this results in a dividend yield of 6.6%.
The company has a good dividend track report and has consistently declared dividends for the last 5 years.
Dividend History for Last 5 Years
| Ex-Date | Dividend Amount (Rs) | Dividend(%) | Dividend Type |
| --- | --- | --- | --- |
| 06-Aug-20 | 0.5 | 10% | Final |
| 12-Feb-20 | 10.0 | 200% | Interim |
| 04-Jul-19 | 0.5 | 10% | Final |
| 25-Jun-18 | 0.5 | 10% | Final |
| 22-Jun-17 | 0.5 | 10% | Final |
| 23-Jun-16 | 0.5 | 10% | Final |
Data Source: BSE Website
Note that dividend yield measures the ratio of dividends paid / current share price.
Equitymaster's view on Welspun Corp
We reached out to Richa Agarwal, Senior Research Analyst at Equitymaster, and Editor of the smallcap service, Hidden Treasure, for her view on the company right now.
Here's what she has to say...
While the recent performance has been good, one must note that the order book for the company is susceptible to crude prices, as oil and gas players are its major clients.

For such businesses, ability to withstand downcycles with strong reserves and liquidity, and low debt balance sheet is critical.
How the stock market reacted to Welspun Corp's news today
Shares of Welspun Corp opened the day at Rs 165 on the BSE and the NSE.
At the time of writing, the company's shares were trading up by 1.7% on the BSE.
At its current price, it is trading at a P/E of 8.7.
The share touched its 52-week high of Rs 165 and 52-week low of Rs 71.6 on 9 June 2021 and 12 June 2020, respectively.
Over the last 30 days, the Welspun Corp share price is up 11%. Over the last one year, the company's share price is up 105.6%.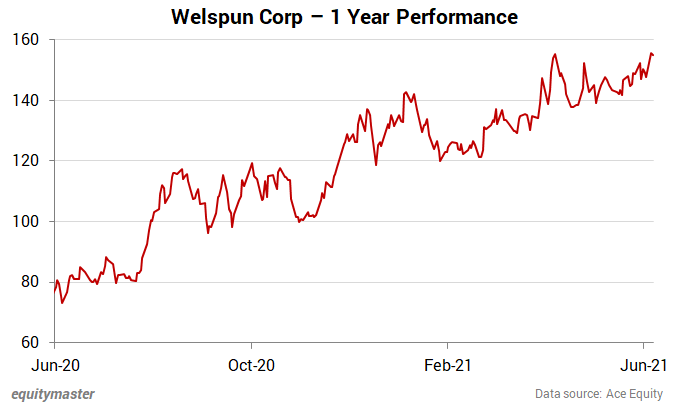 About Welspun Corp
Welspun Corp is part of the US$2.7 bn Welspun Group and a manufacturing hub for state-of-the-art pipe and related niche products.
The company was incorporated on 26 April of the year 1995 and since then has supplied pipes for some of the most prestigious projects including the world's deepest pipeline project in the Gulf of Mexico USA.
Welspun's state-of-the-art plants are located in Dahej and Anjar in Gujarat.
The company is a leading manufacturer of large diameter pipes globally offering a one-stop solution for all line pipe related requirements with its wide range of high-grade line pipes.
For more details about the company, you can have a look at Welspun Corp factsheet and quarterly results on our website.
To know what's moving the Indian stock markets today, check out the most recent share market updates here.