Cryptos Extend Selloff as Bitcoin Outflows Hit Record High
Jun 9, 2021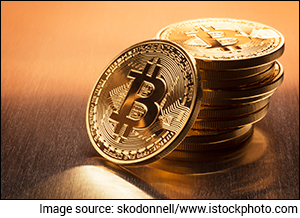 There's a huge interest for cryptocurrencies among investors lately.
The high volatility of crypto prices has aroused interest among people, hoping that they can make quick gains.
Despite extreme volatility, Indians are betting on cryptos and making them a part of their portfolios.
As per the data from cryptocurrency exchanges, nearly 15 m Indians hold Rs 150 bn worth of cryptocurrency assets in India.
A recent topic of discussion is 'Gold vs Bitcoin'.
A US$7.5 bn hedge fund SkyBridge Capital, said that gold will surge to record highs in the next year, but investors seeking currency alternatives as global debt balloons should look to Bitcoin.
'Digital Gold' has become the new name for Bitcoin lately.
But can anything that moves up or down by 40-50% in the short-term, be compared with a safe haven like gold?
Bitcoin had zoomed to a record near US$65,000 in April, before plunging to as low as US$30,000.
Gold, on the other hand, came close to sinking into a bear market in March, but then reversed course and erased its 2021 losses.
Leaving the gold vs bitcoin argument to rest, let's move on to what is happening in the crypto markets.
--- Advertisement ---
3 Hidden Forces are Converging for the First Time Ever...

This convergence is going to unleash a once-in-a-generation wealth boom.

A wealth boom that could potentially mint countless new dollar millionaires as the stocks at the heart of this event return thousands of percent over the long term.

It's a story of ground-breaking consequences that cannot be ignored.

Our co-head of research, Tanushree Banerjee, is going to reveal all about this historic event on the evening of September 24.

Tanushree believes, those who invest in the companies at the heart of this event could turn a small stake into generational wealth.

Just head to this page to get more details about this historic event...
------------------------------
Bitcoin as a legal tender...but why?
South American country El Salvador has become the first ever to make the cryptocurrency legal tender.
The El Salvador Congress today approved a bill making Bitcoin a legal tender in the country.
The announcement was made by El Salvador President Nayib Bukele through Twitter.
He also announced that people who invest in Bitcoin in El Salvador will get the country citizenship. People investing three Bitcoins in country's economy will be given citizenship by the government.
Nayib Bukele had recently said that he would be making Bitcoin legal tender in the country.
"Next week I will send to Congress a bill that will make Bitcoin a legal tender in El Salvador," said 39-year-old Bukele in a recorded message played at a Bitcoin conference in Miami in the US.
He also changed his profile pic on Twitter by sporting "laser eyes".
With a population of around 6.4 m and an area slightly bigger than Meghalaya, the country depends heavily on remittances sent by Salvadorians from abroad.
Around a quarter of the country's citizens live in the US, and in 2020 they sent home more than US$6 bn in remittances despite the pandemic.
This made up more than 20% of the GDP.
Addressing the issue, Bukele said that a big chunk of those US$6 bn is lost to intermediaries.
--- Advertisement ---
SPECIAL REPORT REVEALS: Real Estate Success Secrets of India's Most Respected Traders...

• A Secret 33-Year-Old Pattern That Has Just Remerged to Practically Guarantee a Massive Bull Run in Real Estate Over the Coming Years!

• The #1 Trend You Need to Know Before Investing in Real Estate This Year (Even if You Deal with Traditional Real Estate Investing and Have Nothing to Do with Stocks, this is a MUST KNOW)

• INVESTING IN COMA: Why People Who Invested in Real Estate Before 2019 Didn't Make Any Money (and Why Now is The Right Time to Get Started)

Here's How to Grab a FREE COPY Today
------------------------------
By using Bitcoin, the amount received by more than a million low-income families will increase in the equivalent of bn of dollars every year.
He also said that Bitcoin will help increase financial inclusion in the country, where 70% of the population does not have a bank account and relies on the informal economy.
Trump called Bitcoin a scam
Former US President Donald Trump has called Bitcoin a scam.
Here's what he said in an interview.
Bitcoin, it just seems like a scam. I don't like it because it's another currency competing against the dollar. I want the dollar to be the currency of the world. That's what I've always said.
Top countries that gained from Bitcoin boom
American traders gained the most from investing in bitcoin last year, pocketing US$4.1 bn in profits, according to estimates from Chainalysis, a blockchain analysis company.
It's difficult to conduct geographical analysis of crypto trading due to Bitcoin's nature. Chainalysis said they can produce a good estimate using transaction data from the services they track.
The US is followed by China traders, who gained US$1.1 bn. Other top countries include Japan UK, Russia, and Germany.
India ranked low at 18th place with gains at US$241 m. India's low ranking may be due to the lack of government's support.
Bitcoin slides to a two-week low before recovering
Bitcoin prices slipped on Tuesday amid concerns over the security of the cryptocurrency after US officials managed to recover most of the ransom paid to hackers that targeted Colonial Pipeline.
The largest crypto extended losses and fell as much as 14% before recovering.
REVEALED: Details of 3 "Super Smallcap" Stocks Nobody Tells You About...
On 7 May 2021, the pipeline system suffered a ransomware attack which was traced to an Eastern European hacking group known as DarkSide.
With the assistance of the FBI, Colonial Pipeline decided to pay the ransom (75 bitcoins, valued then at US$4.4 m) to resume operations.
Fast forward to 7 June 2021, and an operation led by FBI's San Francisco Division managed to recover 63.7 bitcoins of the original ransom.
While the FBI's ability to track and recoup bitcoin may go against the anti-establishment ethos that led to the development of the cryptocurrency, it can also be seen as a positive sign for the crypto sector as it seeks broader mainstream acceptance.
The sell-off can also be attributed to highest weekly outflows.
Investment in bitcoin products logged the largest weekly outflow on record, data from CoinShares showed.
US$141 m was pulled from bitcoin products by institutional investors in the week ended 7 June. The number of bitcoins held in exchange wallets fell to a three-week low of 2.54 m from 2.56 m.
Trading volume in bitcoin digital asset investment products also slumped by 62% compared with last month.
22,550 Bitcoins Withdrawn from Exchanges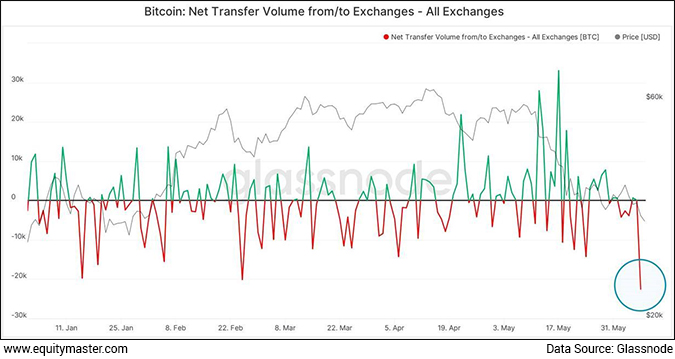 Alternative coins slipped too.
There's a high degree of correlation between Bitcoin and altcoins. Either they're all going up or down at the same time.
Ethereum, Litecoin, and Ripple each crashed nearly 12%.
Following the sell-off, almost 400k Ethereum got withdrawn from Coinbase, suggesting that 'whales' bought the dip.
A whale is a cryptocurrency term that refers to individuals or entities that hold large amounts of cryptos.
Biggest ETH Outflow in a Year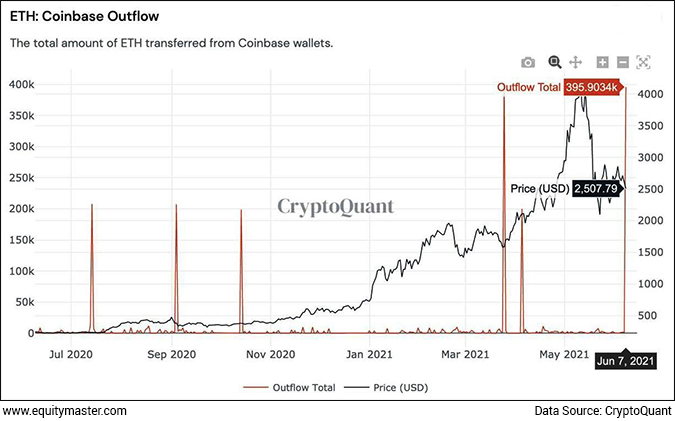 After El Salvador approved Bitcoin as a tender, the coin recovered sharply gaining as much as 6% to US$34,400.
At the time of writing, bitcoin was trading at US$34,240.
Equitymaster's technical view on ethereum
We reached out to Brijesh Bhatia, Research Analyst at Equitymaster, and Editor of the premium monthly recommendation service Fast Profits Report, for his technical view on ethereum.
Here's what he has to say...
Crypto, an attractive asset class has put a dent on retailers' trading account and all of sudden, traders are panicked of getting their buying price.

I analysed Ethereum's chart and found some interesting stuff.

The daily chart of Ethereum/US Dollar (ETH/USD) has cyclical phases of rally, consolidate, break-out, breakout-retest and rally.
Ethereum - The history repeats itself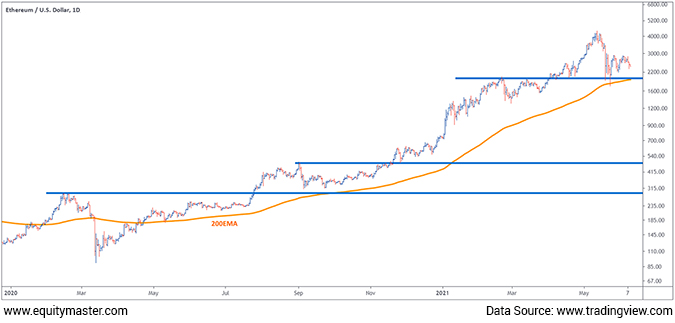 Historically, this cyclical trend has made money for bulls and the recent dip to US$1,728 retests the breakout level, indicating the next phase of rally on cards.

The long-term moving average of 200days is adding fuel to the bullish trend, which is placed at US$1,943.

Traders should keep in mind the risk in cryptos before trading as they are highly volatile.
Equitymaster's Take on Cryptos
We don't get cryptos. Honest.
It's something that has caught our imagination but we just can't figure out a way to value it. Fundamentally speaking.
Chartists like our very own Brijesh, study prices and suggest various levels. That makes sense to us.
Having said that, our 'fundamental' take on cryptos is simple...
It's in line with the approach anyone should have when dabbling in a space one does not understand.
Invest only what you can afford to lose. Nothing more.
Happy Investing!