Sugar Stocks on a Roll: Shree Renuka Sugars & Dalmia Bharat Sugar up 45% in a Week
Jun 10, 2021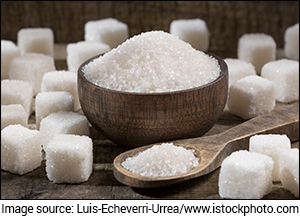 Continuing their rally for the third straight day, sugar stocks extended gains and ended higher.
Shares of Balrampur Chini, EID Parry, and Triveni Engineering, among others neared their all-time highs.
Why are sugar stocks on an uptrend?
Last week on World Environment Day, Prime Minister Narendra Modi announced that the target of 20% ethanol-blended petrol has been advanced by five years to 2025.
This was done to cut pollution and reduce import dependence.
The government's policies combined with the push for higher ethanol blending in India will keep the inventory under control.
A gazette notification by the oil ministry directed oil companies to sell ethanol-blended petrol with a 20% ethanol with effect from April 2023.
Apart from the above, production shortage by large sugar-producing countries has pushed sugar stocks higher.
The domestic sugar industry is supported by low yields from Brazil and Thailand. This, in turn, has kept supply tight.
Brazil faces the worst sugar production in 91 years. Brazil is the largest producer and exporter of sugar.
India is more focused on producing ethanol from sugar and excess food grains.
Global white sugar prices, which are currently higher than domestic sugar prices, increased by 14.3% over last six months to Rs 33.6 per kg.
Reports suggest that sugar prices are likely to remain steady at higher levels till January 2022.
Sugar sector outlook
On the sector outlook, Dalmia Bharat Sugar said the industry is well poised to benefit both from global and domestic factors.
The short to medium-term outlook of the industry remains promising, it added.
Meanwhile, rating agency CRISIL in a report said the profitability of integrated sugar mills is likely to go up by 75-100 basis points (bps) this financial year due to high exports for the second consecutive season and increased supplies of ethanol for blending with petrol.
India's sugar production rose by 13% to 305.68 lakh tonnes in the first eight months of the current marketing year ending September, mainly due to higher output in Maharashtra, according to the Indian Sugar Mills Association (ISMA).
Sugar marketing year runs from October to September.
The report added that sugar closing stocks are expected to decline to their lowest levels in the past four sugar seasons (SS) to 9-9.5 m tonnes in SS2020-21.
This will result in lower working capital borrowings.
The improvement in profitability and controlled debt levels will, in turn, bolster the credit profiles of integrated mills this fiscal.
Weekly performance
Sugar stocks ended higher today. Shares of Dwarikesh Sugar and Bajaj Hind. Sugar surged 5% while Uttam Sugar gained 5.8%.
So far this year, shares of most sugar stocks are up by a significant margin, given the rise in exports from India amid lower output in Brazil and a consequent surge in global prices.
Have a look at the chart below which shows the weekly top performing sugar stocks.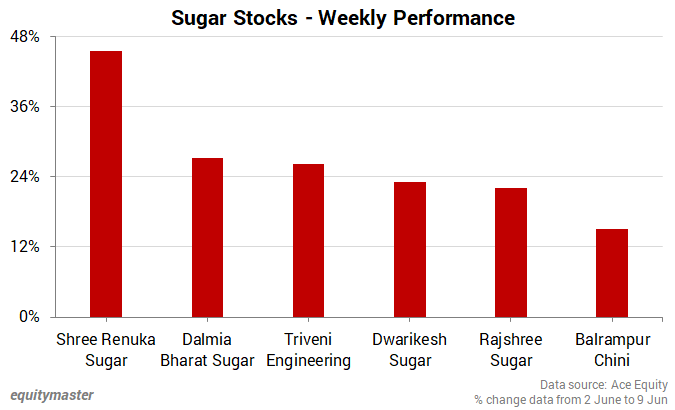 Ace chartist at Equitymaster, Brijesh Bhatia is bullish on sugar stocks. Brijesh believes that sugar still has huge upside when it comes to an investment for next 12-15 months.
In fact, Brijesh recorded a video explaining why sugar stocks are ready to soar higher.
Check out this video to find out more.
To know what's moving the Indian stock markets today, check out the most recent share market updates here.