Why Did Shares of Divi's Lab Rally Today?
Jun 10, 2021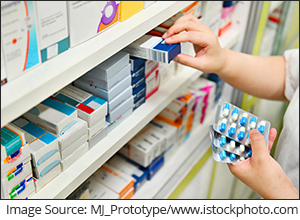 Divi's Laboratories jumped 3.6% in intraday trade today after US-based pharmaceutical major Merck announced a supply agreement with the US government for the experimental Covid-19 drug, Molnupiravir.
As per the agreement, Merck, also known as MSD outside the United States and Canada, will procure the drug for the United States government and Divi's Laboratories will supply the active pharmaceutical ingredient (API) for the drug.
On 26 May 2021, Divi's Laboratories was selected by the company as an authorized manufacturer for the API of Molnupiravir.
Divi's Lab will supply the API to MSD's partners in India.
Molnupiravir is currently being evaluated in a Phase 3 clinical trial, for the treatment of non-hospitalised Covid-19 patients.
The US government has committed to purchase approximately 1.7 m courses of Molnupiravir upon issuance of emergency use authorization or approval by the U.S. Food and Drug Administration.
MSD is developing Molnupiravir in collaboration with Ridgeback Biotherapeutics.
March quarter net profit rises 25% on low base
For the March 2021 quarter, Divi's Laboratories reported a 25% year on year (YoY) jump in net profit to Rs 4.9 bn against Rs 3.9 bn in the same period last year.
The company's total revenue also rose 20% YoY to Rs 17.4 bn from Rs 14.5 bn in the March 2020 quarter.
The company benefited from a low base as it was hit by the Covid-19-led national lockdown last year.
Consolidated Financial Results (in bn)
| | Mar-21 | Mar-20 | YoY Change |
| --- | --- | --- | --- |
| Revenue | 17.4 | 14.5 | 20% |
| Operating Profit | 7 | 4.5 | 55.6% |
| Net Profit | 4.9 | 3.9 | 25.6% |
Source: Financial Results
The company has recently expanded capacities with an estimated investment of Rs 4 bn for fast-tracking a customs synthesis (CS) project.
A part of the project has been completed and is operational, it said, adding that the rest of the plan will be completed during the early part of the next financial year.
This unprecedented capex is an important narrative for the company as it will further augment its capacities and prepare it for growing opportunities arising from the China plus one strategy.
The impact of Divi's aggressive capex is already visible and is expected to fully reflect in 2023.
The Hyderabad-based company's board also recommended a final dividend of Rs 20 per share.
Highlights from call with analysts
The company's exports made up 90% of the sales for the quarter and 88% for the full fiscal.
The nutraceutical business contributed around Rs 1.6 bn to the March quarter revenue and Rs 5.9 bn to the annual revenue.
The company is operating at around 86% production capacity despite the pandemic's disruptions.
The second wave of Covid-19 has amplified logistical challenges and the company expects these challenges to continue.
However, it is confident of being able to mitigate procurement issues on account of significant investments made over past two years towards backward integration and by geographically diversifying supplier base.
Thus, it does not face any supply threats from China for raw materials.
Backward integration and constant introduction of latest technology have been key drivers for margin expansion and will continue to do so in the future.
How the stock markets reacted to the news
Shares of Divi's Laboratories opened higher at Rs 4,270 on the BSE and Rs 4,275 on the NSE today.
The stock rose over 3% in intraday trade after Merck announced the signing of the supply agreement.
The scrip also touched its 52-week high of Rs 4,426.9. It had touched its 52-week low of Rs 2094.6 on 2 July 2020.
In the past six months, the stock has gained 17.3% while in the last year, it has risen by 82.8%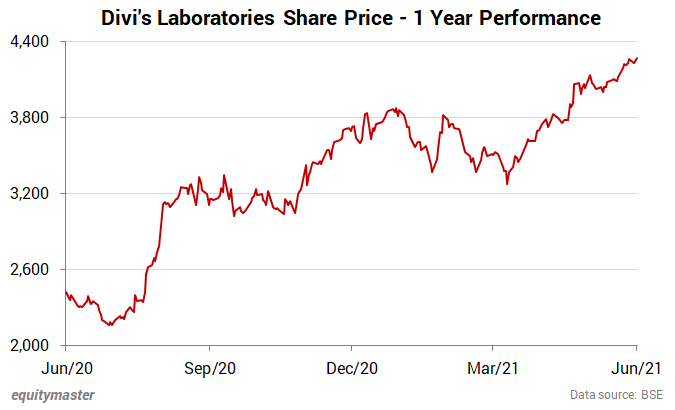 About Divi's Laboratories
Divi's Laboratories is a leading manufacturer of APIs (Active pharmaceuticals ingredients), intermediates and registered starting materials in India.
The company has been established for more than thirty years in Hyderabad, India and is among the top pharmaceutical companies in the country.
It has over 14,000 highly trained professionals across departments and 350 scientists that work together to bring world-class products to customers.
The company recently reached the milestone of being one of the top 3 API manufacturers in the world and one of the top API companies in Hyderabad.
For more details about the company, you can have a look at Divi's Laboratories' factsheet and Divi's Laboratories' quarterly results on our website.
You can also compare Divi's Laboratories with its peers.
Divi's Laboratories vs Abbott India
Divi's Laboratories vs Sun Pharmaceuticals
Divi's Laboratories vs Aurobindo Pharma
To know what's moving the Indian stock markets today, check out the most recent share market updates here.
PS: We would like to welcome you to the launch of Equitymaster's newest newsletter Breakout Wealth. Our top analysts will scan the internet for the most accurate investing ideas to empower you with opinions to help you make better investment decisions. The first issue is out tomorrow! Signup for free here...
Ayesha Shetty is a financial writer with the StockSelect team at Equitymaster. An engineer by qualification, she uses her analytical skills to decode the latest developments in financial markets. This reflects in her well-researched and insightful articles. When she is not busy separating financial fact from fiction, she can be found reading about new trends in technology and international politics.