Reliance Power Hits Upper Circuit. Board to Consider Raising Funds
Jun 10, 2021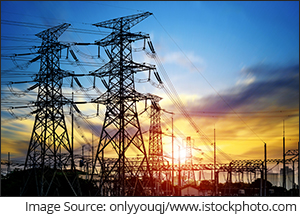 Anil Ambani-promoted power generating company Reliance Power would seek the board's nod in the upcoming meeting for raising funds through issuance of equity or equity linked instruments.
The meeting is scheduled for 13 June 2021.
The board of directors will consider and approve raising of long-term resources from domestic and/or global markets by issue of equity shares or equity linked securities or warrants convertible into equity shares, by way of preferential issue and/ or qualified institutional placement and/or rights issue or any other method including determination of issue price, if any and seeking members and other approvals, as the board may deem appropriate.
The fund raising comes after Reliance Infrastructure's board of directors approved fundraising of Rs 5.5 bn through issuance of equity and related instruments on Sunday.
The company said the funds would be utilised in reducing debt and for future growth.
Reliance Power has operational projects to the tune of 6,000 megawatt (MW) which includes the 3,960 MW Sasan ultra mega power project (UMPP) in Madhya Pradesh.
--- Advertisement ---
3 Hidden Forces are Converging for the First Time Ever...

This convergence is going to unleash a once-in-a-generation wealth boom.

A wealth boom that could potentially mint countless new dollar millionaires as the stocks at the heart of this event return thousands of percent over the long term.

It's a story of ground-breaking consequences that cannot be ignored.

Our co-head of research, Tanushree Banerjee, is going to reveal all about this historic event on the evening of September 24.

Tanushree believes, those who invest in the companies at the heart of this event could turn a small stake into generational wealth.

Just head to this page to get more details about this historic event...
------------------------------
Reliance Power turns to profit in March quarter
Reliance Power reported 8% year on year (YoY) fall in consolidated sales revenues for the March 2021 quarter at Rs 16.5 bn in the midst of the covid challenges.
Reliance Power managed to achieve 96.3% plant load factor (PLF) at its 3,960 MW Sasan Power Project.
This is the best performance in India and it also recorded the highest ever power generation of 33,388 m units. Its 185 MW of renewable capacity had an availability rate of 96%.
The net profit in the quarter turned around to a positive profit of Rs 72.6 bn as compared to a massive loss of Rs 42.1 bn in the same quarter last year.
However, this was more of an exceptional one-time write off and hence not sustainable.
The huge exceptional loss was on account of provisions and write-offs for impairment of assets worth Rs 40 bn made in the March 2020 quarter.
The net margins were higher on sequential basis at 4.4% against 2.8%.
The company's debt profile
The company in a public statement while declaring its annual results for financial year 2021 said, it has brought down its debt by Rs 31.1 bn during the year.
Reliance Power reduced its debt to equity ratio from 2.4:1 in the financial year 2020 to 2.1:1 in 2021.
As on 31 March 2021, the current liabilities of the company including borrowing and financial liabilities stood at Rs 159.3 bn, whereas its total assets amounted to Rs 48.7 bn.
One of the solar power plants of the company, Rajasthan Sun Technique Energy is undergoing debt resolution with its lenders.
Its 600 MW Vidarbha Power (VIPL) is undergoing insolvency proceedings after it was dragged to the National Company Law Tribunal (NCLT) by Axis Bank in 2020.
The company in its financial results said VIPL was in discussion with all its lenders for a resolution outside the corporate insolvency resolution process (CIRP).
--- Advertisement ---
SPECIAL REPORT REVEALS: Real Estate Success Secrets of India's Most Respected Traders...

• A Secret 33-Year-Old Pattern That Has Just Remerged to Practically Guarantee a Massive Bull Run in Real Estate Over the Coming Years!

• The #1 Trend You Need to Know Before Investing in Real Estate This Year (Even if You Deal with Traditional Real Estate Investing and Have Nothing to Do with Stocks, this is a MUST KNOW)

• INVESTING IN COMA: Why People Who Invested in Real Estate Before 2019 Didn't Make Any Money (and Why Now is The Right Time to Get Started)

Here's How to Grab a FREE COPY Today
------------------------------
Major investments and developments in the Indian power sector
In December 2020, the Asian Development Bank (ADB) and government of India signed a US$132.8 m loan.
This is to strengthen and modernise the distribution network and improve quality of power supplied to households, industries, and businesses in Meghalaya.
In March 2020, the central government signed virtual agreement to conclude strategic sales in Kamarajar Port, Tehri Hydro Development Corporation (THDC) India, and North Eastern Electric Power Corporation (NEEPCO). It will receive Rs 135 bn from these deals.
In December 2019, NTPC announced investment of Rs 500 bn to add 10 gigawatt (GW) solar energy capacity by 2022.
In September 2019, Adani Transmission acquired the entire stake in Bikaner Khetri Transmission.
Last financial year, Adani Transmission also acquired Warora-Kurnool Transmission (WKTL) owned by Essel InfraProjects adding 1,750 ckt kms to its total transmission network of 17,276 ckt kms.
ReNew Power and Shapoorji Pallonji will invest nearly Rs 7.5 bn in a 150 MW floating solar power project in Uttar Pradesh.
Note that Indian power sector is undergoing a significant change. This has redefined the industry outlook. Sustained economic growth continues to drive electricity demand in India.
The power exchanged in India is about 4.5% of the overall power production, as can be seen in the chart below.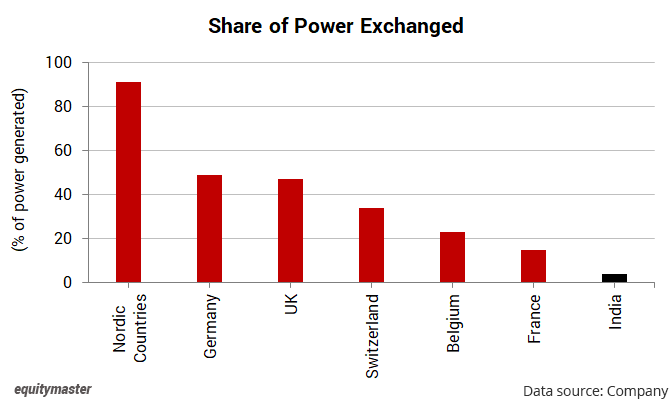 As per Tanushree Banerjee, Co-Head of Research at Equitymaster, India's power sector is currently in transition. It's driven by increasing reliance on short-term contracts and electricity spot markets.
This transition to the short-term market is happening due to quickly evolving industry dynamics.
Tanushree believes the Indian power sector will see a surge in spot power volumes due to certain factors.
REVEALED: Details of 3 "Super Smallcap" Stocks Nobody Tells You About...
In August 2020, Tanushree recommended a high-quality stock from this space. Subscribers can read the report here (requires subscription).
If you are not a StockSelect subscriber, here's where you can sign up.
How the stock markets reacted to Reliance Power's news today
Shares of Reliance Power opened the day at Rs 12.1 on the BSE and Rs 12 on the NSE.
Reliance Power share price closed at Rs 12.1 (up 4.9%) on the BSE and Rs 12 (up 4.8%) on the NSE.
The share touched its 52-week high of Rs 12.1 and 52-week low of Rs 2.4 on 10 June 2021 and 22 October 2020, respectively.
Over the last 30 days, the Reliance Power share price is up 83.4%. Over the last one year, the company's share price is up 376.1%.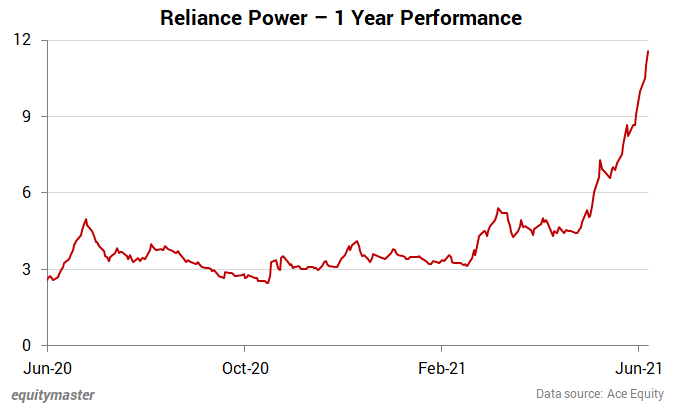 About Reliance Power
Reliance Power (R-Power), formerly Reliance Energy Generation (REGL) is a part of the Reliance Anil Dhirubhai Ambani group.
It was established to develop, construct, operate and maintain power projects in the Indian and international markets.
Reliance Infrastructure, an Indian private sector power utility company and the Reliance ADA group promote Reliance Power.
The company was the sole distributor of electricity to consumers in the suburbs of Mumbai, but in 2017 they sold Mumbai operation to Adani Power.
It also runs power generation, transmission, and distribution businesses in other parts of Maharashtra, Goa, and Andhra Pradesh.
Reliance Power has three operational coal-based power projects, one gas-based in India and one under construction in Bangladesh.
In the clean energy segment, it has two solar power projects and one wind power project.
The company has nine hydro power plants but all are under construction.
For more details about the company, you can have a look at Reliance Power factsheet and quarterly results on our website.
You can also compare Reliance Power with its peers.
Reliance Power vs Torrent Power
To know what's moving the Indian stock markets today, check out the most recent share market updates here.