Bata India Rises 6% Despite Fall in Net Profit
Jun 10, 2021
Shares of Bata India jumped over 6% in intraday trade today as the company's March quarter earnings were in line with analysts' estimates.
The company reported a 23.3% year on year (YoY) decline in consolidated net profit at Rs 294 m for the quarter ended March 2021. It had posted a net profit of Rs 384 m in the same period last year.
The company's revenue from operations was also down marginally at Rs 5.9 bn from Rs 6.2 bn in the March 2020 quarter.
The decline in revenue was due to a fall in sales as the company's business was impacted due to the lockdown induced disruptions across the country.
Commenting on the results, Bata CEO Sandeep Kataria said,
The Q4 results are satisfactory for us, considering Q3 sales have historically been always better because of the festive season.

We continued our march towards recovery via our channel expansion efforts via franchising, distribution and marketplaces routes.
In an effort to drive online sales during the quarter, Bata improved its customer experience for online and retail customers by investing in new technologies and automating e-commerce-related processes.
It also continued to strengthen its e-commerce and omni-channel facilities by making a wider portfolio available on all marketplaces.
2021 Highlights
For the fiscal year 2021, Bata India reported a net loss of Rs 893 m. It had posted a net profit of Rs 329 m in the previous year.
Its revenue from operations for the year was also down 44.1% to Rs 17.1 bn from Rs 30.6 bn in 2020.
The company has adequate cash reserves and is curbing discretionary expenses to eliminate redundancies.
It has collaborated with landlords to reduce store rentals and has introduced other efficiencies in its value chain.
Bata India also announced the appointment of Vidhya Srinivasan as Director Finance and CFO (Key Managerial Personnel) of the company for the next five years, as incumbent R K Gupta retires on 30 June 2021.
Besides, Radha Rajappa has been appointed as an independent director for a term of five consecutive years with immediate effect.
The board of directors of the company also recommended a final dividend of Rs 4 per equity share of Rs 5 each for the year 2020-21.
How the stock markets reacted to Bata India's results
Shares of Bata opened at Rs 1,540 on the BSE and Rs 1,551.6 on the NSE today and rose 6% in intraday trade after the company declared its March quarter results.
The scrip touched its 52-week high of Rs 1,705 on 11 January 2021. It had touched its 52-week low of Rs 1,215 on 12 August 2020.
In the past month, the stock price of the company has rallied over 20%, as compared to a 6% gain in the S&P BSE Sensex.
However, in the last one year, it has risen by only 16%.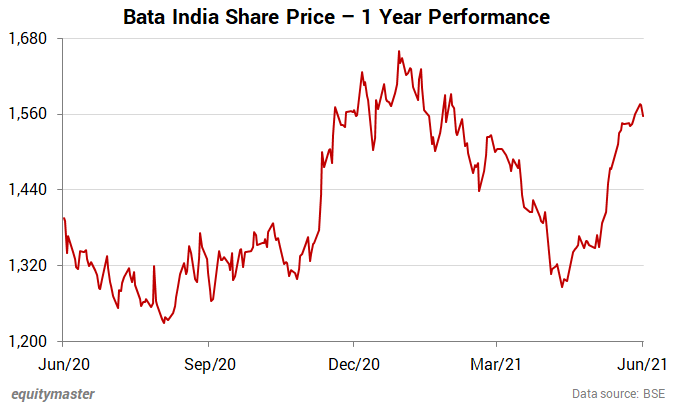 About Bata India
Bata India is the largest manufacturer and retailer of footwear in India and is a part of the Bata Shoe Organisation.
Incorporated as Bata Shoe Company in 1931, the company was set up initially as a small operation in Konnagar (near Calcutta) in 1932.
In January 1934, the foundation stone for the first building of Bata's operation was laid. Finally, in 1973, the company went public and changed its name to Bata India.
Today, Bata India has established itself as India's largest footwear retailer. Its retail network of over 1,375 stores gives it a reach that no other footwear company can match.
For more details about the company, you can have a look at Bata India's factsheet and Bata India's quarterly results on our website.
You can also compare Bata India with its peers.
Bata India vs Godrej Industries
To know what's moving the Indian stock markets today, check out the most recent share market updates here.
Ayesha Shetty is a financial writer with the StockSelect team at Equitymaster. An engineer by qualification, she uses her analytical skills to decode the latest developments in financial markets. This reflects in her well-researched and insightful articles. When she is not busy separating financial fact from fiction, she can be found reading about new trends in technology and international politics.