Nifty Opens Gap Down. Is it a Shorting Opportunity or the Time to be Bullish?
Jun 10, 2022
The gap down and gap up openings are the trader's #1 enemy. These days, gap up or gap down openings have been frequent. In fact, this has been going on for the last 6 months.
So, are these gap openings the new normal?
We have been through the new normal in the markets post Covid and it seems gap openings will continue to be risky affair, especially for swing traders.
The risky part in that the current scenario shows the Nifty index closing near the day's high/low & opening in the opposite direction.
Traditionally, when a stock or an index closes near the day's high or day's low, it's considered bullish or bearish respectively. But things are exactly opposite these days.
Nifty Daily Chart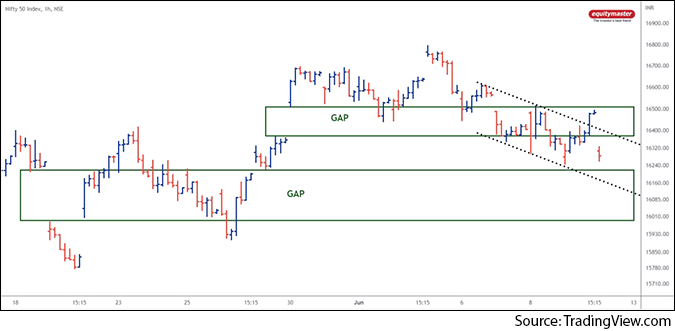 The Nifty 50 index closed near the day's high yesterday (High-16,492, Close-16,478) and opened today with a gap down 200 points. You can imagine how it becomes risky for swing traders.
The index is trending between the gaps of 15,942-16,211 on the lower end & 16,370-16,510 on the upper end.
Traders should look for swing trading opportunities within these gaps.
The falling channel (dotted line) indicates support at 16,161. Intraday traders should look to buy around the 16,180-16,240 zone.
As I write this, the SGX Nifty live index is down to 16,250 levels on the back of a fall in global stock markets due to inflation worries.
Meanwhile, the Nifty is trading at around 16,280 levels. Wipro and Bajaj Finance are the top losers while Asian Paints and Titan are top gainers.
If you're interested in being part of my charting journey as I share how to create wealth from the profitable trade setup, join my telegram channel - Fast Profits Daily. You'll get access to the best trading ideas in the stock market.
To know more about how the Nifty and Bank Nifty index are performing, please see the NSE Nifty Live Chart and NSE Bank Nifty long term chart.
Disclaimer: This article is for information purposes only. It is not a stock recommendation and should not be treated as such.
Brijesh Bhatia Research Analyst and expert chartist, is the editor of Alpha Wave Profits. Fully committed to his craft, Brijesh has mastered the art of making money by trading using technical analysis. Brijesh has an MBA from ICFAI and 16 years of experience in India's financial markets. He began his career on Dalal Street as commodities dealer and it wasn't long before he developed his own unique trading system. Brijesh worked on his trading system until it could be expected to deliver 5 units of return for every unit of risk.