SAIL's Stellar Quarter Four Performance Puts Stock in Focus
Jun 11, 2021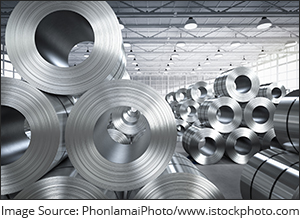 State-run Steel Authority of India (SAIL) reported a rise of 90.5% in profit after tax (PAT) from Rs 20.2 bn in the financial year 2020 to Rs 38.5 bn in 2021.
In the fourth quarter of 2021, the company reported PAT of Rs 34.4 bn against Rs 27.3 bn in the same quarter last year, a growth of 26.4%.
For the full year 2021, The turnover of the company was at Rs 684.5 bn.
Operational performance
The company's revenue from operations jumped 17% year on year (YoY) to Rs 232.8 bn from Rs 161.7 bn posted in the same quarter year ago.
The company's earnings before interest, tax, depreciation, and amortisation (EBITDA) was up by 22.8% during the year at Rs 137.4 bn against Rs 111.8 bn a year ago.
However, EBITDA for the quarter was at Rs 64.7 bn, down by 6.4%, against Rs 69.2 bn in the same period last year.
The EBITDA margin improved to 26.4% in the March Quarter compared to Rs 25.6% posted in the December quarter.
In the case of profit before tax (PBT), in the financial year 2021, it surged by 117%, from Rs 31.7 bn in the last year to Rs 68.8 bn.
Key Financial Indicators
| Particulars (Rs in bn) | Q4FY21 | Q4FY20 | Growth | FY21 | FY20 | Growth |
| --- | --- | --- | --- | --- | --- | --- |
| Profit After Tax (PAT) | 38.5 | 20.2 | 91% | 34.4 | 27.3 | 26% |
| Profit Before Tax (PBT) | 68.8 | 31.7 | 117% | 46.1 | 41.8 | 10% |
| EBITDA | 137.4 | 111.8 | 23% | 64.7 | 69.2 | -6% |
| Turnover | 684.5 | 610.3 | 12% | 231.7 | 160.2 | 45% |
Data Source: Company's Press Release
Soma Mondal, Chairman, SAIL said, 'The production performance and financial performance of the company have improved hand-in-hand during the year.'
She praised the team for their efforts to withstand and face the challenges posed by Covid-19.
Ms. Mondal added, 'The second half saw buoyancy in steel demand on the back of recovering economic activities.'
Debt profile of SAIL India
In line with its focus on reducing the borrowings, the company has reduced its net debt by Rs 161.3 bn to Rs 153.5 bn during the financial year.
SAIL records highest ever quarterly production and sales
Steel Authority of India (SAIL), the Maharatna PSU, has recorded its best ever quarterly performance in both production and sales during the year 2021.
The company achieved highest-ever quarterly hot metal, crude steel, and saleable steel production of 5 million tons (MT), 4.6 MT and 4.4 MT respectively during the full year.
--- Advertisement ---
The Smallcap Revival Summit

Join us on the evening of 28th June to learn,

• Why despite rallying over 180% since March-2020 lows... small-cap stocks are set for a massive rally over the coming months and years
• Details of our top 3 stocks to capture potentially huge gains from this upcoming small-cap rally
• And how to spot opportunities, even in the current market, with the potential to generate 200%, 400%, and even 900% long-term gains

Plus, there is a lot more that we are going to cover.

The summit is free to attend for Equitymaster readers.

But since there are limited seats, we would recommend you to register at the earliest.

Grab your spot for the Summit here. It's free.
------------------------------
Despite the volatility in the market during the year, the determined efforts by the company to improve its volumes saw it clock its best ever annual sales at 14.9 MT, a growth of 4.4% over 14.2 MT during the last year.
Commenting on the performance, Soma Mondal, Chairman, SAIL said,
After the difficult market conditions during the initial months of the financial year, the company adopted focused approach on improving its volumes, improving operational efficiencies, operating the facilities at optimum levels, deleveraging its balance sheet, reducing its inventory levels, etc.

The multi-pronged strategy has helped us top the performances during the month, quarter as well as the year.
An overview on metal stocks. What really triggered the rally in India
The Nifty Metal Index has given a return of almost 100% in the last six months.
The global demand for steel has increased from negative 0.2% in 2020 to 5.8% in 2021. In India, the demand increased from negative 13.7% to 19.8%.
The main reason steel has been booming is because many steel companies are witnessing big profit margins as demand is more and therefore, they can charge more.
Due to prices in global markets being much higher than the domestic markets, Indian steel producers have benefitted a lot from exporting steel abroad.
However, this is also causing decrease in supply in domestic markets.
Also, Indian companies are able to get comparatively cheaper raw materials, like coking coal, especially from Australia.
Many companies are able to make profit because they own iron ore or have access to cheap iron ores which is required for steel production.
BREAKING: It's Good Time to Invest in Gold, but Just Don't Go Blindfolded
Note that steel plants have also increased liquid oxygen to cater to the needs of the Covid-19 patients in India.
In the non-ferrous metals, copper, aluminium, and nickel are at their best prices.
Demand is increasing mainly because of the electric vehicles (EVs) and green energy projects.
The budget has also been favourable for the infrastructure sector in India, which has helped boost metal prices, especially steel.
How the stock markets reacted to SAIL's March quarter numbers today
Shares of SAIL opened the day at Rs 131.3 on the BSE and Rs 130.1 on the NSE.
SAIL share price closed at Rs 129.8 (up 1%) on the BSE and Rs 130 (up 1.1%) on the NSE.
At its current price, it is trading at a P/E of 17.2.
The share touched its 52-week high of Rs 151.1 and 52-week low of Rs 28.5 on 10 May 2021 and 9 June 2020, respectively.
Over the last 30 days, the SAIL share price is up 10.7%. Over the last one year, the company's share price is up 306.4%.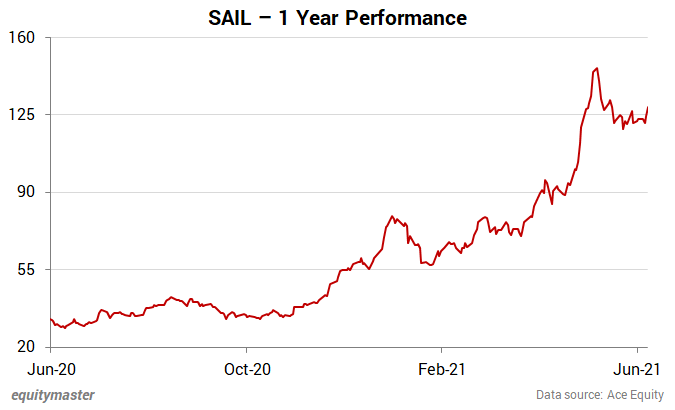 About Steel Authority of India
Steel Authority of India is an Indian government owned steel manufacturing enterprise based in New Delhi, India.
With an annual production of 16.3 m metric tons, SAIL is the largest steel producer in India and the 20th largest steel producer in the world.
SAIL operates and owns five integrated steel plants at Bhilai, Rourkela, Durgapur, Bokaro, and Burnpur (Asansol) as well as three special steel plants at Salem, Durgapur, and Bhadravathi. It also owns a Ferro Alloy plant at Chandrapur.
As a part of its global ambition, the company is undergoing a massive expansion and modernisation programme. This involves upgrading and building new facilities with an emphasis on state-of-the-art green technology.
For more details about the company, you can have a look at SAIL's factsheet and SAIL's quarterly results on our website.
You can also compare SAIL India with its peers.
To know what's moving the Indian stock markets today, check out the most recent share market updates here.