Jun 12, 2019 -

Why Do I Recommend Trading Only Nickel, Crude oil, Gold, Copper, and USDINR?
Why Do I Recommend Trading Only Nickel, Crude oil, Gold, Copper, and USDINR?
Jun 12, 2019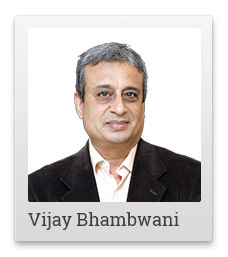 As a school going child, I used to look forward to Sundays.
I could sit with my dad and chat with him. His business associates would come over for dinner on certain Sundays.
The conversation would invariably veer around to business, money, financial wisdom in general.
I learnt a lot from these events, and that too from the doers of deeds. The actual business owners.
Among many other aspects I grasped from them, one thing I learnt helped me a lot as a stock trader, many years later.
Whenever my dad and his friends discussed investing money in a property, one or more in the group would often shout down the proposal. They would say things like the investment was illiquid, the area was not developed, etc.
---

Advertisement

---
The Most Important Book One Could Read After Modi's Re-Election
What you see to your right is in our view the most important book one could read after Modi's Re-Election.

This limited-edition hardbound book costs Rs 1,950 to buy on Amazon. But you could get a copy of it virtually FREE today!

However, here's the catch…

Nearly 1,000 copies of this book have been claimed already. And only a few more copies remain. So don't delay.

Click here to claim your virtually FREE copy now!
------------------------------
I would listen intently but I knew better than to ask why.
Later my dad would explain to me that a smart businessman never invests money where he cannot pull it out from easily.
Going wrong is alright in business but once you realise you've made the wrong investment decisions, you should pull your money out immediately.
If you can't pull out your capital quickly enough, you risk losing a big portion of it or maybe all of it.
So illiquid stocks, commodities, currencies or bonds are out of my gun sights. The logical choice is to stick to the most liquid ones and they are gold, crude oil, USDINR, nickel, and copper.
Is that the only reason?
Wait I'm not done yet. There are operational reasons also.
The school of thought within the regulators in India is to move towards physical settlement in the derivatives space, even commodities.
So aluminium and zinc have been put in that category of physically settled derivative contracts. On expiry day if you do not square off your long position... then expect trouble. You have to then fund a delivery position which was unintended.
On the flip side, an open short sale position would be nothing short of a nightmare. You would have to arrange delivery of that commodity!
As of now none of these five items are in the compulsory settlement mode. The counters in compulsory physical settlement get illiquid as expiry of the derivative contract approaches.
While these are the norms now, the regulator can change things anytime. Yet the change, if and when it happens, will be only in the base metals (Copper and Nickel).
Gold is a very high value contract. It would be unwise to enforce delivery settlement in it.
Crude oil is a banned item for an average Indian citizen. You need to have a licence from the government of India to deal in it, so forget about delivery settlement in crude oil.
Then that leaves us with the USDINR. The Indian currency is not fully convertible and therefore holding any hard forex in your pocket is not permitted legally. That rules out physical settlement here too.
We then move onto the last aspect of the trading game. As a trader, you want to trade the counter where the impact cost (the price differential you pay for buying one lot after another) should be low. The lower the impact cost, the higher will be your take home profits.
Think of it as the difference between gross salary and take-home pay. If you observe the trading terminals snap window below, two things emerge. The difference in the bid (the buyers quote) and the offer (sellers quote) which are denoted and placed horizontally.

Then note the difference between one buyer after another or one seller after another, stacked vertically.
For better price discovery mechanism, it is critical that the price difference between both the vertical and horizontal rates be as narrow as possible.
If it is the minimum permitted size (i.e. 1 tick) it's the best place to be.
Commodities that are physically settled don't offer that luxury. The five counters I have chosen definitely do.
Have a profitable day.
Warm regards,

Vijay L Bhambwani
Editor and Research Analyst, Weekly Cash Alerts
Vijay L Bhambwani, is the editor of Weekly Cash Alerts and Fast Income Alerts. He is a professional trader, author, trading mentor, and lifelong student of the markets. He has been an active trader since 1986. Financial markets are his life and passion. Everything else in his life revolves around his main objective - trading. Vijay believes that no matter how much a trader has lost in the market, it is possible with hard work and smart work to get it all back over time. Understanding the method behind the madness of the markets interests him more than the profits. He specialises in predictive style of technical analysis, in the commodity, currency, and equity markets. That is the foundation stone of his style of trading - Neuro Behavioural Technical Analysis. Vijay trains other professional traders. He is empaneled with the BSE & NSE as a visiting faculty for various finance market courses. He created the early course content for the Diploma in Commodity Markets (DICM), certified by the Forward Markets Commission. He was a training mentor at the MCX between 2005-2009. He is the first author to have his book - A Traders Guide to Indian Commodity Markets published by CNBC Publishing 18, in 2009 - approved and sponsored by the NCDEX. Vijay has done over 8,000 TV shows in the last 17 years and has written over 4,000 columns/articles in the print and electronic media. He is one of the first columnists to write a weekly column in the English language print media after the commissioning of the MCX, via his columns in the DNA Money, Business Standard and others.