How Much Money Do You Need For Trading?
Jun 13, 2019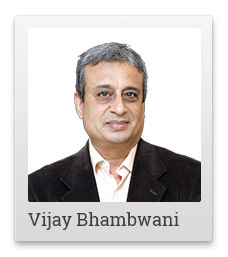 There is an old saying I keep hearing off and on - "Get an academic education, and you will be able to earn a living. Give yourself a self education and you can make a fortune."
No offence intended to the teaching community, but the university called 'life' teaches us the best lessons.
Over trial and error, your subconscious mind also learns to discern what is good and inappropriate for you. This sub-conscious capability comes from life experiences.
Behavioural scientists call them "Heuristics". Think of the child who takes a vaccine shot for the first time and starts howling the very next time he sees the same doctor again.
The child's subconscious mind reminds him of the sharp jab of the needle. This is how our reflexes, our habits, and ultimately, our personalities are formed.
Just how much money do I allocate for trading? Here's my lesson from the university of life...
---

Advertisement

---

Yet Another Reason to Get Tanushree's 7 Stocks Report Virtually FREE…

Our Senior Analyst and Co-Head of Research, Tanushree Banerjee, recently identified 7 stocks one could consider buying right now.

Now guess what?

As Modi takes steps to make India a military superpower in his second term…

And more importantly, one that's dependent on its own inbuilt weapons rather than imports…

1 of Tanushree's 7 stocks is placed to benefit greatly from a boom in India's defense sector. And by getting into that stock now, you could potentially make SUBSTANTIAL returns in the coming years.

To get Tanushree's 7 stocks report virtually FREE and find out what this stock is, just click here…
------------------------------
In the year 2000, I had a few tens of millions worth open trades in the badla segment the (Indian contango system).
I went abroad with my wife and kid to celebrate my anniversary in March 2000. True to form, my wife and dad extracted promises that I would not watch financial TV channels, and that I would "enjoy" my holiday.
The Y2K bust occurred, and I returned almost bankrupt.
Then followed the process of missing one payment after another - insurance premia, electricity bills, club bills, staff salaries, the whole nine yards.
Naturally my family was upset. The discomfort I was putting them through was very visible. I promised myself I would never allow myself to get to that situation ever again.
It took me just under a decade to get even with the market, but in the interim, I made a few rules of my own about just how much capital I would need, before I would get into trading.
So here goes...
I trade futures. That's the defacto high volume liquid instrument in the markets. So unless I have an equivalent of taking delivery of the underlying asset worth at least two lots, I would not initiate a trade in commodities.
For example, Copper is traded in multiples of 1,000 kilos. It is traded at approximately Rs 400 per kilo. So the value of each contract is Rs 400,000.
I would not get into trading copper unless I have Rupees 800,000 as base capital.
Why do I need so much?
The span or the initial deposit margin, can be raised by the exchanges anytime.
If volatility rises, the extreme loss margin (ELM) can rise too.
Besides, getting into trading with a small pool of money will always play on my subconscious mind. I will be nervous. Every small adverse price movement will make me jumpy.
Trading is a mentally taxing exercise and running short of money will make things much more worse.
Now for the crux of the capital management/allocation...
Remember the personal experience about my foreign holiday in the year 2000, of defaulting on utility bills insurance premium, etc?
I don't do that anymore!
In the first month or two of the new financial year, I spend time collating the previous years' profits.
I arrange to provide for critical expenses of home and hearth in advance. Insurance premia, are prepaid to the extent permitted (LIC allows a maximum of 6 months advance premium to be paid).
I put aside money for PPF (public provident fund) pay off my kid's college and tuition fees, I also keep aside to 2-3 months of household expenses in advance.
Why so much extensive preparation?
It's for my subconscious mind to be at peace with itself.
If a trader knows losing some money in trading will not impact him and his family's survival, it raises his probability of success manifold.
I will not lose sleep at night when my trade is bleeding temporary. I will not be like the proverbial cat on a hot tin roof.
Dr Alexander Elder in his book "Trading for a Living" says...
In the days of ancient Rome gladiators fought to the death. The loser's family and material possessions would be gifted to the victor. Even though society has evolved and become humane, the losing trader still deprives his family of various freedoms, comforts and life basics.
As traders, we must ensure our family is not deprived of anything. So I locate only so much capital that is left after I set aside enough for home, hearth, and family.
Have a profitable day.
Warm regards,

Vijay L Bhambwani
Editor and Research Analyst, Weekly Cash Alerts
Vijay L Bhambwani, is the editor of Weekly Cash Alerts and Fast Income Alerts. He is a professional trader, author, trading mentor, and lifelong student of the markets. He has been an active trader since 1986. Financial markets are his life and passion. Everything else in his life revolves around his main objective - trading. Vijay believes that no matter how much a trader has lost in the market, it is possible with hard work and smart work to get it all back over time. Understanding the method behind the madness of the markets interests him more than the profits. He specialises in predictive style of technical analysis, in the commodity, currency, and equity markets. That is the foundation stone of his style of trading - Neuro Behavioural Technical Analysis. Vijay trains other professional traders. He is empaneled with the BSE & NSE as a visiting faculty for various finance market courses. He created the early course content for the Diploma in Commodity Markets (DICM), certified by the Forward Markets Commission. He was a training mentor at the MCX between 2005-2009. He is the first author to have his book - A Traders Guide to Indian Commodity Markets published by CNBC Publishing 18, in 2009 - approved and sponsored by the NCDEX. Vijay has done over 8,000 TV shows in the last 17 years and has written over 4,000 columns/articles in the print and electronic media. He is one of the first columnists to write a weekly column in the English language print media after the commissioning of the MCX, via his columns in the DNA Money, Business Standard and others.