Why HDFC AMC Share Price is Falling
Jun 13, 2022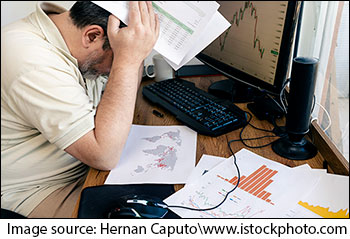 In March this year, we wrote about why the stock of India's biggest housing finance company - HDFC is falling.
Three months later, another HDFC group stock, HDFC Asset Management Company (AMC) is reeling under intense pressure.
Despite strong fundamentals, a rock-solid balance sheet, and good growth prospects of the India's mutual fund industry, shares of HDFC AMC are caught in broad-based selling.
All HDFC group stocks being FII favourites could be one reason the stock is underperforming.
As you would be aware, FIIs are selling stocks by the fistful these days.
The US Federal Reserve's decision to tighten monetary policy combined with high inflation and geopolitical tensions have sent FIIs inflows back to their own country.
The global money which was looking for returns in all kinds of markets is now starting to flow back to their home country.
While FII selling is one factor, there are other reasons why the stock of HDFC AMC has fallen on the bourses lately.
Let's take a look at these reasons...
#1 MSCI exclusion
Whenever global indices service provider MSCI announces inclusions and exclusions, the inflows and outflows into a stock get affected along with the weightage.
A month ago, MSCI excluded HDFC AMC from its MSCI India index while adding other four stocks - Adani Power, Tata Elxsi, AU Small Finance, and Jindal Steel and Power.
While Adani Power went on to surge over the next couple of days ever since this was announced, HDFC AMC started its slippery slope journey.
#2 Market share on a decline
For a few quarters now, HDFC AMC has been losing market share to new and existing players.
New-gen tech players like Sachin Bansal's Navi and Groww, among others have started to disrupt the industry with their discount broking and lesser charges.
In the December 2021 quarter, HDFC AMC's assets under management fell to 11.7% compared to 13.1% a year ago.
To be sure, the overall market share of HDFC AMC was consistent at around 14% till fiscal 2020. It increased to 14.5% in June 2020.
Since then, HDFC AMC has lost a 3.2% market share in the last seven quarters.
While some of the loss in market share is due to stiffer competition, it should be noted that the number of unique investors has not changed significantly for the AMC over the last year.
The road ahead for HDFC AMC
The recent selloff across global markets has taken Indian markets tumbling with it.
Newbie investors who jumped the bandwagon thinking they'll make easy money from the stock market are facing a reality check as central banks tighten liquidity.
But this is a short term phase. As the number of participants in the stock market increases, asset management companies (AMCs) like HDFC AMC are likely to benefit.
HDFC AMC, being a leader in the Indian mutual fund industry, has been the most profitable AMC in India since 2013. The company also enjoys strong patronage of the HDFC brand.
Also, given the industry's low penetration levels vis-a-vis developed countries, the industry has tailwinds in its favor.
Mutual fund AUM as a percentage of GDP is much lower than the world average. So there's headroom for growth in the long run.
How HDFC AMC stands to benefit from the HDFC - HDFC Bank Merger
In April 2022, HDFC announced its merger with HDFC Bank. The union will drive synergies and facilitate more efficient selling of banking and financial services products, including mutual funds.
It will enable HDFC Bank to build its customer base.
While the merger will improve the entity's ability to cross-sell products to a wider customer base, the move can help HDFC AMC leverage the distribution network across urban, semi-urban and rural geographies.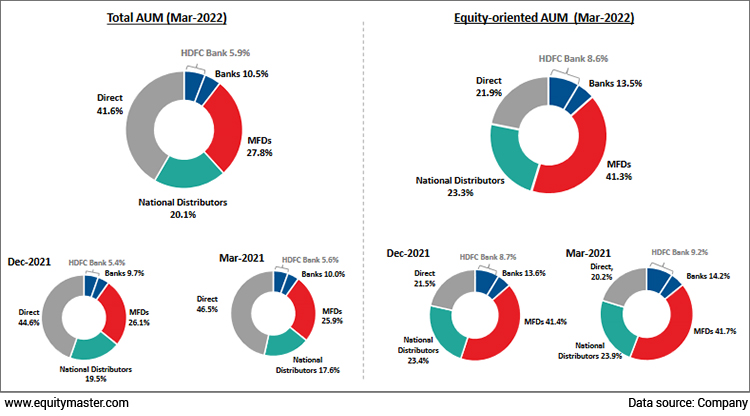 As mentioned in the analyst call, 70% of customers of HDFC Ltd do not bank with HDFC Bank. This shows that HDFC Bank has the potential to sell its products and mutual funds.
How HDFC AMC shares have performed recently
On a year to date (YTD) basis, shares of HDFC AMC have shed 26%.
HDFC AMC has a 52-week high quote of Rs 3,363 touched on 9 September last year while the stock recently touched its 52-week low of Rs 1,609 on 24 May 2022.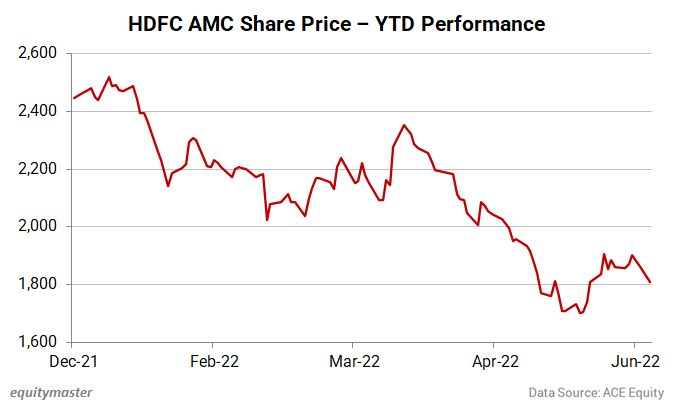 HDFC AMC currently trades at a PE multiple of 27.6 times with a marketcap of Rs 386.6 bn.
As of March 2022, FIIs hold 10.42% stake in the company. To know more, check out HDFC AMC's latest shareholding pattern.
About HDFC AMC
HDFC AMC is an investment manager to HDFC mutual fund. The company has a diversified asset class mix across equity and fixed income/others.
Promoted by HDFC in 1999, Standard Life Investments (SLI) acquired 26% stake in HDFC AMC in 2001, and now the company operates as a joint venture between HDFC and SLI.
Through organic growth and acquisitions, such as Zurich India and Morgan Stanley MF, the firm has grown to one of the top two AMCs in India.
To know more about the company, you can check out HDFC AMC company fact sheet and HDFC AMC quarterly results.
You can also compare HDFC AMC with its peers.
Disclaimer: This article is for information purposes only. It is not a stock recommendation and should not be treated as such. Learn more about our recommendation services here...
Yash Vora is a financial writer with the Microcap Millionaires team at Equitymaster. He has followed the stock markets right from his early college days. So, Yash has a keen eye for the big market movers. His clear and crisp writeups offer sharp insights on market moving stocks, fund flows, economic data and IPOs. When not looking at stocks, Yash loves a game of table tennis or chess.