Lessons in Investing Fraud from a Movie Theatre
Jun 14, 2019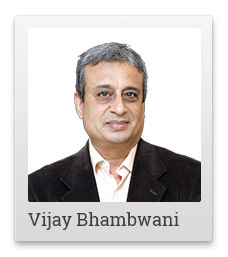 My maternal grandparents lived in Nashik when I was a kid. Grandpa was a doctor, which was a big deal in the 1960s and 1970s. Nashik was a tiny town back then, and a doctor was a very well-known personality.
Being big city kids, we got bored very easily in Nashik. Nowadays, my kids tell me that a lot in the holidays! So we went to the movies often. My grandpa would call the movie theatre's manager and we were assured of the best seats and a guided tour of the projector room.
Believe me, in those days, it was the equivalent of visiting the cockpit of a 747 Jumbo Jet! But me being me, could hardly be satisfied. I wanted to sit with the ticket clerk in the box office and sell the movie tickets. The process of wetting your thumb and forefinger, and counting the tickets, like a wad of currency notes was very exciting. Being a local doctor's grandkid helped in getting one's wished granted.
That's when I noticed something peculiar...
The ticket clerk had two wads of each type of tickets. Stalls and balcony, and he would issue patron tickets from one wad and the next patron from another wad. I asked him why, he looked helplessly at the manager, who nodded his approval.
---

Advertisement

---
50 Reasons Why Regular Folks Could Get Rich In Modi 2.0 And Beyond… (FREE Book)
The convergence of multiple economic forces has created a opportunity where regular folks could become super rich in Modi 2.0 and beyond.

So to guide you in profiting from it, our Co-Head of research Tanushree has revealed the full details in her book titled, "50 Reasons Why The Rebirth of India Is Inevitable".

This book is currently selling for Rs 1,950 on Amazon. But by acting fast, you could get a copy delivered to your address in India for virtually FREE.

More than 1,000 copies of this hardbound book have been claimed already.

Click here to find out how to grab your virtually FREE copy now…
------------------------------
The clerk taught me the first lesson in investing fraud.
He said one bunch of ticket sales would be disclosed to the tax authorities and the other was to be handed over to the owners in cold cash. I asked him why the theatre was not air conditioned, like we have them in Bombay (as Mumbai was known back then).
He said the theatre was "officially" losing money because 50% of the box office sales were never reported in the books. This was a revelation for a young mind such as mine.
When I grew up to take my own investment decisions, I promised myself I would never invest in companies that sold their goods and/or services in cash. I would keep thinking of my movie theatre experience as a kid. Decades later, when a new financial news channel started, the editor (who was a friend) requested me to talk to some of the newbie "troops" to give them some guru gyan.
You have got to understand the unbridled excitement of a trainee research analyst or journalist fresh out of college. Everything is so hunky dory. They are so enthusiastic.
One of them started with how real estate stocks in India were cheap, going by the price to earnings multiple (p/e) etc.
I narrated the movie theatre anecdote during my childhood, now even newbies know that property deals in India are done in 30/70, 40/60 etc manner. Meaning 30-40% in cash (black money) and 60-70% in cheque.
I asked him what happens to an investor of a real estate company's stock? Does he get Rs 30 in cash for every Rs 70 he receives by cheque as dividend? If not, where was the cash going?
The guy sat still like he had been struck by lightning. It was his Eureka moment of truth. He mumbled something about not being taught about this aspect at school or college. Well come to think of it, nor was I.
I learnt it in a movie theatre's box office in Nashik as a kid. Some lessons are best learnt only from the university called life. This is why real doers of deeds think differently from armchair experts. Field work is the difference.
If you want to invest in someone else's business, by buying his company shares, you have got to be an optimist by nature. It can't be any other way. But you can't let the guy cheat you blind by siphoning money in cash for god's sake.
Now you know why I never recommended a buy and hold in any real estate stock in any of my TV shows.
Have a profitable day.
Warm regards,

Vijay L Bhambwani
Editor and Research Analyst, Weekly Cash Alerts
Vijay L Bhambwani, is the editor of Weekly Cash Alerts and Fast Income Alerts. He is a professional trader, author, trading mentor, and lifelong student of the markets. He has been an active trader since 1986. Financial markets are his life and passion. Everything else in his life revolves around his main objective - trading. Vijay believes that no matter how much a trader has lost in the market, it is possible with hard work and smart work to get it all back over time. Understanding the method behind the madness of the markets interests him more than the profits. He specialises in predictive style of technical analysis, in the commodity, currency, and equity markets. That is the foundation stone of his style of trading - Neuro Behavioural Technical Analysis. Vijay trains other professional traders. He is empaneled with the BSE & NSE as a visiting faculty for various finance market courses. He created the early course content for the Diploma in Commodity Markets (DICM), certified by the Forward Markets Commission. He was a training mentor at the MCX between 2005-2009. He is the first author to have his book - A Traders Guide to Indian Commodity Markets published by CNBC Publishing 18, in 2009 - approved and sponsored by the NCDEX. Vijay has done over 8,000 TV shows in the last 17 years and has written over 4,000 columns/articles in the print and electronic media. He is one of the first columnists to write a weekly column in the English language print media after the commissioning of the MCX, via his columns in the DNA Money, Business Standard and others.