BHEL Shares Tumble 18% on Disappointing March Quarter Results
Jun 14, 2021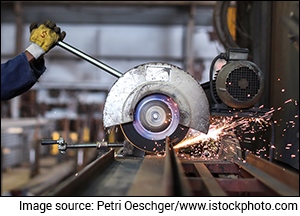 Shares of Bharat Heavy Electricals (BHEL) slipped 18% to Rs 62.6 on the BSE in intra-day trade today after the company reported a lower than expected numbers for the quarter ended March 2021.
In the fourth quarter, BHEL reported a net loss of Rs 10.4 bn against a loss of Rs 15.3 bn a year ago.
During the financial year 2020-21, the company's consolidated net loss widened to Rs 27 bn as compared with Rs 14.7 bn in the last year.
Operational performance
Revenues grew 42% year on year (YoY) at Rs 71.7 bn on a low base, with some impact of execution headwinds and pandemic.
It was Rs 50.2 bn in the same period last year.
For the full year 2021, the company's revenue from operations stood at Rs 173.1 bn, down 19% compared to Rs 214.6 bn in the previous year.
Earnings before interest, taxes, depreciation, and amortisation (EBITDA) level loss came in at Rs 12.6 bn against a loss of Rs 5.6 bn in the same quarter a year ago owing to lower than expected execution and higher than expected operating expenses.
Key Financial Parameters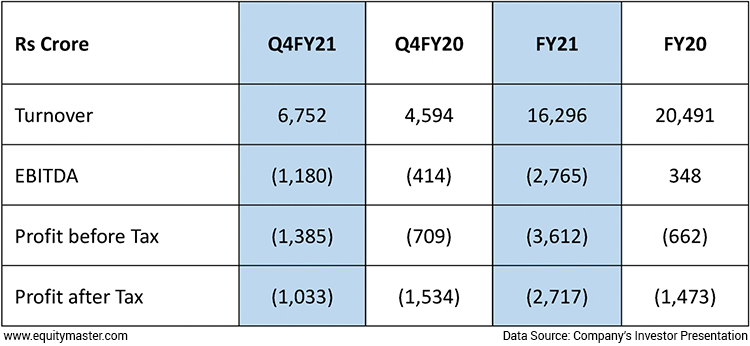 According to leading financial daily, overall quarter four performance appeared to be dull as operating losses further widened despite some rebound in execution amid a low base.
However, recent execution headwinds in power segment due to various issues leading to project delays and working capital stress continues to be major near-term challenges and needs to be resolved quickly to regain profitability amid pandemic.
Cost control measures initiated by the company
BHEL continued to struggle with a weak ordering environment in the power sector, high receivables which is around Rs 313 bn, and huge fiscal year 2021 employee cost (around 31% of sales).
During the financial year 2021, working capital stood elevated 101% of sales (99%/63% of sales in the year 2020 and 2019, respectively), weighed by a higher inventory and receivables and poor execution.
However, BHEL has initiated stringent measures on the cost control front to improve operational performance, working capital situation and focusing on new growth opportunities in oil and gas, transportation, defence, and aerospace for utilising manufacturing facilities and to achieve diversification.
In a statement the company said, the nationwide lockdown, consequent to the spread of the Covid-19 pandemic globally, caused disturbance and slowdown in the economic activities.
It impacted the group operations during 2020-21, which recouped progressively.
Based on internal and external information up to the date of approval of these financial statements, the company expects to recover the carrying amount of its assets, investments, trade receivables, contract assets and inventories, it added.
BHEL bagged first overseas contract for solar plant
In the month of March 2021, BHEL achieved another milestone in international business by securing its maiden overseas turnkey contract for a grid-connected 8 MWac solar photovoltaic (PV) power plant.
The solar farm will be set up by BHEL at Tamarind Falls, Henrietta (Phase II), Mauritius on engineering, procurement and construction (EPC) basis.
The contract for the same has been awarded to BHEL by CEB (Green Energy) Co., Mauritius, a wholly owned subsidiary of Central Electricity Board (CEB), government of Mauritius.
The contract agreement for the project was exchanged between the Mauritian and Indian side during the visit of the Minister of External Affairs of India to Mauritius.
Equitymaster on capital goods stocks
Here's what Aditya Vora, Financial Writer at Equitymaster, wrote about the capital goods sector in one of the editions of Profit Hunter:
I'm a firm proponent of the economic revival theme in the stock market. I'm bullish on capital goods and infrastructure stocks.

These sectors have emerged stronger from an elongated down cycle. There is also a strong momentum in economic indicators which is in favour of these stocks.

Indicators like rising construction equipment sales, record highway construction run rate, capacity expansion by private players in the cement, metals, and consumer durables gives us confidence of a strong capex cycle ahead.

There may be a near term speed bump to the economic recovery due to the rising covid cases and lockdowns. However, I believe we are at an inflection point with regards to the capex cycle.

The cycle has turned up.
The recent Hidden Treasure recommendation is a fundamentally strong business in the capital goods space that is 'essential' to the infrastructure revival.
You can read the report here (requires subscription).
If you're not a subscriber, here's where you can sign up.
How the stock markets reacted to BHEL'S March quarter numbers today
Shares of BHEL opened the day at Rs 68.6 on the BSE and Rs 69.4 on the NSE.
BHEL share price closed at Rs 67.4 (down 11.6%) on the BSE and the NSE.
The share touched its 52-week high of Rs 79.5 and 52-week low of Rs 26.4 on 9 June 2021 and 16 October 2020, respectively.
Over the last 30 days, the BHEL share price is up 3.3%. Over the last one year, the company's share price is up 117.3%.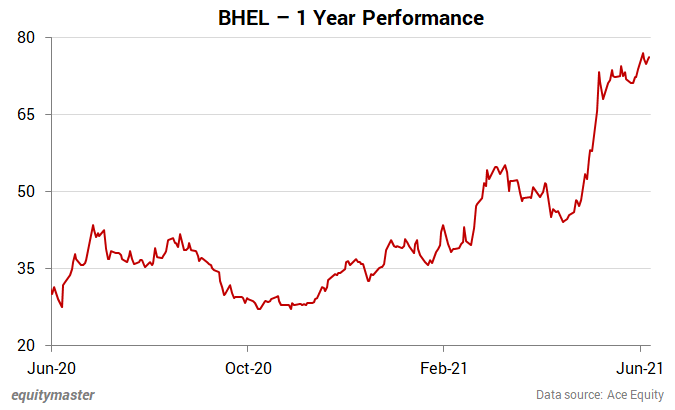 About Bharat Heavy Electricals
Bharat Heavy Electricals was incorporated in the year 1964 ushering in the indigenous heavy electrical equipment industry in India.
BHEL is an integrated power plant equipment manufacturer and one of the largest engineering and manufacturing companies in India.
The company is also one of the leading international companies in the power field.
It is engaged in the design, engineering, manufacture, construction, testing, commissioning, and servicing of a wide range of products and services for the core sectors of the economy - power, transmission, industry, transportation, renewable energy, oil & gas and defence.
They have a wide-spread network comprising 17 manufacturing divisions, 2 repair units, 4 regional offices, 8 service centres, 4 overseas offices, 6 joint ventures, 15 regional marketing centres, besides a large number of project sites spread all over India and abroad.
BHEL also has a widespread overseas footprint in 82 countries across all the six continents with cumulative overseas installed capacity of BHEL manufactured power plants nearing 10,000 megawatt (MW) including Belarus, Bhutan, Egypt, Indonesia, Iraq, Kazakhstan, Malaysia, New Zealand, Oman, Rwanda, Sudan, Tajikistan, and UAE.
For more details about the company, you can have a look at BHEL's factsheet and quarterly results on our website.
You can also compare BHEL with its peers.
To know what's moving the Indian stock markets today, check out the most recent share market updates here.