Deepak Fertilisers Soars 52% in Six Days. Stock Hits 52-Week High
Jun 15, 2021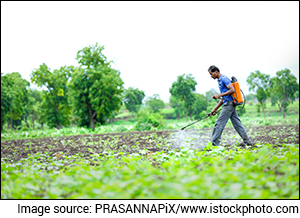 Shares of Deepak Fertilisers & Petrochemicals Corporation continued their upward movement and hit a fresh 52-week high of Rs 474.7 after rallying 6% on the BSE today.
The stock of the commodity chemicals company was trading higher for the seventh straight day.
In the past six days, it has zoomed 52%, as compared to 0.8% rise in the BSE Sensex.
In the past six months, it has soared nearly 190%, against 14% rally in the benchmark index.
The stock was trading close to its record high level of Rs 485, touched on 3 November 2017.
Promoters increase their stake
As per the stock exchange data, Robust Marketing Services, one of the promoters of Deepak Fertilisers, acquired 93,000 equity shares, or 0.1% stake, of the company worth Rs 27.5 m via open market between 3 June 2021 and 7 June 2021.
It should be noted that when promoters increase their stake in their company, it is usually considered positive.
It indicates that the promoter is confident about the future prospects of the company.
Financial performance improved for the full year and March 2021 quarter
Deepak Fertilisers & Petrochemicals Corporation reported a 357% jump in net profit to Rs 4.1 bn for the year ended 31 March 2021 on strong sales.
The Pune-based company had posted consolidated revenue of Rs 58.1 bn, up 24% from Rs 46.9 bn in the previous fiscal year.
The company's revenues for the quarter ended 31 March 2021 grew by 21.8% to Rs 15.8 bn while net profit jumped by 415% to Rs 1.2 bn.
The chemical business contributed nearly 81% of segment profit while the cash flow from operations more than doubled at Rs 12.5 bn in 2021.
Deepak Fertilisers has reduced net debt by 30% to Rs 18.3 bn as of 31 March 2021 against Rs 26.7 bn in the same period last year, largely due to higher cash reserves and a substantial increase in value of investment in mutual funds.
The company's board has recommended a dividend of Rs 7.5 per equity share for the financial year subject to the approval of shareholders.
Deepak Fertilisers to invest Rs 14.8 bn in ammonia plant
Earlier this month, Deepak Fertilisers said that it is planning to invest Rs 14.8 bn in new ammonia manufacturing plant at Taloja on the outskirts of Mumbai, Maharashtra.
The plant is expected to be completed in the next two years.
The company has already raised Rs 9.3 bn debt and procured necessary equipment, besides completing the construction works.
The 5.2 lakh tonne ammonia plant will not only meet the key raw material need of the company but also have excess capacity for sale in open market.
Currently, the company imports about 4 lakh tonne of ammonia from West Asia.
Ammonia is the key raw material across the company's petrochemical and fertiliser businesses.
The company is also setting up 3.8 lakh tonne technical ammonium nitrate plant at Gopalpur in Odisha to tap both the growing demand in domestic and overseas market.
The project is expected to be completed by March 2024.
Once the new ammonia plant starts production, the company will save about US$75-80 a tonne in logistics cost alone and would replace import of ammonia completely.
Government hikes subsidy for di-ammonia phosphate
In the last month, the centre said that it has increased its share of subsidy for di-ammonia phosphate (DAP) by 140%, translating into reduction of market price of DAP from Rs 2,400 per bag to Rs 1,200 per bag.
The union government has decided to increase the fertiliser subsidy outlay for the year by Rs 147.8 bn.
This will take the fertiliser subsidy outlay for 2021-22 to Rs 943.1 bn from a budgeted outlay of Rs 795.3 bn.
In a statement released by centre, said, 'It was discussed that the price of fertilisers is undergoing an increase due to the rising prices of phosphoric acid, ammonia etc. internationally.
Prime Minister stressed that farmers should get fertilisers at old rates despite the international rise in prices'.
Equitymaster's technical view on Deepak Fertilisers
We reached out to Brijesh Bhatia, Research Analyst at Equitymaster, and Editor of the premium monthly recommendation service Fast Profits Report, for his technical view on Deepak Fertilisers.
Here's what he has to say...
The Mid Cap and Small Cap stocks are having their best time and fertilizers stocks too.

Since the March lows, Deepak Fertilizers is one of the most outperforming stock amongst its peers gaining 754% from low of Rs 55.4 in March 2020.

Seasonality Analysis indicates the April and May months are best for the stock as the 20 years average returns is 7.4% and 3.9% respectively.

The June has been neutral with -1.14% while July and August have historic average performance of 3.4% and 2.1% respectively for the same period. It indicates the bullish scenario may prolong in the stock for next 2-3 months.

Investors should keep in mind the margin of safety as the stock has witnessed huge upside and any retracement can be on cards which can be an opportunity to invest.
How the stock markets reacted to Deepak Fertilisers today
Shares of Deepak Fertilisers opened the day at Rs 454.8 on the BSE and Rs 449 on the NSE.
Deepak Fertilisers share price closed at Rs 446 (down 0.3%) on the BSE and Rs 446.6 (down 0.4%) on the NSE.
At its current price, it is trading at a P/E of 19.8.
The share touched its 52-week high of Rs 474.7 and 52-week low of Rs 97.2 on 15 June 2021 and 15 June 2020, respectively.
Over the last 30 days, the Deepak Fertilisers share price is up 58.6%. Over the last one year, the company's share price is up 336%.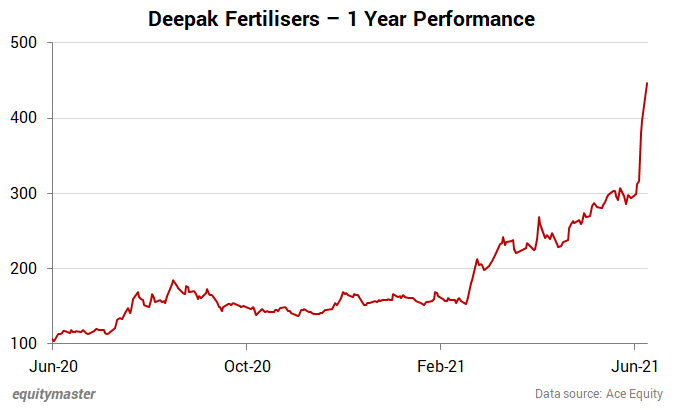 About the company
Deepak Fertilisers and Petrochemicals Corporation is the leading manufacturer of industrial chemicals in India.
It is one of the major manufacturers of nitric acid, Iso propyl alcohol (IPA), food grade liquid carbon dioxide and methanol.
The manufacturing facilities of the company are located at Taloja Maharashtra and Dahej Gujarat.
The company imports and supplies very few selected solvents to maintain its leadership position domestically.
It is engaged in the business of fertilisers, agri services, bulk chemicals, mining chemicals and value-added real estate.
It has a strong distribution network of 50 channel partners and direct relationships with 600 industrial customers in India and globally.
The company owns India's most significant technical ammonium nitrate (TAN) complex which produces ammonium nitrate (AN) melt, high-density AN and low-density AN.
Deepak Fertilisers is India's largest TAN (solids) manufacturer and is also one of the world's top 5 largest merchant TAN manufacturers.
It enjoys a 45% market share in the segment with about 85% plus capacity utilisation.
For more details about the company, you can have a look at Deepak Fertilizers' factsheet and quarterly results on our website.
You can also compare Deepak Fertilisers with its peers.
Deepak Fertilisers vs Gujarat State Fertilisers
Deepak Fertilisers vs Chambal Fertilisers and Chemicals
Deepak Fertilisers vs Rallis India
To know what's moving the Indian stock markets today, check out the most recent share market updates here.
Disclaimer: This article is for information purposes only. It is not a stock recommendation and should not be treated as such. Learn more about our recommendation services here...