Why Did Shares of Jubilant FoodWorks Rally Today?
Jun 16, 2021
Shares of Jubilant FoodWorks rallied over 5% to hit a record high of Rs 3,331.9 today after the company reported over three-fold jump in its consolidated net profit for the quarter ended March 2021.
Jubilant FoodWorks, which operates fast-food chains Domino's Pizza and Dunkin' Donuts, reported over three-fold jump in its consolidated net profit at Rs 1.1 bn for the quarter ended March 2021.
The company had posted a net profit of Rs 325.3 m a year ago.
Its revenue from operations was at Rs 10.4 bn, up 14.2%, during the quarter under review, against Rs 9.1 bn in the same quarter of fiscal year 2019-20.
Earnings before interest, taxes, depreciation and ammortisation (EBITDA) for the quarter ended March 2021 was Rs 2.5 bn against Rs 1.7 bn during the previous year, up 48.2%.
The EBITDA margins came in at 24.1%, an increase of 542 basis points (bps) during the March 2021 quarter.
Financial highlights for the full year 2021
For the financial year ended March 2021, the company's consolidated net profit was down 17.3% to Rs 2.3 bn.
It had a net profit of Rs 2.8 bn in the financial year 2019-20.
The company's revenue from operations in the financial year 2021 was at Rs 33.1 bn, down 15.7% from Rs 39.3 bn posted in the last year.
EBITDA for the financial year 2021 stood at Rs 7.7 bn, down 11.9% from Rs 8.8 bn reported in the last year.
Its EBITDA margin for the year stood at 23.3%, an increase of 100 bps compared to last year.
In a statement the company said, 'This was driven by Domino's like-for-like (LFL) sales growth (adjusted for temporary restaurant closures) of 15.1% and same-store growth (SSG) of 11.8%' .
Domino's witnessed continued momentum in delivery and takeaway channels which grew by 28.7% and 76.9%, respectively.
Key Financial Parameters
| Particulars (Rs in bn) | Q4FY21 | Q4FY20 | Growth | FY21 | FY20 | Growth |
| --- | --- | --- | --- | --- | --- | --- |
| Revenue from operations | 10.4 | 9.1 | 14.2% | 33.1 | 39.3 | -15.7% |
| EBITDA | 2.5 | 1.7 | 48.2% | 7.7 | 8.8 | -11.9% |
| EBITDA margin (%) | 24.1% | 18.6% | | 23.3% | 22.3% | |
| PAT | 1.1 | 0.3 | 223.7% | 2.3 | 2.8 | -17.3% |
| PAT margin (%) | 10.1% | 3.6% | | 7.0% | 7.1% | |
Data Source: Company's Investor Presentation
Commenting on the performance for quarter four and fiscal year 2021, Mr Pratik Pota, CEO and Wholetime Director, Jubilant Foodworks said,
I am pleased with our performance in Q4FY21 and FY21. We returned to growth during the quarter, opened a large number of new stores, improved our operating margins and expanded our portfolio of brands.

The quarter rounded off a challenging year where we were tested like never before, and I could not be more proud of the way our teams rallied around to serve our customers and our communities and to deliver an outstanding performance during the year.

We are confident that our sustained investments in Digital, Supply Chain, Brand building, Innovation and Portfolio expansion will continue to be a source of competitive advantage for us and help drive hyper-growth.
Equity Dividend
The board of directors of the company has recommended a dividend of Rs 6 per equity share of the face value of Rs 10 each for the financial year ended March 2021 (amounting to Rs 791.8 m).
The board has also approved the re-appointment of Pratik R Pota as CEO and whole-time director of the company for a period of three years with effect from 1 April 2022, till 31 March 2025 and Berjis Minoo Desai as an independent director.
Store expansion gathers pace
Jubilant FoodWorks' performance was in line with expectations. Store openings were higher than expected and ahead of guidance.
During the quarter, the company opened 50 new restaurants for Domino's Pizza adding 8 cities in its network and closed 4 stores of Domino's Pizza.
It was operating a total of 1,360 restaurants across 293 cities as of 31 March 2021.
Meanwhile, the company opened one restaurant for Dunkin' Donuts and closed 4 restaurants, bringing the number down to 24 from 27 at the beginning of the period.
The company also opened one restaurant each of its new quick service restaurants (QSR) brands Hong's Kitchen and Ekdum!, taking the total count to 12 by the end of the quarter.
Jubilant FoodWorks is well placed to accelerate Domino's store network expansion and investments in new brands offer optionality.
It has the potential to transition into a multi-brand QSR with unparalleled network benefits.
Announced multi-country master franchise agreement with Popeyes
During the quarter, the company acquired the master franchise rights for American multinational chain of fried chicken fast food restaurants 'Popeyes' for India and also invested in DP Eurasia, an exclusive master franchisee of Domino's Pizza in Turkey, Russia, Azerbaijan, and Georgia.
Popeyes is one of the largest chicken quick-service restaurants with over 3,400 restaurants in over 25 countries around the world.
The company plans to develop, establish, own and operate Popeyes restaurants in India, Bangladesh, Nepal, and Bhutan.
Popeyes will be an exciting addition to the Jubilant FoodWorks' portfolio and is expected to become one of the key drivers of growth in the coming years.
Quick service restaurants show strong appetite for growth as covid-19 wave subsides
The quick service restaurants (QSRs) have gained a major market share in a short period. They were the first off the blocks last year when the restrictions were lifted.
Most likely, the trend will repeat itself this year as well once the covid-19 wave subsides.
According to a leading financial daily, India's organised food services market is expected to grow at about 10.5% compound annual growth rate (CAGR) to US$37 bn in the next five years.
Within that, the QSRs are likely to outperform with potential growth at 13% CAGR to US$9.5 bn.
How the stock markets reacted to Jubilant FoodWorks March quarter numbers today
Shares of Jubilant FoodWorks opened the day at Rs 3,225 on the BSE and Rs 3,250 on the NSE.
Jubilant FoodWorks share price closed at Rs 3,277 (up 3.2%) on the BSE and Rs 3,279 (up 3.2%) on the NSE.
At its current price, it is trading at a P/E of 143.5.
The share touched its 52-week high of Rs 3,331.9 and 52-week low of Rs 1,596.3 on 16 June 2021 and 13 July 2020, respectively.
Over the last 30 days, the Jubilant FoodWorks share price is up 16.6%. Over the last one year, the company's share price is up 92.7%.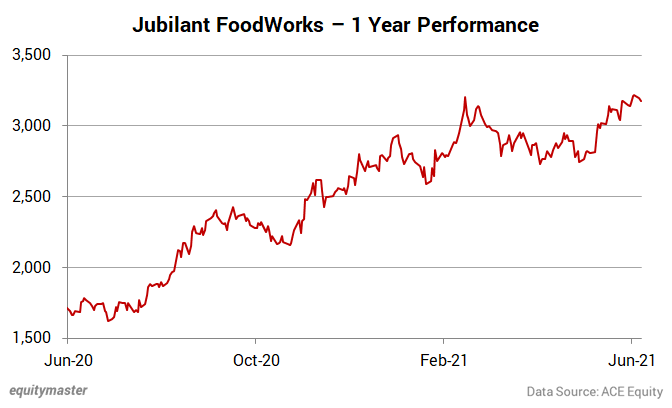 About Jubilant FoodWorks
Jubilant FoodWorks was incorporated on 16 March 1995 as Domino's Pizza India Private Limited and began operations in 1996.
It changed its name to Jubilant FoodWorks in 2009. The company opened India's first Domino's Pizza outlet in New Delhi in 1996.
The company is a part of the Jubilant Bhartia Group, owned by Shyam Sunder Bhartia.
It has two strong international brands in its portfolio Domino's Pizza and Dunkin' Donuts addressing different food market segments.
The Indian food service company has the exclusive rights to develop and operate Domino's Pizza brand in India, Sri Lanka, Bangladesh, and Nepal.
Domino's Pizza offers a menu of quality pizza and side dishes to their customers.
It also has exclusive rights for developing and operating Dunkin' Donuts restaurants for India.
For more details about the company, you can have a look at Jubilant FoodWorks factsheet and quarterly results on our website.
To know what's moving the Indian stock markets today, check out the most recent share market updates here.
Disclaimer: This article is for information purposes only. It is not a stock recommendation and should not be treated as such. Learn more about our recommendation services here...