LIC Housing Finance Shares Skid 5% as Profit Falls Due to Higher Provisions
Jun 16, 2021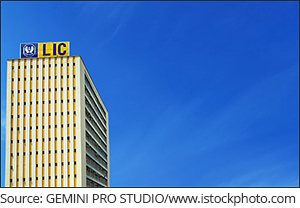 Shares of LIC Housing Finance slid 5.6% to Rs 492.7 on the BSE today as investors booked profit after the company reported a good set of numbers for the March quarter on the operating and business growth front.
However, a steep rise in provisions dented profitability.
With today's decline, the stock has corrected 8% from its 52-week high level of Rs 542 per share, touched on Friday, 11 June.
Despite the past couple of days' fall, LIC Housing Finance has outperformed the market by gaining 18%, compared to 8% rise in the BSE Sensex in the past one month.
Financial highlights
LIC Housing, India's second largest mortgage finance company by assets said its net profit declined 5% to Rs 4 bn in the quarter ended March 2021 from Rs 4.2 bn a year ago.
This was due to a large spike in provisions as the company had to recognise for non-performing assets (NPAs) after the supreme court lifted the standstill in March.
For the full financial year 2021, the net profit rose 13.8% to Rs 27.3 bn from Rs 24 bn in the previous fiscal year.
The net interest income (NII) in the reporting quarter rose by 33% to Rs 15.1 bn from Rs 11.3 bn in the fourth quarter.
Net interest margin (NIM) for the quarter improved to 2.7% against 2.2% in the same quarter last year.
--- Advertisement ---
This is a Powerful Mega Trend Playing Out in India

We have uncovered a powerful mega trend that is playing out in India right now.

It could potentially generate immense wealth for early movers.

Our co-head of research Tanushree Banerjee has also zeroed in on one specific stock riding this mega trend.

It's her #1 stock pick right now.

And she believes, this could be one of the top stocks to get to potential Rs 7 crore wealth over the long term.

Tanushree will reveal all the details about this mega trend and her #1 stock at her special online event on July 29.

At the event Tanushree will also show you, how to potentially accumulate Rs 7 crore in wealth over the long term.

What you learn at the event could possibly change your financial fortunes forever.

Click here to reserve your FREE seat.
------------------------------
Impact of covid-19
In a statement the company said the first wave of Covid-19 was contained and economic activities resumed around third quarter of 2021.
The resurgence of Covid-19 in the second wave was far more devastating and lockdowns were imposed across country from April 2021.
At present, the outlook continues to be uncertain in terms of its impact on economic recovery.
The impairment costs on financial instruments rose close to 40 times to Rs 9.8 bn from Rs 270 m a year ago and higher than the Rs 1.8 bn reported in the quarter ended December 2020.
The provisions on expected loss basis (ECL) stood at Rs 39.7 bn as on 31 March 2021, against Rs 26.1 bn as on 31 March 2020.
Y. Viswanatha Gowd, managing director and chief executive, LIC HFL said there has been an increase in delinquency levels during the quarter four of 2021, mostly arising out of pandemic impact on corporate entities and individuals.
Asset quality
Its gross non-performing assets (called stage three exposure at default) rose to 4.1% in March 2021 from 2.9 in March 2020.
Mr Y Viswanatha Gowd said, 'This (NPAs level) is being monitored very stringently. It is a matter of highest priority and I am confident of addressing it properly'.
The portfolio of loans to individuals rose 10% to Rs 2.2 tn in March 2021 from Rs 2 tn a year ago.
The project loan portfolio expanded to Rs 159.6 tn on 31 March 2021, against Rs 142.2 tn in March 2020.
The total outstanding portfolio grew at 10% from Rs 2.1 tn in March 2020 to Rs 2.3 tn in the financial year 2021.
Free Signup: The Smallcap Revival Summit
Equity dividend
The company's board has approved a dividend at 425% that is Rs 8.5 per equity share of the face value of Rs 2 each for the financial year 2021.
India's housing finance sector
According to the India housing finance report, the industry has been on the fast lane. It has been growing at 18% in the last seven years.
The home loan to gross domestic product (GDP) ratio in India is currently at 9%.
The Indian housing finance sector may consist of more than 80-plus players, but the industry is dominated by a select few.
They are HDFC, Dewan Housing Finance, Indiabulls Housing Finance, PNB Housing Finance, and LIC Housing Finance. Together, they command a 78% market share.
Equitymaster's view on housing finance sector
We reached out to Tanushree Banerjee, Co-Head of Research at Equitymaster, and Editor of the premium stock recommendation service, StockSelect, for her view on the sector.
Here's what she has to say...
Housing finance companies are expected to see a rise in gross NPAs in the coming quarters due to the second wave of Covid, as individual borrowers face strained cash flows.

Nevertheless, healthy provision coverage maintained by most of the entities, is expected to provide cushion and protect the profitability of most entities in FY22.

Investors should look for entities with a track record of good asset quality across cycles.
How the stock markets reacted to LIC Housing Finance March quarter numbers today
Shares of LIC Housing Finance opened the day at Rs 508.8 on the BSE and Rs 507 on the NSE.
LIC Housing Finance share price closed at Rs 494.9 (down 5.2%) on the BSE and Rs 495.1 (down 5.1%) on the NSE.
At its current price, it is trading at a P/E of 10.5.
The share touched its 52-week high of Rs 542.5 and 52-week low of Rs 255 on 11 June 2021 and 16 July 2020, respectively.
Over the last 30 days, the LIC Housing Finance share price is up 16.3%. Over the last one year, the company's share price is up 85.1%.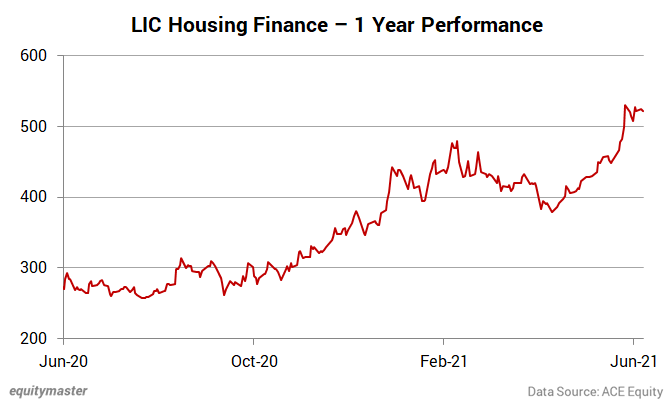 About LIC Housing Finance
LIC Housing Finance (LIC HFL) was incorporated on 19 June 1989, under the Companies Act, 1956.
It is promoted by Life Insurance Corporation of India and went public in the year 1994.
The company is one of the largest housing finance mortgage loan companies in India having its registered and corporate office at Mumbai.
LIC HFL is a subsidiary company of LIC.
The main objective of the company is to provide long-term financing to individuals for the purchase or construction of houses or flats for residential purposes.
The company also finances for the purpose of repair and renovation of existing flats and houses.
The non-banking financial company (NBFC) also provides financing on existing property for business and personal needs and gives loans to professionals for purchase or construction of clinics, nursing homes, diagnostic centres, office space and also for purchase of equipments.
The company is very well known for providing long term financing to individuals engaged in the business of construction of houses or flats for residential purpose.
LIC of India also holds promoter and controller status in IDBI Bank from January 2019.
For more details about the company, you can have a look at LIC Housing Finance factsheet and quarterly results on our website.
You can also compare LIC Housing Finance with its peers.
LIC Housing Finance vs GIC Housing
To know what's moving the Indian stock markets today, check out the most recent share market updates here.
Disclaimer: This article is for information purposes only. It is not a stock recommendation and should not be treated as such. Learn more about our recommendation services here...