I Think Crude Oil Should Be at US$ 20 but It Might Go to US$ 80 Instead
Jun 17, 2019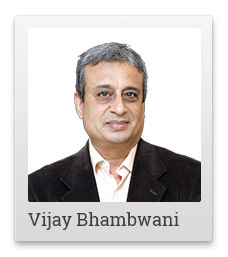 Anybody familiar with my views in the public domain would be justifiably confused. I would not blame anyone who did. Many a times, I am a tug of war with myself.
Take my bullish view on crude oil...
It is an enigma. What adds to the mystery is that it is largely found in the Middle East and these countries are less than open about their oil reserves.
Oil is flammable both as a physical commodity and as a financial instrument. A little bit of a nudge with a terror attack, a small war someplace, or talk of sanctions and it is literally on fire. Pun intended.
The producers would want it to go up in price (naturally), the consumer would want it cheaper. Something has to give. What can transpire over the next few years? I conjecture below-
First and foremost - The only reason I am bullish on oil is because I expect the Saudis will push it up. They need to push through the world's largest IPO (Saudi Aramco) totalling approximately US$ 300 billion. It is expected to hit the markets in 2021.
---

Advertisement

---
Where Do We Ship Your Book?
We strongly believe our book - "50 Reasons Why The Rebirth of India Is Inevitable" - could rewrite the financial destiny of anyone who reads it and acts on the information.

Simply stated, the book reveals how to profit from the once-in-2000 years wealth building phenomenon we call the Rebirth of India.

And Modi's re-election could speed up the Rebirth of India greatly too. So don't delay.

This book is currently selling for Rs 1,950 on Amazon. But by acting fast, you could get a copy delivered to your address in India virtually FREE.

Over 1,000 copies of this hardbound book have been claimed already.

Click here to find out how to grab your virtually FREE copy now!
------------------------------
Why is the IPO slated for 2021? - This is because the USA has Presidential elections in 2020 in November 2020. Apart from curbing inflation by subduing energy prices, there is another reason. The only big enough investment bank that can push through an IPO of this gargantuan size is Goldman Sachs of the United States. The Saudis cannot antagonize the United States government before their elections, by driving prices higher and still expect to hire an American investment banker to push through its IPO. So it is the case of you scratch my back, and I scratch yours.
What is at stake? - The Saudis need to continue their social security/welfare scheme of distributing money to keep another 'Arab spring' at bay. They need to build a tourist paradise in the northern desert, to earn dollars in the post oil scenario. The man-made city will house casinos, bars, movie theatres, and other entertainment forms that are banned under Sharia law. There is resistance from the clergy, angry sidelined princes and cousins, and the conservatives who are alarmed with women driving and movie theatres opening in Saudi Arabia. As long as the IPO goes through, when things are going as per plan, all is well. If the IPO fails, expect a vicious rebellion. The stakes as we can see, are extremely high.
What about the competitors? - The best motivation is self preservation and vested interest. So the aging Saudi King Salman flew with a retinue of over 3,000 servants to Russia, in a fleet of 747s, bought the S-400 missile systems from the Russians. The USA & Russia are bitter competitors. The Saudis and the USA are close buddies. The only reason King Salman travelled there was to convince the Russians to cutback oil output. The Russians signed a similar output cut treaty with their buddy, and Saudi arch enemy, Iran. So you see how all the ducks are being lined up on the same side? The alliance is cemented by vested interest.
What about the USA? - The world's largest consumer of oil wanted lower prices as long as it was a net importer. But now, it's the world's largest producer of oil and an exporter. As an importer it wanted lower prices, but now as an exporter it will push for higher prices. Just let the November 2020 election out of the way and you will see what I mean. The guys wanting to put oil prices higher are a formidable bunch indeed.
Will it be method or madness? - A bit of both. As a matter of fact, it will be method in the madness itself. A combination of output cuts, inventory declines, minor military conflicts always help in putting oil prices higher. These methods are tried and tested. Conflicts also help boost the USD prices due to safe haven buying.
Can something go wrong? - Plenty. New oil reserves been discovered (which is a low probability event), alternate sources of energy become even more commercially viable, solar power, electric vehicles among them.
What about the post Aramco IPO? - Do take the timeout to read reports about how public transport like buses, trains and in some countries, even passenger cars are dominantly electrically powered, and that number can only go up. Which means consumption growth is unlikely to be robust like it was in the past, for oil. The industrial consumers are switching to natural gas, electricity and solar power wherever possible. Let's not forget shale oil and gas which can give crude oil a run for its money.
The Saudis know all this and lots more. They sense a directional change of the blowing winds. The Aramco IPO is merely the act of adjusting the sails to the changing wind direction. Will the road map be smooth and will things go as per plan?
Far from it. Like the bulls and bears at a constant state of tug of war, the exporters and consumers of oil will haggle too. So the sellers may be together as an alliance for now, but do note they are ideologically enemies, egos, and feathers are likely to get ruffled.
The ride will be a rocky one. Fasten your seat belts.
Have a profitable day.
Warm regards,

Vijay L Bhambwani
Editor and Research Analyst, Weekly Cash Alerts
Vijay L Bhambwani, is the editor of Weekly Cash Alerts and Fast Income Alerts. He is a professional trader, author, trading mentor, and lifelong student of the markets. He has been an active trader since 1986. Financial markets are his life and passion. Everything else in his life revolves around his main objective - trading. Vijay believes that no matter how much a trader has lost in the market, it is possible with hard work and smart work to get it all back over time. Understanding the method behind the madness of the markets interests him more than the profits. He specialises in predictive style of technical analysis, in the commodity, currency, and equity markets. That is the foundation stone of his style of trading - Neuro Behavioural Technical Analysis. Vijay trains other professional traders. He is empaneled with the BSE & NSE as a visiting faculty for various finance market courses. He created the early course content for the Diploma in Commodity Markets (DICM), certified by the Forward Markets Commission. He was a training mentor at the MCX between 2005-2009. He is the first author to have his book - A Traders Guide to Indian Commodity Markets published by CNBC Publishing 18, in 2009 - approved and sponsored by the NCDEX. Vijay has done over 8,000 TV shows in the last 17 years and has written over 4,000 columns/articles in the print and electronic media. He is one of the first columnists to write a weekly column in the English language print media after the commissioning of the MCX, via his columns in the DNA Money, Business Standard and others.