CESC Shares Gain 6% on Good Results and Stock Split
Jun 17, 2021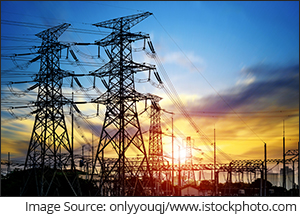 Share price of CESC surged over 6% on the BSE today after the company posted an improved set of numbers of the March quarter. The board approved a proposal for sub-division of equity shares.
CESC posted over 13% jump in its consolidated net profit to Rs 4.3 bn in the March 2021 quarter, mainly due to higher revenues.
The company's consolidated net profit had stood at Rs 3.8 bn in the same quarter last year.
Its total income during January-March 2021 rose to Rs 30 bn, up 9.9% compared to Rs 27.3 bn in the year-ago period.
The company's profit before tax (PBT) for the fourth quarter of 2021 came in at Rs 5.5 bn, up 12.2% from Rs 4.9 bn in the 2020.
--- Advertisement ---
[Alert] Sell These 3 Stocks Immediately

These 3 stocks are ticking time bombs in your portfolio.

It is very likely that you could be owning these 3 overvalued...

fundamentally weak... ready to crash stocks... in your portfolio today.

Because many stock brokers have painted rosy pictures of these stocks. But the reality is starkly different.

If the market crashes, then these stocks could wipe out your wealth.

You should get rid of these stocks as soon as possible.

We are going to reveal details of these 3 landmines at our upcoming special event at 5 pm on September 24.

You can click here to sign-up. It's free
------------------------------
Financial highlights for the year
For the full financial year 2020-21, the consolidated net profit stood at Rs 13.6 bn, up 3.8% compared to Rs 13.1 bn in the previous year.
Total income in the fiscal stood at Rs 118.7 bn, down 4.1% compared to Rs 123.8 bn a year ago.
In the financial year 2021, the company's PBT was at Rs 17.5 bn, down 1.1% from Rs 17.7 bn in the last year.
Key Financial Indicators
| Particulars (Rs in bn) | Q4FY21 | Q4FY20 | Change % | FY21 | FY20 | Change % |
| --- | --- | --- | --- | --- | --- | --- |
| Revenue from operations | 28.9 | 26.2 | 10.3% | 116.4 | 121.6 | 4.3% |
| Total expenses | 25.6 | 24.7 | 3.6% | 105.5 | 112.4 | 6.1% |
| PBT | 5.5 | 4.9 | 12.2% | 17.5 | 17.7 | 1.1% |
| PAT | 4.3 | 3.8 | 13.0% | 13.6 | 13.1 | 3.8% |
Data Source: Company's Quarterly Report
CESC board approves share split
The CESC board has considered and approved a proposal for the sub-division of the existing 1 equity share of nominal value of Rs 10 each to be sub-divided into 10 equity shares of a nominal value of Re 1 each.
The move is subject to the approval of the company's shareholders.
The board has also approved convening of its 43rd annual general meeting of the company's members on 18 August.
Outlook on India's power sector
Indian power sector is undergoing a significant change that has redefined the industry outlook.
Sustained economic growth continues to drive electricity demand in India.
The government of India's focus on attaining 'Power for all' has accelerated capacity addition in the country.
REVEALED: 3 "Super Smallcaps" You Didn't Know About
At the same time, the competitive intensity is increasing at both the market and supply sides (fuel, logistics, finances, and manpower).
By 2022, solar energy is estimated to contribute 114 gigawatts (GW), followed by 67 GW from wind power and 15 GW from biomass and hydropower.
The target for renewable energy has been increased to 227 GW for the year 2022.
In the financial year 2021, the total thermal installed capacity in the country stood at 234.7 GW.
Installed capacity of renewable, hydro, and nuclear energy totalled 94.4 GW, 46.2 GW and 6.8 GW, respectively.
Speaking of the power sector, it's interesting to note the power exchanged in India is about 4.5% of the overall power production, as can be seen in the chart below.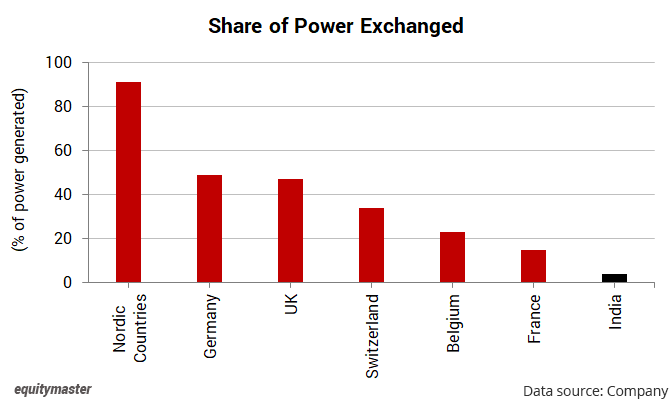 As per Tanushree Banerjee, Co-Head of Research at Equitymaster, India's power sector is currently in transition. It's driven by increasing reliance on short-term contracts and electricity spot markets.
This transition to the short-term market is happening due to quickly evolving industry dynamics.
Tanushree believes the Indian power sector will see a surge in spot power volumes due to certain factors.
--- Advertisement ---
INSIDER SECRET: An Astonishingly Easy Way to Pile Up Potentially 40-60% Gains in Just 1 Year

India's most well-connected trader with over 35 years of experience just confessed...

"This Lucrative Market Segment Could Leapfrog Over Nifty in The Next 12-16 Months"

... thanks to a massive and irreversible mega-trend fueling its growth!

In fact, he and his partner have already identified 2 spectacular stocks from this segment... which are ready to rake in potentially 40-60% gains in just 1 year... and make you big, fat profits!

The best part of them all...

Their Details Are Packed in This Special Report (Discover How to Claim it for Free)
------------------------------
How the stock markets reacted to CESC March quarter numbers today
Shares of CESC opened the day at Rs 797 on the BSE and the NSE.
CESC share price closed at Rs 783 (up 1.6%) on the BSE and Rs 780.4 (up 1.2%) on the NSE.
At its current price, it is trading at a P/E of 13.1.
The share touched its 52-week high of Rs 819.2 and 52-week low of Rs 539 on 17 June 2021 and 3 August 2020, respectively.
Over the last 30 days, the CESC share price is up 14.5%. Over the last one year, the company's share price is up 27.4%.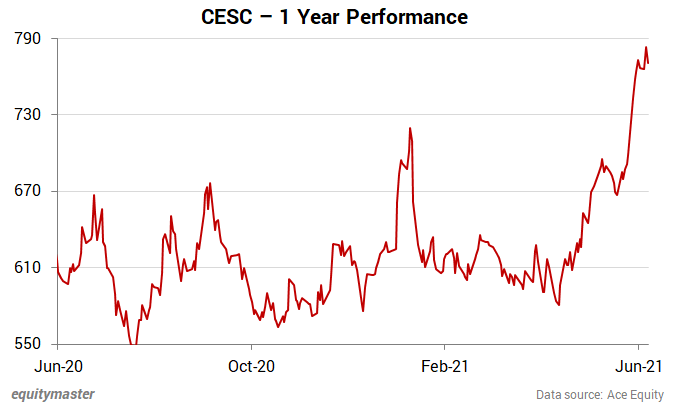 About the Calcutta Electric Supply Corporation
The Calcutta Electric Supply Corporation or CESC is the Kolkata-based flagship company of the RP-Sanjiv Goenka Group, born from the erstwhile RPG Group, under the chairmanship of businessman Sanjiv Goenka.
It's an Indian electricity generation and the sole distribution company serving 567 square kilometers (219 sq mi) of area administered by the Kolkata municipal corporation, in the city of Kolkata, as well as parts of Howrah, Hooghly, 24 Parganas (north), and 24 Parganas (south) districts in the state of West Bengal.
It serves about 3 m domestic, industrial, and commercial users.
For more details about the company, you can have a look at CESC factsheet and quarterly results on our website.
You can also compare CESC with its peers.
To know what's moving the Indian stock markets today, check out the most recent share market updates here.
Disclaimer: This article is for information purposes only. It is not a stock recommendation and should not be treated as such. Learn more about our recommendation services here...