What Triggered the Over 10% Surge in Greaves Cotton Today?
Jun 17, 2021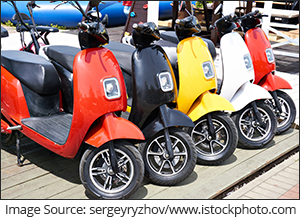 Greaves Cotton shares rallied over 10% to Rs 169.4 on the BSE today on the back of heavy volumes, in an otherwise range-bound market, amid expectations of a strong business outlook.
In the past one week, the stock of Greaves Cotton has soared 23% after the central government increased the subsidy on electric two-wheelers by 50%, under the second phase of the faster adoption and manufacturing of electric vehicles (FAME) India scheme, making them more affordable.
The stock was trading at its highest level since July 2017. It had hit a record high of Rs 178 on 4 May 2017.
Revision in FAME-II norms to boost electric 2-wheeler demand
The government had made a partial modification of the scheme for faster adoption and manufacturing of electric vehicles in India Phase II (FAME India Phase II).
This included increasing the demand incentive for electric two-wheelers to Rs 15,000 per KWh from the earlier uniform subsidy of Rs 10,000 per KWh for all EVs, including plug-in hybrids and strong hybrids, except buses.
The revision in the FAME (II) policy, increasing the subsidy by 50% per KWh, is likely to accelerate electric two-wheelers sales for Ampere Vehicles, a subsidiary of Greaves Cotton.
Ampere has more than half a dozen electric two-wheelers in its portfolio and with product for every customer price point in the affordable mobility and could further gain market share with new launches at varied price points.
As per a leading financial daily, electric mobility and new initiatives business of Greaves Cotton may provide much need growth uptick in long term amid languishing auto engine volumes.
Ampere Electric to build largest e-mobility manufacturing plant in FY22
During the fourth quarter of 2021, the company's e-mobility subsidiary, Ampere Electric announced an investment of Rs 7 bn over ten years to set up an e-mobility manufacturing plant in Ranipet, Tamil Nadu.
At over 1.4 m square feet, the proposed Ranipet manufacturing plant, when ready, will be one of the largest e-mobility manufacturing plants in the country.
Ampere Electric's Ranipet plant will have the potential to start manufacturing 100,000 units in its first year of operation and will have the potential to scale to 1 m units per annum.
This facility will be operational in 2021 itself. The Ranipet Plant will boast an advanced automation process for superior manufacturing capabilities.
An overview on company's business
The company's new business continues to grow and contributes 30% to the overall business of the company.
Greaves e-mobility segment has seen higher growth momentum, with Ampere gaining popularity due to rise in demand for its electric two-wheelers (electric scooters) and electric three-wheelers (electric rickshaws).
The non-auto business segment has also seen a significant growth and expected to do well in the coming quarter especially agriculture equipment due to the favorable monsoon season ahead.
Speaking of electric vehicles, note that the power ministry has approved setting up 2,636 electric vehicle charging stations across 62 cities in 24 states.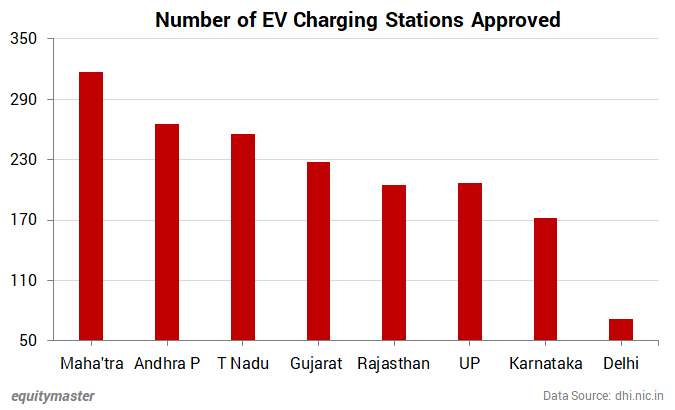 Here's what co-head of Research at Equitymaster, Tanushree Banerjee wrote about electric vehicles in one of her editions of Profit Hunter:
106 public and private entities have approached the government for permissions to set up about 7,000 EV charging stations.

This clearly shows the vehicle manufacturers have enough incentive to capture this latent demand.

The tax benefit in terms of a lower GST rate (at 5%) is a further shot in the arm of the EV industry.
As per Tanushree, electric vehicles are very much on their way to invading Indian roads. The threat of disruption in this era is something you cannot ignore.
Greaves Cotton profit soars 130% in March quarter
Greaves Cotton, on 4 May 2021, reported a 130% year on year (YoY) increase in consolidated net profit to Rs 140 m for the quarter ended March.
The company reported a net profit of only Rs 10 m for the same quarter last year.
The company's consolidated revenue from operations stood at Rs 5.2 bn for the quarter, up 35% from Rs 3.9 bn for the same period a year ago due to diversification of the business to electric mobility and non-auto segments.
For more details about the company's quarter four performance, you can read the entire article here: Greaves Cotton March Quarter Profit Soars 130% on EV Sales
How the stock markets reacted to Greaves Cotton
Shares of Greaves Cotton opened the day at Rs 150 on the BSE and Rs 150.6 on the NSE.
Greaves Cotton share price closed at Rs 163.9 (up 7.7%) on the BSE and Rs 163.8 (up 7.7%) on the NSE.
At its current price, it is trading at a P/E of 27.4.
The share touched its 52-week high of Rs 169.4 and 52-week low of Rs 66 on 17 June 2021 and 2 November 2020, respectively.
Over the last 30 days, the Greaves Cotton share price is up 28.4%. Over the last one year, the company's share price is up 105.8%.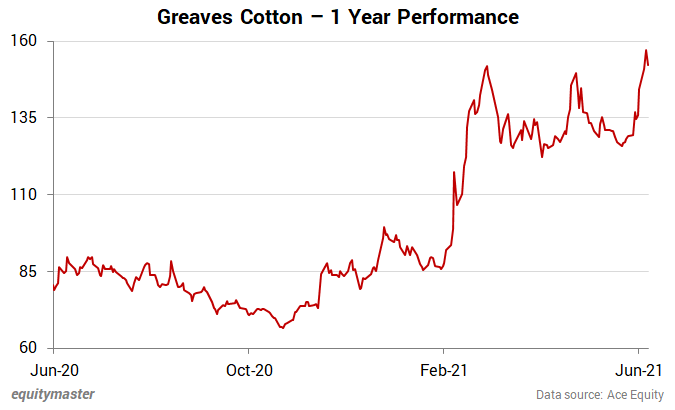 About Greaves Cotton
Greaves Cotton (GCL) is an Indian engineering company that manufactures engines and heavy equipment.
The company was founded in 1859 by James Greaves and George Cotton and was incorporated in 1922 as a private limited company.
It was then purchased by Lala Karam Chand Thapar of the Thapar Group in 1947 and converted into a public limited company in 1950.
GCL produces diesel, petrol, kerosene, gasoline engines, diesel pump sets, gensets, and farm equipment.
The company has a market share of around 60%-65% in the three-wheeler (3W) diesel engine segment and supplies engines to around 30 original equipment manufacturers (OEMs) in India, such as Piaggio Vehicles, Mahindra & Mahindra, etc.
It also owns the Coimbatore-based electric vehicle manufacturer, Ampere Electric Vehicles.
For more details about the company, you can have a look at Greaves Cotton factsheet and quarterly results on our website.
You can also compare Greaves Cotton with its peers.
Greaves Cotton vs Bharat Electronics
Greaves Cotton vs Cummins India
Greaves Cotton vs Grindwell Norton
To know what's moving the Indian stock markets today, check out the most recent share market updates here.
Disclaimer: This article is for information purposes only. It is not a stock recommendation and should not be treated as such. Learn more about our recommendation services here...