Power Grid Delivers Results for March Quarter. Board Approves Bonus Issue
Jun 18, 2021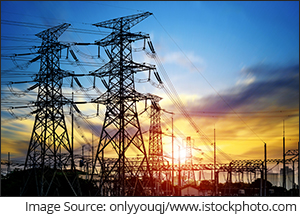 State-owned Power Grid Corporation of India (PGCIL) posted over 6% rise in its consolidated net profit to Rs 35.3 bn for the March 2021 quarter, mainly on the back of higher revenues.
The company's consolidated net profit stood at Rs 33.1 bn in the quarter ended on 31 March 2020.
Its total income during January-March increased to Rs 108.2 bn, from Rs 105.1 bn in the year-ago period.
Total expenses for the fourth quarter year came in at Rs 62.1 bn, down 13.8% from Rs 72 bn in the same quarter a year ago.
Financial highlights for the full year
For the full financial year 2020-21, the consolidated net profit stood at Rs 120.4 bn, compared to Rs 110.6 bn in 2019-20.
The company's profit before expenses (PBT) was at Rs 151.4 bn, up 17.3% compared to Rs 129.1 bn in the previous year.
Total income for the fiscal stood at Rs 408.2 bn, up 5.6% from Rs 386.7 bn in 2019-20.
During the financial year, the company' total expenses stood at Rs 248.2 bn, down 4.2% from Rs 259.2 bn a year ago.
--- Advertisement ---
Watch this Before Investing Your Money in EV Stocks

On Monday, we revealed this massive 15x opportunity in electric vehicles.

And also shared the details of 3 EV stocks to ride this mega opportunity.

Now, these are not typical EV stocks. Instead, these are what we call the backdoor EV stocks.

As per our research, the best way to ride the 15x EV wave is through these 3 stocks only.

You can get full details by watching this video...
------------------------------
Dividend payout
The company's board in its meeting held on 17 June recommended a final dividend of Rs 3 per share for the financial year 2020-21.
The final dividend would be paid within 30 days from the date of its declaration at the annual general meeting (AGM).
This final dividend is in addition to the first interim dividend of Rs 5 per share paid on 8 January this year, and second interim dividend of Rs 4 per share paid on 30 March this year, for the financial year 2020-21.
The total dividend, including interim dividend, for the financial year 2020-21 stood at Rs 12 per share (face value at Rs 10 each).
Power Grid approves bonus issue
The board has also recommended issue of bonus shares in the ratio of 3:1 one new equity bonus share of Rs 10 each for every three existing equity shares of Rs 10 each fully paid-up, subject to the shareholders' approval.
The date on which such bonus shares shall be credited or dispatched will be informed to the stock exchanges in due course.
--- Advertisement ---
[Alert] Sell These 3 Stocks Immediately

These 3 stocks are ticking time bombs in your portfolio.

It is very likely that you could be owning these 3 overvalued...

fundamentally weak... ready to crash stocks... in your portfolio today.

Because many stock brokers have painted rosy pictures of these stocks. But the reality is starkly different.

If the market crashes, then these stocks could wipe out your wealth.

You should get rid of these stocks as soon as possible.

Click her for full details of these 3 landmines
------------------------------
Management's comment on quarter four results
The company said that there has been no material impact on the operations or profitability of the group during the financial year due to the pandemic, except a consolidated one-time rebate of Rs 10.8 bn.
The rebate was given to electricity distribution companies and power departments of states and union territories for passing on to end-consumers against the billing of April 2020 and May 2020.
Due to this, there was a reduction in the profit for the year and the same was disclosed under 'exceptional items' in the statement of profit and loss.
First InvIT IPO by a PSU
Last month, Power Grid launched its infrastructure investment trust (InvIT) IPO to monetise its infrastructure assets.
This move by Power Grid came at a time when the government announced that it has set a disinvestment target of Rs 1.8 tn for the financial year 2022.
The offer comprised a fresh issue of Rs 49.9 bn and an offer for sale of Rs 27.4 bn by the selling unitholder.
The net proceeds raised by the company from the fresh issue offer will be utilised for providing loans to the initial portfolio assets for repayment or pre-payment of debt, including any accrued interest, availed by the initial portfolio assets, and for general corporate purposes.
Instant Updates: Join Our Telegram Channel and Get Instant Updates
An overview on India's power sector
Indian power sector is undergoing a significant change that has redefined the industry outlook.
Sustained economic growth continues to drive electricity demand in India.
The government of India's focus on attaining 'Power for all' has accelerated capacity addition in the country.
At the same time, the competitive intensity is increasing at both the market and supply sides (fuel, logistics, finances, and manpower).
By 2022, solar energy is estimated to contribute 114 gigawatts (GW), followed by 67 GW from wind power and 15 GW from biomass and hydropower.
The target for renewable energy has been increased to 227 GW for the year 2022.
How the stock markets reacted to Power Grid Corporation March quarter numbers today
Shares of Power Grid Corporation opened the day at Rs 247 on the BSE and Rs 244 on the NSE.
It closed at Rs 233 (down 2.8%) on the BSE and the NSE.
At its current price, it is trading at a P/E of 12.3.
The share touched its 52-week high of Rs 251.5 and 52-week low of Rs 154.7 on 15 June 2021 and 15 October 2020, respectively.
Over the last 30 days, its share price is up 1.6%. Over the last one year, the company's share price is up 42.7%.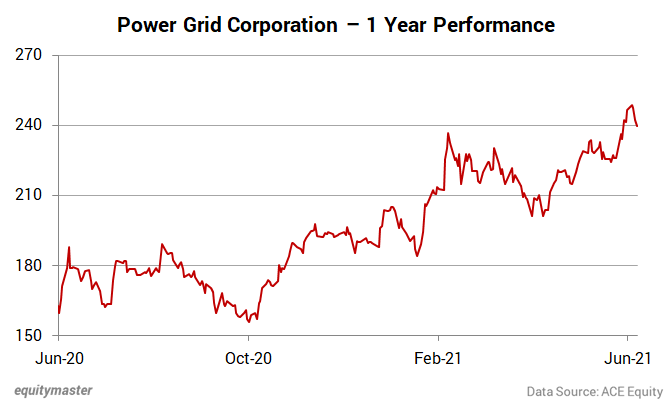 About Power Grid Corporation of India
Power Grid Corporation of India is India's principal electric power transmission company.
The company is engaged in the transmission of bulk power across different states of India. It owns and operates 90% of India's interstate and inter-regional electric power transmission system.
The company's business segments are transmission consultancy telecom and ULDC/ RLDC. The company has 168,140 circuit kilometers of transmission network and 252 sub-stations as on 31 January 2021.
It has a total transformation capacity of about 422,430 lakh megavolt ampere as on 31 January 2021.
This gigantic transmission network spread over length and breadth of the country is consistently maintained at an availability of over 99%.
The company has diversified into telecom business to utilise spare telecommunication capacity of unified load dispatch center (ULDC) schemes using country-wide transmission infrastructure.
The government of India held 51.34% stake in the company as on 31 December 2020.
For more details about the company, you can have a look at Power Grid's factsheet and Power Grid's quarterly results on our website.
For more details about the power sector, you can check out the power sector report on our website.
You can also compare Power Grid with its peers on our website.
To know what's moving the Indian stock markets today, check out the most recent share market updates here.
Disclaimer: This article is for information purposes only. It is not a stock recommendation and should not be treated as such. Learn more about our recommendation services here...