Should You Hedge in Volatile Financial Markets?
Jun 21, 2019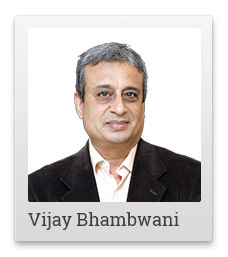 Warren Buffett is called the Oracle of Omaha, and justifiably so. His words get latched onto like a postulate (a mathematically undeniable fact... like 'the earth spins on its axis').
Yet, not all his views are embraced uniformly.
This is also why behavioural technical analysis takes a rational, realistic view of the financial markets. Back to Buffet...
He is known (in the words of Peter Lynch, of Fidelity Funds fame) to backup a truck and buy equity shares, by the truckloads, of companies he likes. His debate with Eugene Fama (the father of the efficient market hypothesis) at the Harvard University, is the stuff legends are made of. There Buffett said, keep all your eggs in one basket if you must, but don't ever take your eyes off the basket.
He takes an all or nothing approach to investing. He also scoffs on practices like hedging. Let's see how it works...
You pass out of college and get your first job. A few salary cheques later, you consider yourself as an economically valuable asset. You want to protect your monetary interests. So you buy life insurance. Then mediclaim, then householder's insurance policy, fire protection policy plan etc.
Does all this hedging against calamities come free?
No! You pay insurance premium to you get better sleep at night.
But your wallet is lighter. That's a trade-off. Lower risk is equal to lower reward. The financial markets reward you for taking risks, of the mathematically sound and economically sensible types.
The better you are at risk taking the richer you will be. That is my primary argument against hedging.
But that's not all. There is another aspect to it as well. You must ask yourself which asset is more valuable and therefore is replaceable.
I belong to a generation that feels marriages are once-in-a-lifetime event. Now days you can hypothetically have more than one marriage, as long as due process of law, including divorce, alimony and division of wealth is adhered to.
Yet it is neither easy, nor cheap. Just ask Jeff Bezos!
Money, on the other hand is a replenishable asset. Lose money and you can get it back again. Your next trading profit, your next salary, sale of an asset, or encashing an investment. Yet you would rather hedge your financial investments, which are about money (a replenishable asset).
Do you consider hedging your marriage which is a non-replenishable asset? Do you consider having more than one spouse, one for having babies with, and the other for enjoying foreign holidays, movies, and weekends?
Your marital life is much more critical, but you don't hedge it. Now, don't get me wrong, I am NOT encouraging polygamy or adultery. I am really questioning your financial priorities and your investment blueprint here.
So why do you hedge?
Because you fear risk, right? Essentially, fear of the unknown, the risk of an adverse event.
How about doing more research on that investment and taking smaller hedges?
Or if you cannot do that, how about taking professional help and enlisting the services of an investment advisor, so you can handle risk much more better?
It's a lot cheaper than in-efficient deployment of your capital, or maybe even losing some part of it. Much of the intelligent sounding hedging jargon or gyan is just academic conjecture.
Remember, the mileage of an automobile is benchmarked in a garage, by spinning its wheels on a conveyor belt while the vehicle itself is stationary, and with no passenger payload. This is why the on-road reading is an all new ball game altogether, when it comes to the actual mileage.
Of course, some amount of hedging is a must, but just how much before it becomes too much?
Your return on your investment will be a good starting point for this question. If you are getting tiny profits even in those trades where the trade went right, you may be over hedged.
Please feel free to disagree with me.
Have a profitable day.
Warm regards,

Vijay L Bhambwani
Editor and Research Analyst, Weekly Cash Alerts
Vijay L Bhambwani, is the editor of Weekly Cash Alerts. He is a professional trader, author, trading mentor, and lifelong student of the markets. He has been an active trader since 1986. Financial markets are his life and passion. Everything else in his life revolves around his main objective - trading. Vijay believes that no matter how much a trader has lost in the market, it is possible with hard work and smart work to get it all back over time. Understanding the method behind the madness of the markets interests him more than the profits. He specialises in predictive style of technical analysis, in the commodity, currency, and equity markets. That is the foundation stone of his style of trading - Neuro Behavioural Technical Analysis. Vijay trains other professional traders. He is empaneled with the BSE & NSE as a visiting faculty for various finance market courses. He created the early course content for the Diploma in Commodity Markets (DICM), certified by the Forward Markets Commission. He was a training mentor at the MCX between 2005-2009. He is the first author to have his book - A Traders Guide to Indian Commodity Markets published by CNBC Publishing 18, in 2009 - approved and sponsored by the NCDEX. Vijay has done over 8,000 TV shows in the last 17 years and has written over 4,000 columns/articles in the print and electronic media. He is one of the first columnists to write a weekly column in the English language print media after the commissioning of the MCX, via his columns in the DNA Money, Business Standard and others. Vijay lives with his family in the posh Breach Candy area in Mumbai.