India Pesticides IPO Opens 23 June: Key Points to Know
Jun 21, 2021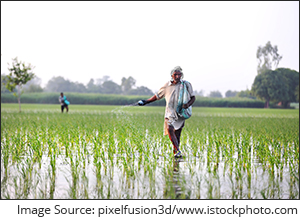 Agro-chemical manufacturer India Pesticides is planning to raise Rs 8 bn through an initial public offering (IPO) of equity shares which will open on 23 June 2021 and close on 25 June 2021.
The price band for offer has been determined at Rs 290 to 296 per equity share.
Axis Capital and JM Financial have been appointed as merchant bankers to advise the company on the IPO.
KFin Technologies will be the registrar to India Pesticides issue.
India Pesticides IPO Details
| | |
| --- | --- |
| Issue Type | Book Built Issue IPO |
| Face Value | Rs 1 per equity share |
| IPO Price | Rs 290 to Rs 296 per equity share |
| Market Lot | 1 lot - 50 shares |
| Issue Size | Rs 8 bn |
| Fresh Issue | Rs 1 bn |
| Offer for Sale | Rs 7 bn |
| Basis of Allotment Date | Wednesday, June 30, 2021 |
| IPO Listing Date | Monday, July 5, 2021 |
Data Source: Company's Red Herring Prospectus
The company and promoter selling shareholder have considered participation by anchor investors a day prior to the bid offer.
Anand Swarup Agarwal and the ASA Family Trust are the company promoters.
The public issue comprises fresh issue of shares worth Rs 1 bn and offer-for-sale (OFS) of Rs 2.8 bn by promoter Anand Swarup Agarwal and Rs 4.2 bn by selling shareholders.
--- Advertisement ---
REVEALED: 3 "Super Smallcaps" You Didn't Know About

You may not have heard of these 3 "super smallcaps" ever before...

The mainstream press doesn't cover them... Most brokers don't know about them either...

Stock like these 3 "super smallcaps" only come to your notice when they have rallied by hundreds or even thousands of percent... and are all over the news!

However, thankfully, our top analyst Richa Agarwal is ready to reveal their details at her Super Smallcaps Summit on 11th August...

Make Sure to Grab Your Free Spot Right Now
------------------------------
Shares on offer
Up to 50% of the net offer has been reserved for qualified institutional buyers (QIBs), 35% for retail investors and the remaining 15% for non-institutional investors (NIIs).
Objects of the issue
India Pesticides has planned to utilise net proceeds towards funding working capital requirements worth Rs 800 m and for general corporate purposes.
About India Pesticides
Incorporated in 1984, India Pesticides Limited is one of the leading agrochemicals manufacturers in India.
The company operates in two business verticals, technicals, and formulations.
It manufactures herbicide, fungicide technicals, and active pharmaceuticals ingredients (APIs).
It's the sole Indian manufacturer of several technicals that is folpet, thiocarbamate, and herbicide.
The company also manufactures 30+ formulations of insecticides, fungicides, and herbicides.
Its technicals are majorly exported to 20+ countries including Australia, Asia, Africa, and European countries, contributed 62% of technical segment revenues in Fiscal 2020.
However, agrochemical formulations are primarily sold to domestic crop protection manufacturers that is Syngentia Asia, UPL, Ascenza Agro, S.A., Conquest Crop Protection, Sharda Cropchem, and Stotras.
Currently, the firm has two manufacturing plants UPSIDC Industrial Area at Dewa Road, Lucknow and Sandila, Hardoi in Uttar Pradesh, India with an installed capacity of 19,500 MT for agrochemicals and 6,500 MT for formulations.
Watch Now: Get Details of Richa's 3 Dark Horse Stocks
Competitive strengths
Among the top 5 global players of folpet, thiocarbamate, and herbicide technicals.
Diversified product portfolio with specialised products.
Domestic as well as international market presence.
Consistent track record of financial performance.
Strong Research & Development (R&D) capabilities.
Financials Performance
The company demonstrated consistent growth in terms of revenues and profitability over the last three fiscals.
Total revenue from operations increased by 89.4% from Rs 2.5 bn in fiscal 2018 to Rs 4.8 bn in fiscal 2020 and was Rs 33.4 bn in the six months ended 30 September 2020.
For the last three fiscals, the company has posted an average earnings per share (EPS) of Rs 8.8.
The issue is priced at a price to book value P/BV of 8.5 based on its net asset value (NAV) of Rs 34.9 and at a P/BV of 6.97 based on its NAV of Rs. 42.5 (at the upper price band).
| (Rs m) | FY18 | FY19 | FY20 | Sep-20 |
| --- | --- | --- | --- | --- |
| Revenues | 2,532 | 3,406.9 | 4,796.3 | 3,338.4 |
| Revenue Growth (%) | | 34.6% | 40.8% | |
| Expenses | 2,056.8 | 2,849.4 | 3,963.6 | 2,394.4 |
| Profit Before Tax (PBT) | 501.8 | 611 | 933.7 | 978.1 |
| Net Profit | 328.1 | 439.2 | 708 | 725 |
Data Source: Company's Red Herring Prospectus
The company has paid a dividend at the rate of 20% for the financial year 2019 and 2020 and at 110% for 2021.
For the current fiscal, it has already paid a dividend at 0.3% till the filing of red herring prospectus (RHP). It will follow a prudent dividend policy post listing.
For more details, check out India Pesticides Red Herring Prospectus.
Comparison With Listed Peers
As per the offer document, India Pesticides has shown Dhanuka Agri, Bharat Rasayan, UPL, Rallis India, PI Industries, Sumitomo Chemical, and Atul as its listed peers.
| Company | Revenues | Net Profit | Return on Net Worth (%) |
| --- | --- | --- | --- |
| Dhanuka Agri | 11.2 | 1.4 | 20% |
| Bharat Rasayan | 12.2 | 1.6 | 27.9% |
| UPL | 357.6 | 21.6 | 10.9% |
| Rallis India | 22.5 | 1.8 | 13.1% |
| PI Industries | 33.7 | 4.6 | 17.4% |
| Sumitomo Chemical | 24.2 | 2.0 | 16.6% |
| Atul | 40.9 | 6.7 | 21.1% |
| India Pesticides | 4.8 | 0.7 | 30.4% |
Data Source: RHP, Equitymaster
Figures in Rs bn and as on 31 March 2020
Company to expand business and geographical footprint through inorganic growth
Approximately 19 technicals are expected to go off-patent between 2019 and 2026 and an opportunity size of over US$ 4.2 bn is expected due to this by 2026.
To be able to cater to the growth in demand for the products they manufacture, the company intends to scale up the manufacturing capacities for our existing products.
The company has obtained approval from the MoEF to expand manufacturing capacity at Sandila to 30,000 MT.
In addition, they continue to explore new markets for their existing products. They believe that their expansion plans would strengthen and diversify company's customer base.
In a statement the company said,
We believe that our expansion and diversification of our product portfolio would allow us to service new clients, meet existing demand and consequently, enhance our business prospects.
An overview on India's agrochemicals sector
The Indian agrochemicals industry is fragmented in nature with the presence of more than 150 active ingredient manufacturers, over 1,000 formulators and over 2 lakh companies engaged in distribution.
India Pesticides faces competition from both domestic and multinationals. Competition is based on pricing, relationships with customers, product quality, customisation, and innovation.
What's the ideal IPO strategy to follow?
The excitement surrounding the slew of IPOs in the coming months is huge.
As many as four companies came out with their IPOs last week.
Investors are already euphoric on loss making companies such as Zomato and Paytm.
Smallcap analyst at Equitymaster, Richa Agarwal, recently shares her views on the much-hyped Paytm IPO.
Here's what she wrote...
Investing in a company is like owning a piece of business.

A loss-making business with no clear road to profits isn't one I would recommend.

And certainly not at the time of its IPO.
You can read the entire editorial here: Paytm IPO: Will it Deliver Profits?
If you are investing in an IPO, weigh in all the positive and negative factors affecting the company.
Take a close look at the company's financials and valuations. It would give you a clear picture of what's brewing.
Happy Investing!
Disclaimer: This article is for information purposes only. It is not a stock recommendation and should not be treated as such. Learn more about our recommendation services here...