NTPC in Focus as Net Profit Zooms 258%
Jun 21, 2021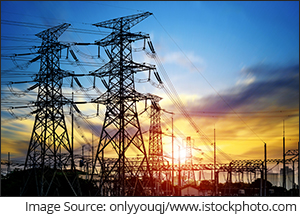 NTPC share price gained over 4% on the BSE today after the company declared its March 2021 quarter results.
The state-owned power giant on Saturday reported 258% year on year (YoY) increase in net profit on a standalone basis at Rs 44.8 bn for the March quarter, against Rs 12.5 bn in the same period a year earlier.
The consolidated net profit came in at Rs 46.5 bn for the quarter under review, an increase of 185% YoY.
Sequentially, net profit rose 35% from Rs 33.2 bn in the December quarter.
For the full year ending March 2021, NTPC recorded a net profit of Rs 137.7 bn, up 36% from the last year.
Operational performance
The company's revenue from operations fell marginally (2.5%) to Rs 265.7 bn, compared to Rs 272.5 bn in the year-ago period.
For the full financial year, revenues from operations increased slightly to Rs 992.1 bn, compared to Rs 977 bn in the previous year.
Total income for the fourth quarter rose to Rs 316.9 bn from Rs 313.3 bn in the same period last year.
During the fiscal 2021, the total income was Rs 1.2 tn against Rs 1.1 tn in 2020, registering an increase of 3.1%.
Segment wise, revenue from power generation came in at Rs 264.2 bn, while other revenues stood at Rs 14.5 bn for the March 2021 quarter.
--- Advertisement ---
REVEALED: 3 "Super Smallcaps" You Didn't Know About

You may not have heard of these 3 "super smallcaps" ever before...

The mainstream press doesn't cover them... Most brokers don't know about them either...

Stock like these 3 "super smallcaps" only come to your notice when they have rallied by hundreds or even thousands of percent... and are all over the news!

However, thankfully, our top analyst Richa Agarwal is ready to reveal their details at her Super Smallcaps Summit on 11th August...

Make Sure to Grab Your Free Spot Right Now
------------------------------
Other key highlights
NTPC's gross power generation in March quarter was 77.6 bn units compared to 68.3 bn units (BU) in the same period a year ago.
Gross power generation in 2020-21 was 270.9 BU compared to 259.6 BU in the previous year.
In 2020-21, NTPC group recorded the highest ever gross generation of 314.1 BU as against 290.2 BU during the previous year.
Its coal production in the March quarter stood at 3.7 m ton (MT), up from 2.6 MT in the same period a year ago.
In 2020-21, its coal production was 9.5 MT, down from 9.6 MT in 2019-20.
Coal import of the firm came down to 0.3 MT in March quarter from 0.9 MT.
During 2020-21, coal imports declined to 1.1 MT from 3 MT in the previous year.
Plant load factor (PLF) or capacity utilisation of coal-based power plants also rose to 77.1% in March quarter, up from 69.5% in the same period a year ago.
For the year 2020-21, the PLF dipped to 66% from 68.2% in the previous year.
Average power tariff of the company was Rs 3.77 per unit in 2020-21 compared to Rs 3.90 per unit in 2019-20.
Equity dividend
The board of directors of NTPC have recommended a final dividend at 31.5% of paid-up share capital that is Rs 3.2 per equity share of the face value of Rs 10 each for the financial year 2021.
The company had paid an interim dividend of 30% of paid-up share capital that is Rs 3 per equity share in February 2021.
This is the 28th consecutive year of dividend payment by the company.
Watch Now: Get Details of Richa's 3 Dark Horse Stocks
An overview on India's power sector
Indian power sector is undergoing a significant change that has redefined the industry outlook.
Sustained economic growth continues to drive electricity demand in India.
The government of India's focus on attaining 'Power for all' has accelerated capacity addition in the country.
At the same time, the competitive intensity is increasing at both the market and supply sides (fuel, logistics, finances, and manpower).
By 2022, solar energy is estimated to contribute 114 gigawatts (GW), followed by 67 GW from wind power, and 15 GW from biomass and hydropower.
The target for renewable energy has been increased to 227 GW for the year 2022.
Speaking of the power sector, it's interesting to note the power exchanged in India is about 4.5% of the overall power production, as can be seen in the chart below.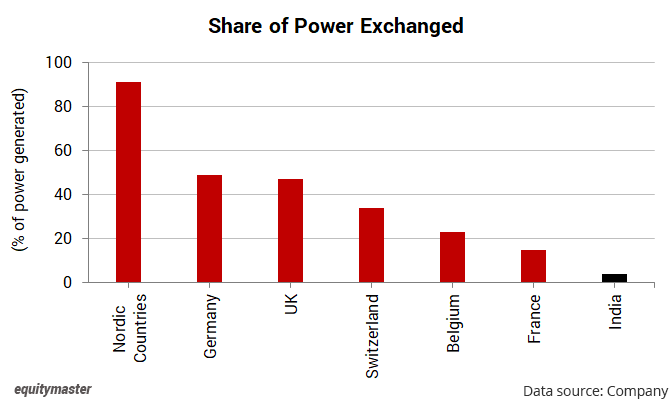 As per Tanushree Banerjee, Co-Head of Research at Equitymaster, India's power sector is currently in transition. It's driven by increasing reliance on short-term contracts and electricity spot markets.
This transition to the short-term market is happening due to quickly evolving industry dynamics.
Tanushree believes the Indian power sector will see a surge in spot power volumes due to certain factors.
How the stock markets reacted to NTPC March quarter numbers today
Shares of NTPC opened the day at Rs 114 on the BSE and Rs 113.3 on the NSE.
Its share price closed at Rs 118 (up 3.9%) on the BSE and the NSE.
At its current price, it is trading at a P/E of 15.5.
The share touched its 52-week high of Rs 121 and 52-week low of Rs 78.1 on 9 June 2021 and 14 October 2020, respectively.
Over the last 30 days, the NTPC share price is up 4.7%. Over the last one year, the company's share price is up 27.6%.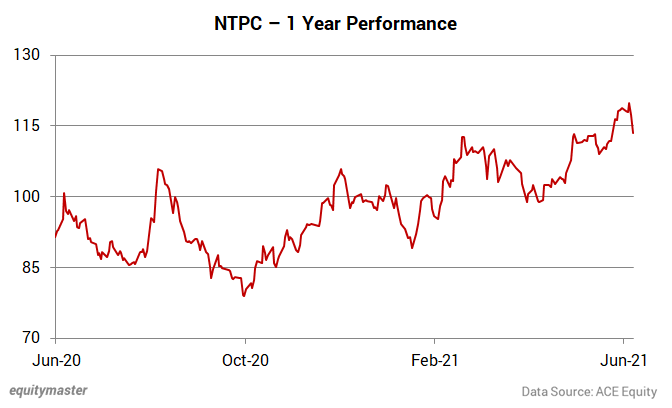 About NTPC
NTPC, formerly known as National Thermal Power Corporation, is an Indian government electricity board engaged in the business of generation of electricity and allied activities.
It's a company incorporated under the companies Act 1956 and is under the ownership of ministry of power, government of India.
The headquarters of the company is situated at New Delhi.
NTPC's core business is the generation and sale of electricity to state-owned power distribution companies and state electricity boards in India.
The company also undertakes consultancy and turnkey project contracts that involve engineering, project management, construction management, and operation and management of power plants.
It has also ventured into oil and gas exploration and coal mining activities.
It's the largest power company in India with an electric power generating capacity of 62,086 megawatts (MW).
Although the company has about 16% of the total national capacity, it contributes to over 25% of total power generation.
This is due to its focus on operating its power plants at higher efficiency levels (about 80.2% against the national PLF rate of 64.5%).
NTPC currently produces 25 bn units of electricity per month.
NTPC currently operates 55 power stations (24 coal, 7 combined cycle gas/liquid fuel, 2 hydro, 1 wind, and 11 solar projects).
Further, it has 9 coal and 1 gas station, owned by joint ventures or subsidiaries.
For more details about the company, you can have a look at NTPC factsheet and quarterly results on our website.
You can also compare NTPC with its peers.
NTPC vs Gujarat Industries Power
To know what's moving the Indian stock markets today, check out the most recent share market updates here.
Disclaimer: This article is for information purposes only. It is not a stock recommendation and should not be treated as such. Learn more about our recommendation services here...