Why HDFC AMC Share Price is Rising
Jun 21, 2023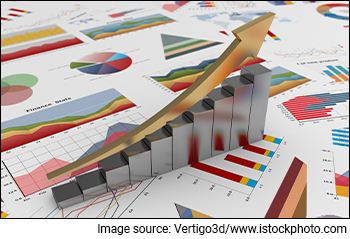 Shares of HDFC Asset Management Company (AMC) witnessed a significant surge of over 11% during yesterday's trading session, reaching a daily high of Rs 2,108.
This closing price marked the highest level in the past five months, as shares surpassed the January 2023 peak.
However, it's worth noting the stock price experienced a decline of 18% from its one-year peak before yesterday's rally. In the current calendar year, the stock has fallen 5.5% despite the equity benchmark Sensex recording 4% gains.
It was sometime in February 2023 when we discussed the reason why HDFC AMC share price was falling. Since then, the stock has staged an impressive turnaround.
Let's look at the reasons behind the rally.
Speculations of entry in MSCI index
On 20 June 2023, Aberdeen Investment Management, formerly Standard Life, offloaded its entire stake in the company.
The investment firm sold 21.77 million (m) shares at Rs 1,873 apiece to mop up Rs 40.8 billion (bn).
This stake sale marked Aberdeen's exit from HDFC AMC, as its total shareholding in the company stood at 10.2%, according to its shareholding data on BSE on 31 March 2023.
Following the stake sale, the stock shot up significantly on BSE, hitting a five month high.
The immediate rise in HDFC AMC's stock price following the stake sale can be attributed to the market's optimism that HDFC AMC will get included in the MSCI India index due to the increase in public float.
After the stake sale, Aberdeen will cease to be a co-sponsor of HDFC Mutual Fund.
Aberdeen's clean-up block trade of a 10.2% stake in HDFC AMC will increase the company's free float market capitalisation. However, it's important to note that the stock still needs to rally over 10% from its current level to meet the required threshold for re-entry into the MSCI index.
As per the latest global market cap cut-off, HDFC AMC needs to move above Rs 2,220 levels before the cut-off date in July to make a re-entry into MSCI Standard Index in the forthcoming August 2023 review.
HDFC AMC was a part of the MSCI index before but got excluded in May 2022 after it slipped from Rs 3,200 levels in September 2021 to Rs 2,000 in April 2022.
Since Aberdeen was a strategic partner, MSCI considered its holding in a non-free float market cap, but with Aberdeen offloading stake, this will now get added to the free float.
What next?
Going forward, the near-term outlook for asset management companies (AMCs) like HDFC AMC appears bleak, despite the long-term potential tied to India's growing financialisation.
The market regulator recently proposed a uniform total expense ratio (TER) for mutual funds to increase transparency in cost disclosures. The inclusion of additional charges within the TER and the shift towards imposing TER at the AMC level rather than the scheme level could result in a potential earnings reduction.
AMCs have already been grappling with challenges such as alterations in the tax structure for debt funds and heightened competition, leading to pressure on assets under management since the beginning of the year.
The company faces hurdles amid the challenging industry landscape and regulatory changes, dampening short-term growth prospects.
However, over the long term, rising middle-class income, growing awareness of mutual funds and increasing penetration of financial services is set to drive the growth of the industry.
With HDFC AMC being one of the most preferred mutual funds by investors, the long-term outlook for the HDFC group company looks bright.
How HDFC AMC shares have performed recently
On a year-to-date (YTD) basis, shares of HDFC AMC have shed 5.5% but they've gained 11% in the last one year.
HDFC AMC share price showed modest movement in June 2023, with just 1% increase, before yesterday's rally. The stock had experienced gains of 11% in May 2023and 3.3% in April 2023.
HDFC AMC has a 52-week high of Rs 2,314.7 touched on 20 December 2022 and a 52-week low of Rs 1,589 touched on 20 March 2023.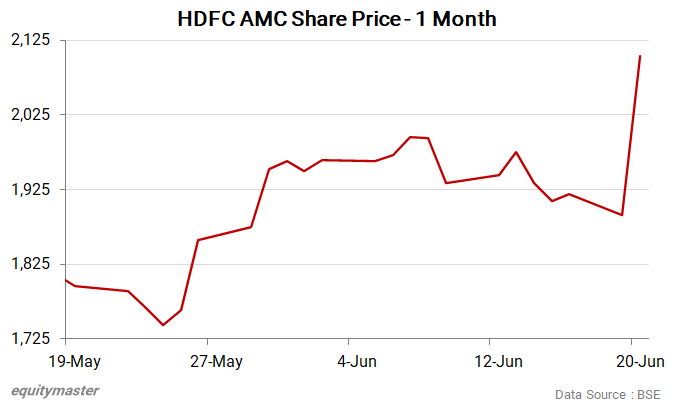 About HDFC AMC
HDFC AMC is an investment manager to HDFC mutual fund. The company has a diversified asset class mix across equity and fixed income/others.
Promoted by HDFC in 1999, Standard Life Investments (SLI) acquired 26% stake in HDFC AMC in 2001, and now the company operates as a joint venture between HDFC and SLI.
Through organic growth and acquisitions, such as Zurich India and Morgan Stanley MF, the firm has grown to one of the top two AMCs in India.
To know more about the company, you can check out HDFC AMC company fact sheet and HDFC AMC quarterly results.
Also check out HDFC AMC's news and analysis.
You can also compare HDFC AMC with its peers.
Investment in securities market are subject to market risks. Read all the related documents carefully before investing
Want to Grow Your Wealth With Safe Stocks?
If you want a simple, safe, and hassle-free approach to long term wealth building...
Without having to worry about negative news or every little downswing in the market...
And without having to worry whether your investments will actually "deliver"...
You must read our note on Blue Chip Stocks now.
Details of our SEBI Research Analyst registration are mentioned on our website - www.equitymaster.com
Disclaimer: This article is for information purposes only. It is not a stock recommendation and should not be treated as such. Learn more about our recommendation services here...