Top 5 Cyclical Stocks You Can't Get Enough of
Jun 22, 2021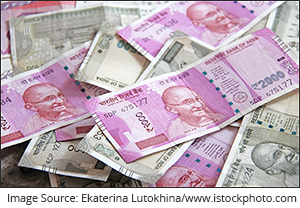 In the past year, stocks from both cyclical and non-cyclical sectors in India rallied as investors snapped up shares on optimism over the economy's long-term growth potential.
Economically sensitive stocks, also known as cyclicals, initially declined as the economy contracted.
However, they subsequently rebounded as the economy began to recover. This was thanks in part to government stimulus programs and low-interest rates.
While the rally in some cyclical sectors was a function of an overall macro shift, reforms in other sectors played a role.
Here are 5 cyclical stocks that rallied in the last year and could have more potential upside in the months to come.
#1 Axis Bank
During the first half of the year, the banking sector was one of the worst-performing sectors in the country.
From maintaining cash and liquidity to re-adjusting operations, banks had to navigate complex government support measures in order to safely weather the pandemic.
However, November 2020 onwards, the sector began recovering, once there was some clarity on the Covid-19 vaccines.
Shares of Axis Bank rose 90% in the last year as the bank posted better than expected results in the second half of the financial year 2021.
--- Advertisement ---
EXPOSED: The Shocking Truth Behind Today's Hottest Investment Opportunity

Today, the hottest investment opportunity in India is none other than EVs.

Over Rs 24,75,000 CRORES is expected to surge into Electric Vehicles.

Some of the smartest investors in the world like...

Warren Buffet... Bill Gates... Jeff Bezos... Elon Musk... Jack Ma... are already in.

Around 15-times growth is expected in the next 10 years.

But despite this hyper-growth, many well-known EV stocks are not the right way to play this opportunity.

Before you invest a single rupee in any EV stock, we recommend you to study the results of Equitymaster's latest research project...

Click here to get more details
------------------------------
In fact, in the latest quarter, Axis Bank posted its highest ever quarterly profit on the back of lower provisions and improving asset quality.
As the economy recovers, the loan growth and deposit growth of banks is expected to pick-up substantially.
Axis Bank with its relatively clean asset quality stands to benefit from this recovery.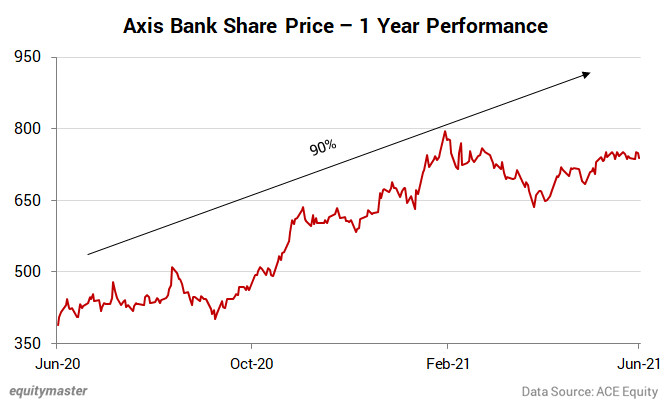 #2 Tata Motors
Shares of Tata Motors rallied 258% in the last year as investors saw the triple benefit of a macro recovery, company-specific volume/margin growth, a sharp improvement in free cash flow (FCF), and leverage in both Jaguar Land Rover (JLR) as well as the company's India business.
Despite the pandemic, the company was one of the few car manufacturers that saw tremendous growth in passenger vehicle sales.
The company has also been registering consistent growth in volumes in the last few months. A total of 124,000 Tata vehicles were sold from January to May 2021 as compared to 35k units in the same duration last year.
WATCH NOW: 3 Super Smallcap Stocks You Don't Want to Miss Out On
As a result, the carmaker recorded its highest market share gain (4.3%) in 2021. At present, Tata Motors' year-to-date (YTD) market share stands at 9.4%.
With both JLR and its India business on the path to cyclical recovery, the company is poised for its next leg of growth.
The company has also outlined its strategy for the transformation to electric mobility and plans to focus more on profitability over volumes.
Its goal is to deliver double-digit operating profit margins and be among the world's most profitable luxury car manufacturers.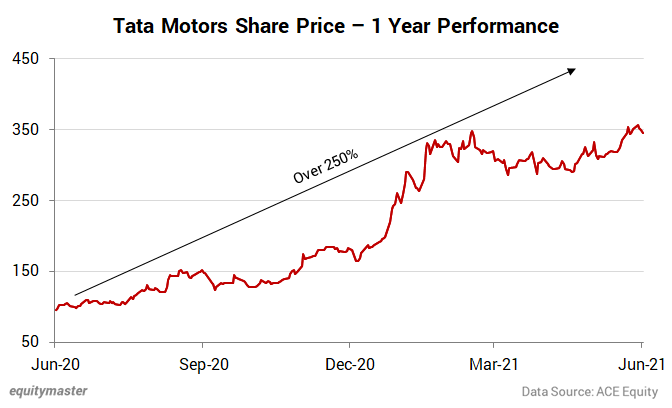 #3 Larsen & Toubro (L&T)
Larsen & Toubro (L&T) rallied over 60% in the past year and outperformed the market on expectations of healthy orders from both domestic and international markets.
The company caught the eye of investors as it prioritised its balance sheet over growth during the Covid-19 pandemic.
While announcing its March 2021 quarter results, the management said it's witnessing good ordering traction from segments such as metro, railways, roads, water, renewables and power.
Exclusive Market Updates: Only on Our Telegram Channel. Join FREE Today!
The management has indicated that the tender pipeline remains strong at Rs 9.6 tn for 2022, comprising domestic orders worth Rs 6.6 tn and international orders of Rs 3 tn.
Going forward, L&T is well placed to ride the cyclical recovery supported by healthy ordering prospects and increased allocation for capital expenditure under the National Infrastructure Pipeline (NIP).
It's also well positioned to gain market share owing to its strong liquidity position vs competition.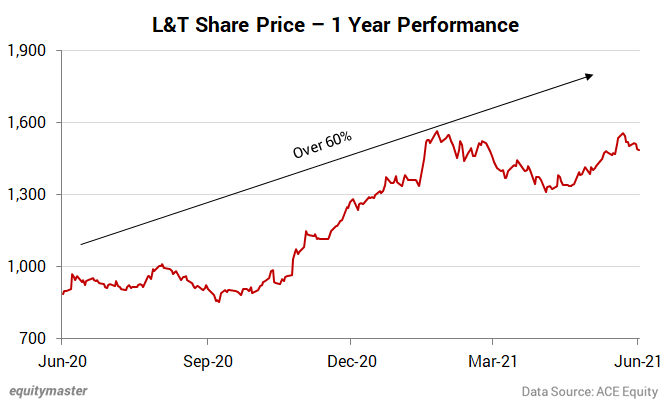 #4 ONGC
ONGC rallied nearly 50% in the last year on the back of surging global crude oil prices.
Fortunes of the company, which produces two-thirds of all crude oil in the country, moves in line with global crude oil prices, as they affect its average realisation from every barrel of the oil sold.
If experts are to be believed, there is more room for an upside as global economies emerge from lockdowns triggered by the Covid-19 pandemic.
According to a note by Goldman Sachs, global markets are currently underestimating the oil demand.
The research and broking firm expects brent crude oil prices to hit US$ 80 per barrel going ahead. Brent crude oil prices are at around US$ 70 a barrel now.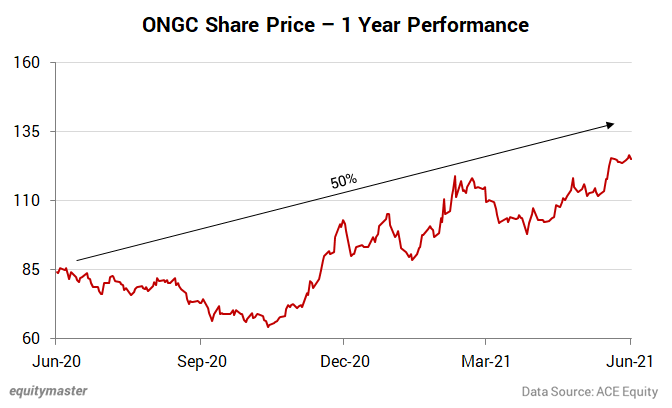 #5 SAIL
While the entire metal pack has been on fire, SAIL has been the best-performing stock in recent months.
The stock has been up more than 300% in the last year.
As the largest producer of steel in the country, the company was the beneficiary of soaring steel prices, robust demand by various sectors and the government's focus on infrastructure.
As a result, the company recorded its best-ever performance in both production and sales during the financial year 2021.
It also deleveraged its balance sheet. In line with its focus on reducing borrowings, the company reduced its net debt from Rs 161.3 bn in 2020 to Rs 153.5 bn in 2021.
SAIL continues to reap the benefits of higher steel prices, despite a wage revision impact. With steel prices at a record high, the company is poised to post its best-ever EBITDA/tonne of Rs 20,000 inches in the June 2021 quarter.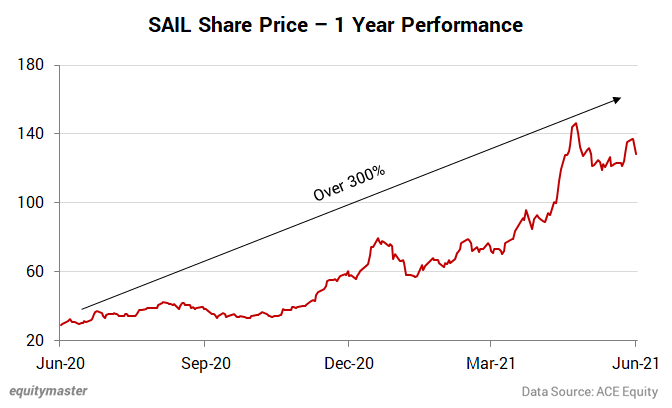 As you can see, after playing safe during the initial phase of the pandemic in 2020 and sticking to defensive plays such as pharmaceuticals, fast moving consumer goods (FMCG), and information technology (IT), investors are now betting big on a cyclical recovery.
Given the decline in Covid-19 cases and a pickup in vaccination drive, a sharper than expected economic recovery back home can fuel a further rally in domestic cyclicals.
Moreover, unlike in a deflationary economy during which sectors like consumer staples and large companies gain, the current environment is best placed for cyclicals to do well.
However, before selecting a cyclical stock to invest in, one must check whether the industry is due for revival or not.
Cyclicals are usually riskier, i.e. their fortunes are prone to economic booms and busts. They are also volatile as they tend to fluctuate a lot with the current scenario and conditions prevalent in the economy.
To know what's moving the Indian stock markets today, check out the most recent share market updates here.
Disclaimer: This article is for information purposes only. It is not a recommendation and should not be treated as such. Learn more about our recommendation services here...
Ayesha Shetty is a financial writer with the StockSelect team at Equitymaster. An engineer by qualification, she uses her analytical skills to decode the latest developments in financial markets. This reflects in her well-researched and insightful articles. When she is not busy separating financial fact from fiction, she can be found reading about new trends in technology and international politics.