Airtel to Join Forces with Tata to Deploy 5G Network
Jun 22, 2021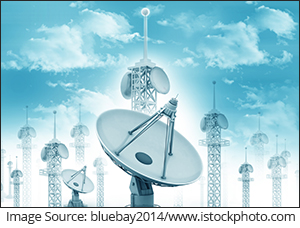 Telecom major Bharti Airtel and Tata group on Monday announced a strategic partnership for implementing 5G networks solutions for India.
As per the partnership, Bharti Airtel will pilot and deploy Tata's technology as part of its 5G rollout plans. Airtel will start the pilot in January 2022.
Tata group has developed a state-of-the-art, Open-RAN based 5G radio and core solutions. It has integrated a totally indigenous telecom stack by leveraging the group capabilities and that of its partners.
This will be available for commercial development starting January 2022, as per a joint statement issued by the companies.
'We are delighted to join forces with the Tata Group to make India a global hub for 5G and allied technologies. With its world-class technology ecosystem and talent pool, India is well positioned to build cutting edge solutions and applications for the world. This will also provide a massive boost to India becoming an innovation and manufacturing destination', said Gopal Vittal, MD and CEO (India and South Asia), Bharti Airtel.
Airtel said that the 'Made in India' 5G product and solutions are aligned to global standards, and inter-operate with other products based on standard open interfaces and those defined by the O-RAN alliance.
Tata group company, Tata Consultancy Services (TCS), is bringing its global system integration expertise to bolster the 5G offering besides helping align the end-to-end solution to both 3GPP and O-RAN standards.
The 5G solutions, once commercially proven in Airtel's diverse and brownfield network, will open export opportunities for India. This is now the second largest telecom market in the world, Airtel said in a statement.
--- Advertisement ---
[Alert] Sell These 3 Stocks Immediately

These 3 stocks are ticking time bombs in your portfolio.

It is very likely that you could be owning these 3 overvalued...

fundamentally weak... ready to crash stocks... in your portfolio today.

Because many stock brokers have painted rosy pictures of these stocks. But the reality is starkly different.

If the market crashes, then these stocks could wipe out your wealth.

You should get rid of these stocks as soon as possible.

We are going to reveal details of these 3 landmines at our upcoming special event at 5 pm on September 24.

You can click here to sign-up. It's free
------------------------------
Airtel becomes the first telecom company in India to demonstrate 5G
Earlier this year, Bharti Airtel announced that it has become the first telecom service provider in the country to successfully 'demonstrate and orchestrate' live 5G service.
The demonstration took place in the city of Hyderabad.
Airtel tested the new 5G network over its existing liberalised spectrum in the 1,800 megahertz (MHz) band through the NSA (non-standalone) network technology.
Using dynamic spectrum sharing, Airtel claims it has seamlessly operated 5G and 4G connections from within the same spectrum block.
The company has also started 5G trials in other major cities using spectrum allocated by the telecom department.
How fast is Airtel 5G and when can you get it?
Airtel claims its new 5G network is capable of 'delivering 10x speeds with 10x latency and 100x concurrency compared to existing technologies'.
Speaking about the new 5G demonstration conducted in Hyderabad, Airtel shared that users were able to download a full-length movie in seconds on a 5G-enabled smartphone.
'The full impact of the 5G experience will be available to our customers, when adequate spectrum is available and government approvals received', shared Airtel.
REVEALED: 3 "Super Smallcaps" You Didn't Know About
Airtel's rival Reliance Jio kicks off 5G network trials in India
In the last week, Reliance Jio has commenced 5G trials in Mumbai as it races with rival Bharti Airtel to introduce the mobile technology in India.
While Jio's trials in Mumbai are being carried out using indigenously developed technology, the company has tied up with multinational vendors, including Ericsson, Nokia, and Samsung for trials in Delhi, Pune, and Gujarat.
The Department of Telecommunications had in May allocated 5G trial spectrum in 700 MHz, 3.2-3.6-gigahertz (GHz), and 24.25-28.5-GHz bands to Airtel, Jio, and Vodafone Idea to develop India-specific use-cases.
Jio is using standalone 5G architecture for its trials. This will include testing of core and radio network for peak speed, latency, and data loads.
Tests in other cities will commence soon and will need to be completed in six months, according to the spectrum license conditions.
Equitymaster's view on the telecom sector
We reached out to Tanushree Banerjee, Co-Head of Research at Equitymaster, and editor of the premium stock recommendation service StockSelect, for her view on the telecom sector.
Here's what she has to say...
While the telecom sector can have huge upsides due to 5G, investors must be very selective about the stocks. Higher-than-expected investments in spectrum acquisition or 5G deployment remain a risk.

Other than a few telecom companies, most others do not have sufficient balance sheet strength.
In a separate vein, back in the month of April, Rahul Shah had recorded a video analysing the stock of Bharti Airtel.
--- Advertisement ---
INSIDER SECRET: An Astonishingly Easy Way to Pile Up Potentially 40-60% Gains in Just 1 Year

India's most well-connected trader with over 35 years of experience just confessed...

"This Lucrative Market Segment Could Leapfrog Over Nifty in The Next 12-16 Months"

... thanks to a massive and irreversible mega-trend fueling its growth!

In fact, he and his partner have already identified 2 spectacular stocks from this segment... which are ready to rake in potentially 40-60% gains in just 1 year... and make you big, fat profits!

The best part of them all...

Their Details Are Packed in This Special Report (Discover How to Claim it for Free)
------------------------------
In the video, Rahul discussed whether Bharti Airtel's valuations are running ahead of fundamentals or the stock still seems reasonably priced from a long term perspective.
You can watch the video here: The Dilemma of Investing in Bharti Airtel
How the stock markets reacted to Bharti Airtel's news today
Shares of Bharti Airtel opened the day at Rs 548.4 on the BSE and Rs 548.1 on the NSE.
Its share price closed at Rs 536.7 (down 0.5%) on the BSE and Rs 536.4 (down 0.6%) on the NSE.
The share touched its 52-week high of Rs 623 and 52-week low of Rs 394.1 on 4 February 2021 and 19 October 2020, respectively.
Over the last 30 days, the Bharti Airtel share price is up 1%. Over the last one year, the company's share price is down 3.4%.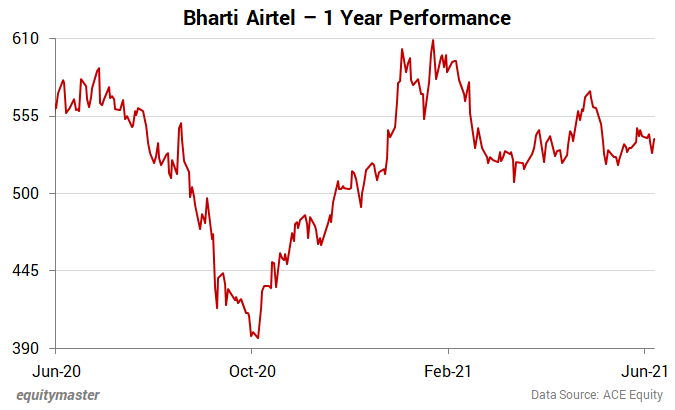 About Bharti Airtel
Headquartered in India, Airtel is a global telecommunications company with operations in 18 countries across South Asia and Africa.
The company ranks among the top three mobile operators globally and its mobile network covers a population of over two bn people.
Bharti Airtel is India's largest integrated telecom provider and the second largest mobile operator in Africa.
Airtel's portfolio includes high speed 4G/4.5G mobile broadband, Airtel Xstream Fiber that promises speeds up to 1 gbps, converged digital TV solutions through the Airtel Xstream 4K Hybrid Box, digital payments through Airtel Payments Bank as well as an integrated suite of services across connectivity, collaboration, cloud and security that serves over one million businesses.
Airtel's OTT services include Airtel Thanks app for self-care, Airtel Xstream app for video, Wynk Music for entertainment and Airtel BlueJeans for video conferencing.
In addition, the company has forged strategic partnerships with hundreds of companies across the world to enable the Airtel platform to deliver an array of consumer and enterprise services.
For more details about the company, you can have a look at Bharti Airtel's factsheet and Bharti Airtel's quarterly results on our website.
For more details about the telecom sector, you can check out the telecom sector report on our website.
You can also compare Bharti Airtel with its peers on our website.
Bharti Airtel vs Vodafone Idea
To know what's moving the Indian stock markets today, check out the most recent share market updates here.
Disclaimer: This article is for information purposes only. It is not a stock recommendation and should not be treated as such. Learn more about our recommendation services here...