Jun 22, 2022 -

Why Cryptos are Falling
Why Cryptos are Falling
Jun 22, 2022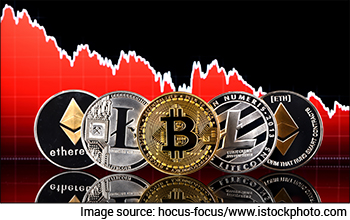 The sell-off in the crypto market and the digital asset area has escalated amid the global economic collapse.
People are shunning even the safest bluechip stocks as there's talk of a coming recession in the US. So you can imagine what this effect had on cryptos, which are relatively riskier than any other asset class out there.
Bitcoin, the world's largest cryptocurrency, recorded its 18-month low of US$ 17,630.5 on 18 June 2022. So far this year, the largest crypto is down by around 70%.
Meanwhile, the world's second largest cryptocurrency, Ethereum, fell over 77%, recording a new low of US$ 883.35 on 18 June 2022.
According to CoinMarketCap data, the whole cryptocurrency market has lost more than US$200 bn last week, and the global crypto market capitalisation went below US$1 tn for the first time since February 2021.
The Indian central bank, the Reserve Bank of India (RBI), in February 2022 warned Indian investors, announcing there are no guarantees of return, and that people should be careful before investing in cryptos.
This is coming true for now it seems. While liquidity tightening and the global market collapse can be the obvious reasons behind the market crash in cryptos, here are some other reasons why the crypto market could have crashed.
#1 Luna-Terra Crash
Luna (LUNA) and TerraUSD (UST) are the two native tokens of the terra network. It is built on Cosmos SDK, a framework that allows them to develop custom blockchains and build their decentralised application.
There are inbuilt algorithms on the platform in UST and Luna that tracks the demand and supply to balance both systems.
On 11 May 2022, large investors of Terra and Luna started selling their holdings. This led to a massive 99% price drop in the price, crashing the Terra and Luna systems.
This free fall has raised concerns over the stability of the crypto assets. How can a crypto with as high a marketcap as US$ 18 bn be wiped off in a single day?
The crown cryptos, Bitcoin and Ethereum, have also faced the burn of this selling pressure as have the stablecoins. This has led to high volatility in the crypto market.
Imagine your entire life's savings being wiped off in a single day...of course this was bound to spark concerns.
#2 US Fed Interest Rate Hike
On 15 June 2022, the US Fed announced a hike of 75 basis points or 0.75% to combat inflation.
The move was widely predicted, and it comes at a time when the stock market has entered bear territory in the US and inflation has hit a 41-year high of 8.6%.
As this move was predicted, this announcement led to a surge in the crypto market the very next day.
But rising interest rates is not good for crypto markets. This is because it could attract investors towards traditional savings accounts offering high rates and the demand for cryptos could fall.
Remember, Fed chair Powell has not shied away and indicated more such hikes in the future.
#3 Assets Frozen by Celsius Network
Celsius Network is one of the biggest cryptocurrency lenders in the world. It offers interest-bearing savings accounts, borrowing, and payments with digital and fiat assets.
On 13 June 2022, Celsius Network froze withdrawals and transfers for its 1.7 m clients citing an 'extreme' market. The company took this action to stabilise liquidity and operations to preserve and protect assets.
This led to a 14% fall in the cryptocurrency market, last week on Monday 13 June 2022. This fall in the crypto ecosystem illustrated the riskiness of unregulated digital assets. This is creating a panic selling environment among investors causing the crypto market to fall.
#4 The Global Market Sell-off
Markets across the globe have tumbled due to concerns surrounding high inflation, Russia-Ukraine war, among others.
The Indian stock market indices slumped to a new 52-week low on 16 June 2022, as the benchmark indices fell for the fifth straight day.
Crypto markets seem to be following the same trend. If a fall is witnessed in the stock market, the same trend is mirrored in the crypto space.
As per a report in the New York Times, the price of cryptos is closely replicated by the benchmark performance of tech stocks.
On 18 June, tech stocks including Amazon, Tesla, and Apple dipped by 6%, and the similar pattern of this downfall was replicated in the crypto space.
Due to this, big crypto players such as Bitcoin, Ethereum and Dogecoin fell and fell hard.
#5 Regulatory Challenges
Many countries have either not legalised crypto mining or have levied heavy taxes on them.
India has levied a 30% tax on crypto investors and 1% TDS on every crypto intraday traders. This has discouraged the traders to buy and trade the crypto in the market leaving a bear trend in the crypto market.
This has also led to uncertainty. With the TDS being imposed in India, the liquidity of the market will be at risk. TDS will reduce liquidity of the market by forcing high-frequency traders to curtail their trading activity.
Russia, in January 2022, proposed banning the use and mining of cryptocurrencies on Russian territory, recognising financial stability threats and their monetary policy sovereignty.
This and other related developments have discouraged investors from entering cryptocurrencies, leaving a strong impact on the cryptocurrencies.
To conclude
With all uncertainties and volatility in the crypto market, it is considered the most volatile instrument for investment. More so in the current context.
Will cryptos rise again? This is one of the biggest questions on the minds of every crypto investor these days.
To this question, the market remains positive as it expects cryptocurrencies to see a recovery in 2-3 years as this is not the worst that the global crypto community has faced till date.
There have been multiple such crashes in the past where Bitcoin fell sharply, but only to recover later.
Equitymaster's Take on Cryptos
We don't get cryptos. Honest.
It's something that has caught our imagination, but we just can't figure out a way to value it, fundamentally speaking.
Chartists like our very own Brijesh, study prices and suggest various levels. That makes sense to us.
Having said that, our 'fundamental' take on cryptos is simple. It's in line with the approach anyone should have when dabbling in a space they don't understand.
If you are investing in cryptos, do that at your own risk. Crypto are more volatile than traditional asset classes like equities or gold for that matter. 30-40% price swings intraday are common.
Before you invest your hard-earned money in cryptos, we recommend you look at Nithin Eapen's CryptoMaster course. This should help you get started in the world of cryptos...
Invest only what you can afford to lose. Nothing more.
Happy Investing!
Disclaimer: This article is for information purposes only. It is not a stock recommendation and should not be treated as such. Learn more about our recommendation services here...