Why Vedanta Share Price is Falling
Jul 27, 2022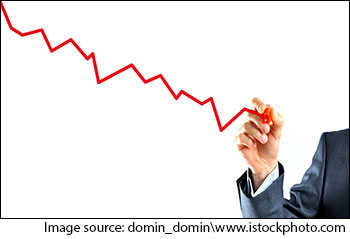 Editor's note: Vedanta's share price declined 6.3% intraday on Tuesday.
What led to this sudden fall in specifically Vedanta's share price?
Now, we know that share prices of metal companies have fallen on the growing concerns about a possible recession in parts of the world and uncertain demand outlook from China. This is expected to hit demand, and hurt commodity prices, which incidentally have been on a decline in recent weeks.
For the last couple of days, a sharp decline in metal prices may have contributed to this fall. Lower prices lead lower realisation, which impacts profitability.
This concern has impacted the shares of Vedanta. A similar downward movement was seen last month in June 2022. Back then, we wrote about the likely reasons for the downfall.
A lot has happened since then. Read on to find out more...
Why Vedanta Share Price is Under Pressure
Indian stock markets have seen tremendous volatility this year.
Over the last 30 days, the Sensex is down 4.4% while the Nifty is down 4.8%.
Amid this fall, shares of mining company Vedanta are down 25.9% in the last month. The stock plunged more than 10% on 20 June 2022.
Here's why the stock has been under pressure.
#1 Tuticorin-based smelter on sale
Following an order from the Tamil Nadu government, Vedanta has invited expressions of interest (EoI) for its copper smelter in Thoothukudi, Tamil Nadu.
It published advertisements in newspapers inviting bids on Monday, with a deadline of 4 July 2022, in collaboration with Axis Capital.
Following the news, Vedanta shares fell more than 10%.
According to the advertisement, Tuticorin-based Sterlite Copper has an integrated capacity of 400,000 million tonnes per annum (MTPA) of copper smelting and refining.
This is equivalent to roughly 40% of India's copper needs, and another 400,000 MTPA of production capacity is being added.
However, the plant costs Vedanta approximately Rs 1.8 bn per year.
You see, the Tuticorin-based smelter plant has been shut down for over four years.
In 2018, protests outside the plant turned violent and 15 people were killed in police firing.
Following instructions from the Tamil Nadu government, the state pollution control board sealed the plant.
The news of the plant's sale had a negative impact on share price and more than 2 m stocks changed hands on the counter as a result.
#2 Correction in metal prices
Update: A substantial correction in metal prices on account of slowing global demand, and the lockdowns in China has been recorded in recent weeks. Both ferrous and non-ferrous metals have witnessed a steep decline in prices recent times.
The slowdown has led to a decline of up to 40% in a wide range of metals from copper to steel.
Over the last month, the price of copper has declined by 21%, and steel has declined by 19%.
Also, a sharp decline has been seen in iron ore prices.
Further, the government of India raised the export duty on all grades of iron ore by 50% in May. This further hit the company.
However, even after the dip in the stock, Vedanta is one of the fastest-growing companies in 2022.
How shares of Vedanta have performed recently
In the past 5 days, the stock has fallen by more than 20% In the past 6 months, the stock is plunged by more than 30%.
It is worth noting that promoter ownership of Vedanta has steadily increased over the last two years. Vedanta's promoters owned 50.1% of the company in March 2020.
Today, that figure is nearly 70%.
However, as of March 2022. the promoter group has pledged 99% of the company's shares to raise funds.
Vedanta Resources has debt maturing in 2023 totalling US$ 3.7 bn, of which US$ 1 bn is due in July 2022
The management stated that it will be repaid or refinanced well before maturity, possibly through a dividend.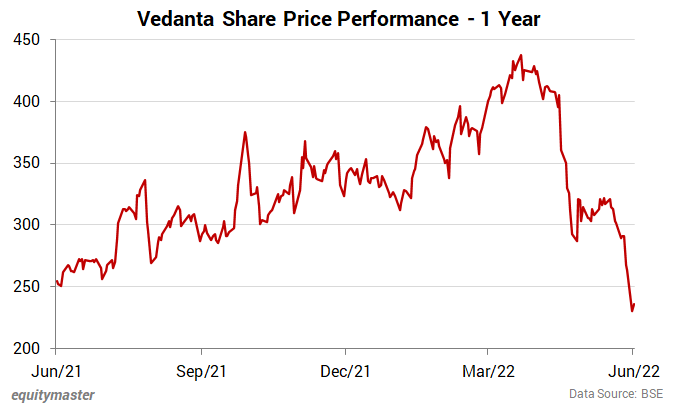 Update: Vedanta share price is currently at Rs 242, 45% down from its 52-week high.
The market cap of Vedanta on 27 July 2022 stands at Rs 903 bn.
About Vedanta
Vedanta is a diverse natural resource company that explores, extracts, and processes minerals as well as oil and gas.
The company explores, produces, and sells zinc, lead, silver, copper, aluminium, iron ore, and oil and gas.
Vedanta's other businesses include commercial power generation, steel manufacturing, and port operations in India, as well as glass substrate manufacturing in South Korea and Taiwan.
Vedanta is committed to achieving net-zero carbon emissions by 2050 or sooner and has promised US$ 5 bn over the next ten years to accelerate the transition.
Vedanta has also launched Spark 2.0 in line with its mission to support startups. Startups chosen for the program will collaborate with Vedanta's group companies, which have operations on three continents.
For more details, checkout the Vedanta company fact sheet and Vedanta News and Analysis
You can also compare Vedanta with its peers.
Disclaimer: This article is for information purposes only. It is not a stock recommendation and should not be treated as such. Learn more about our recommendation services here...