Why Bandhan Bank Share Price is Falling
Jun 22, 2022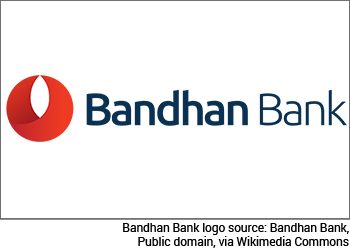 Bandhan Bank investors were happy to be in 'Bandhan' with the bank in 2022. While equity markets were volatile, and most stocks were bleeding, Bandhan Bank's share price was rising.
Till 31 May 2022, the share price was steadily increasing. On a YTD basis (till 31 May), Bandhan Bank's share price rallied 29%.
This rally pleased investors because Bandhan Bank's share price had fallen 37% in 2021.
This relief rally in 2022 did not last long as shares of the private lender started falling in June.
In June 2022 so far, the share price of Bandhan Bank have fallen 15%, out of which 10% was in the past six days.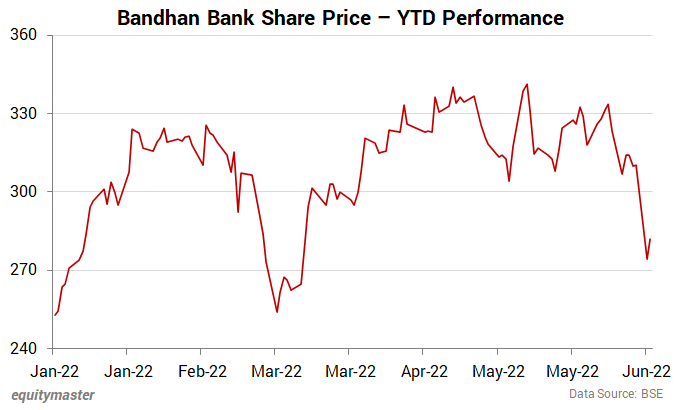 So what changed for Bandhan Bank?
Read on to find out...
Why is the share price of Bandhan Bank falling?
The 2022 Assam floods have been devastating, not only for the people in Assam but also for investors of Bandhan Bank.
The Brahmaputra and Barak rivers are flooded in Assam due to heavy and incessant rainfalls. This situation is heart-breaking. So far, 88 deaths have been reported, and around 5.5 m people have been affected in 32 districts.
These floods resulted in landslides in Assam and brought down Bandhan Bank's share price.
Now you may be wondering, how is this flood related to Bandhan Bank?
6% of Bandhan Bank's loans come from Assam. 9% of emerging entrepreneurs business (EEB) loans also come from Assam.
These figures are significant for a bank, especially when it has high NPAs and decreasing provisioning.
For March 2022, Bandhan Bank's gross NPAs were 6.46% of total assets. This is a high number.
The provisions for the quarter ended March 2022 were Rs 47.1 m. The December quarter provisions stood at Rs 8,057 m. Thus, the provisions made in March are negligible.
Hence, when a major business area's economy has quite literally drowned in water, chances are there will be rising NPAs.
This fear that NPAs might increase due to the dreadful floods in Assam has sent Bandhan Bank share price tumbling.
What now?
June 2022 so far has been bad news for Bandhan Bank. However, things have started to change it appears.
While Indian share markets are down over 1% today, shares of Bandhan Bank defied the weak market trend and edged higher.
This could be because yesterday, Himanta Biswa Sarma, Chief Minister of Assam announced that a relief package will soon be announced for the people affected by floods.
Our government will soon launch a portal for the affected people to register their livestock loss and other damages caused by the flood.
This has sent a wave of positivity in the market and hence the share price has been rising.
Another reason could be global brokerage being bullish on the stock despite all this flood concerns. Brokerage house Jefferies sees a huge upside in the stock from the current levels.
What do the financials say?
For the past years, Bandhan Bank's financial statements have been volatile but decent.
| Particulars (Rs m) | FY17 | FY18 | FY19 | FY20 | FY21 | FY22 |
| --- | --- | --- | --- | --- | --- | --- |
| Total Income | 43,201 | 55,085 | 77,064 | 124,347 | 146,333 | 166,939 |
| Growth (%) | 150% | 28% | 40% | 61% | 18% | 14% |
| Operating profit | 17,045 | 20,559 | 30,131 | 40,534 | 29,487 | 80,134 |
| Operating profit margin (%) | 39% | 37% | 39% | 33% | 20% | 48% |
| Net profit | 11,120 | 13,456 | 19,515 | 30,237 | 22,055 | 1,258 |
| Net profit margin (%) | 26% | 24% | 25% | 24% | 15% | 1% |
With decreasing profit margins and revenue growth, how will Bandhan Bank withstand the impact of floods?
Will the NPAs increase?
Only time will tell... Stay tuned to this platform to get updated about Bandhan Bank's story.
For more details, see the BANDHAN BANK company fact sheet and quarterly results.
For a sector overview, read our banking sector report.
You can also compare Bandhan Bank with its peers:
Bandhan Bank vs AU Small Finance Bank
Happy Investing.
Disclaimer: This article is for information purposes only. It is not a stock recommendation and should not be treated as such. Learn more about our recommendation services here...