Why Mazagon Dock Share Price is Rising
Jun 22, 2023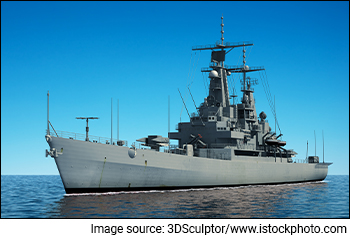 Earlier this month, we wrote about why defence stocks were rising and what lies ahead for the sector.
Among the prominent names from the lot, the share price of Mazagon Dock Shipbuilders, a manufacturer of warships and submarines, hit a 52-week high of Rs 1,337.7 on 21 June 2023. The stock however, fell 6% from its 52-week high in late trade yesterday.
Still, the stock has rallied around 65% in the past one month.
The company has delivered multibagger returns in the last one year. With an increase of over 400%, the stock stands out as one of the top performers in the BSE 500 index.
Let's find out what's driving the rally in the defence shipbuilding stock.
#1 Indo-US defence collaboration
Shares of the shipbuilding company have been on the roll after media reports suggested that the National Security Advisor of India and the US Secretary of Defence met to discuss co-operation in the maritime defence sector.
To strengthen India's goal of Make in India and Atmanirbhar Bharat, the government has planned bilateral defence cooperation between the two countries and established a defence industrial cooperation roadmap.
According to reports, India is likely to sign a US$ 3 billion (bn) agreement to purchase armed drones with US defence.
This agreement will benefit the local defence manufacturers like Mazagon Dock Shipbuilder, creating new opportunities.
Further, the Indian government has also announced plans to increase its domestic procurement budget from 68% in FY23 to 75% in FY24.
The increased domestic procurement budget share signifies a higher demand for indigenous defence equipment, including naval vessels and maritime defence systems.
As the sole defence shipbuilder in the country, the company stands to benefit from this heightened demand, positioning itself as a key player in meeting the nation's requirements.
#2 Robust order book
Another key factor contributing to the rally in Mazagon Dock shares is its robust order book, which currently exceeds Rs 40 bn.
This order book is driven by three major contracts, namely Project-17A frigates, Project-15B destroyers, and Project-75 submarines.
In addition to these major contracts, Mazagon Dock, earlier the month, signed a Memorandum of Understanding (MOU) with Germany's Thyssenkrupp to participate in an Indian Navy submarine tender worth approximately US$ 5.2 bn.
Apart from this, Mazagon Dock has also entered into multiple agreements with private businesses. These agreements are aimed at boosting defence exports from US$ 1.5 bn to US$ 5 bn by the end of the financial year 2024-25.
Simultaneously, the company has initiated the development of indigenous components for warships, supporting the government's vision of self-reliance and the Make in India initiative. This commitment to domestic manufacturing enhances the company's prospects and aligns with investor sentiment regarding the long-term sustainability of its business model.
Further, the company has also won an order to manufacture 2,500 shipping containers beyond traditional maritime solutions.
Going forward, the Defence Acquisition Council is expected to hand over a major contract to the company. Also, Indian Navy and Coast Guard ship plan to place orders for 200 ships each and 165 warships in the coming years.
Positive long-term outlook
The company has been working towards modernisation with a capital expenditure (capex) of Rs 9 bn. The sum has been deployed to build a module workshop, a large crane, a new wet basin to hold vessels, a submarine workshop, etc. Its benefits are expected to accrue in the coming years in the form of steady topline growth.
Going forward, the company plans to target international clients for export revenue. Furthermore, it has increased its focus on the ship repair business to diversify its income sources and decrease dependency on defence orders.
To boost the make-in-India drive the government allocated a big amount of money to the defence sector.
The Indian government is likely to spend a massive US$ 130 bn over the next 7-8 years on the modernisation of the armed forces.
All these factors put the company in a sweet spot, at least for now. It will all depend on the company's ability to maintain such high growth in the coming quarters and years to come.
How Mazagon Dock shares have performed recently
Shares of Mazagon Dock have surged over 65% in the past month. Over the past five days, the stock is up 17%.
Mazagon Dock shares touched a 52-week high of Rs 1,337.7 on 21 June 2023 and a 52 -week low of Rs 229.5 on 20 June 2023.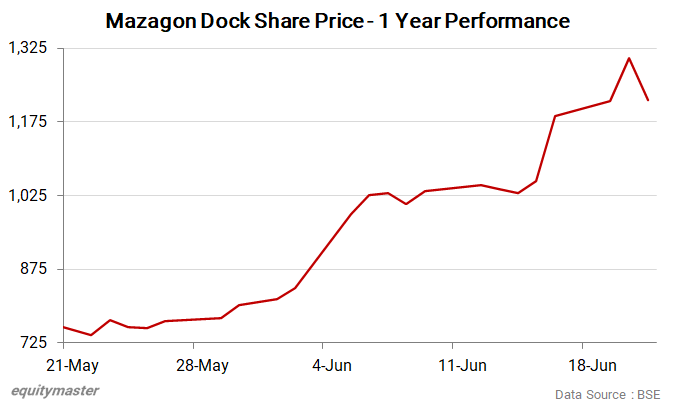 About Mazagon Dock Shipbuilders
Mazagon Dock Shipbuilders is a Mini-Ratna-I status public sector undertaking (PSU) under the Ministry of Defence, Government of India.
Founded nine decades ago in 1934, it has grown from a small ship repair company into India's leading multi-unit and multi-product warships builder.
The company provides services, including shipbuilding, ship repairs, and ship refits to government and private institutions. It is a key supplier of warships, missile boats and submarines to the Indian Navy and Indian Coast Guard.
Since its privatisation in 1960, Mazagon Dock has built 801 vessels, including 27 warships and seven submarines.
As a feather in its cap, Mazagon Dock is the only shipyard in India with the capabilities to build destroyers and conventional submarines.
For more details, see the Mazagon Dock Shipyard company fact sheet and quarterly results.
You can also compare Mazagon Dock with its peers:
Mazagon Dock vs Cochin Shipyard
And to know what's moving the Indian stock markets today, check out the most recent share market updates here.
Investment in securities market are subject to market risks. Read all the related documents carefully before investing
Safe Stocks to Ride India's Lithium Megatrend
Lithium is the new oil. It is the key component of electric batteries.
There is a huge demand for electric batteries coming from the EV industry, large data centres, telecom companies, railways, power grid companies, and many other places.
So, in the coming years and decades, we could possibly see a sharp rally in the stocks of electric battery making companies.
If you're an investor, then you simply cannot ignore this opportunity.
Details of our SEBI Research Analyst registration are mentioned on our website - www.equitymaster.com
Disclaimer: This article is for information purposes only. It is not a stock recommendation and should not be treated as such. Learn more about our recommendation services here...