What's the Government's Next Move in IDBI Bank's Divestment?
Jun 23, 2021
Shares of IDBI Bank surged over 6% on the BSE today as the government took a step ahead for the strategic stake sale in the lender.
The government on Tuesday invited proposals to appoint legal and transaction advisers for the strategic disinvestment of IDBI Bank, boosting efforts to meet its ambitious Rs 1.8 tn disinvestment target for this fiscal year.
The proposal was approved by the cabinet committee on economic affairs in May.
It involves the sale of a majority stake in the bank jointly by the government and Life Insurance Corporation of India (LIC), along with management control.
While the transaction advisor will be required to undertake tasks related to all aspects of the proposed disinvestment, culminating in the successful completion of the transaction, the legal adviser will review and advise on all legal contracts and the regulatory norms and assist in securing approval and exemptions, wherever necessary.
The department of investment and public asset management, in the request for proposals (RFPs) issued, said the bids by interested investment banks, financial institutions, consulting firms and law firms should be submitted by 13 July.
However, the government has not yet finalised how much stake to sell and will do so in consultation with the Reserve Bank of India (RBI), LIC, and the appointed transaction advisor.
The stake offloaded could be anything between 26% (the minimum required to transfer management control) and the center's entire stake, which is currently at 45.5%.
--- Advertisement ---
[Alert] Sell These 3 Stocks Immediately

These 3 stocks are ticking time bombs in your portfolio.

It is very likely that you could be owning these 3 overvalued...

fundamentally weak... ready to crash stocks... in your portfolio today.

Because many stock brokers have painted rosy pictures of these stocks. But the reality is starkly different.

If the market crashes, then these stocks could wipe out your wealth.

You should get rid of these stocks as soon as possible.

We are going to reveal details of these 3 landmines at our upcoming special event at 5 pm on September 24.

You can click here to sign-up. It's free
------------------------------
Stakeholders of IDBI Bank
The union government and LIC own 45.5% and 49.2%, respectively, in IDBI Bank, giving them a combined stake of more than 94%.
LIC is currently the promoter of IDBI Bank with management control after the government sold its majority stake to the state-run insurance giant in 2019.
However, the government and LIC may not fully sell their stakes and instead retain minority holdings post the strategic disinvestment.
LIC's board has passed a resolution to the effect that LIC may reduce its shareholding in IDBI Bank by divesting its stake along with strategic stake sale envisaged by the government with an intent to relinquish management control and by taking into consideration price, market outlook, statutory stipulation, and interest of policyholders.
At present, IDBI Bank is classified as a private sector bank by the RBI.
REVEALED: 3 "Super Smallcaps" You Didn't Know About
What the government expects from IDBI Bank's privatisation?
The government expects a strategic buyer to infuse funds, new technology and best management practices for the growth of IDBI Bank.
It also expects the bank to generate more business without any dependence on LIC and the government.
The resources through strategic disinvestment of government equity from the transaction would be used to finance developmental programs of the government.
Financial performance for the year 2021
IDBI Bank reported an annual profit for the first time in five years at Rs 13.6 bn for 2020-21. It had reported a loss of Rs 128.9 bn in fiscal 2019-20.
In the March quarter, the bank reported a nearly four-fold jump in net profit to Rs 5.1 bn due to tax refund and higher net interest income.
While the bank's gross bad loans are still high at 22%, high provisions have helped bring down the net non-performing assets (NPA) ratio to 1.97%.
The bank's capital adequacy ratio was at 15.59% as of the end of March.
Its deposits rose 4% to Rs 2.3 tn in the financial year 2021. The share of low-cost deposits rose to 50.5% in March 2021 from 47.7% in March 2020.
--- Advertisement ---
INSIDER SECRET: An Astonishingly Easy Way to Pile Up Potentially 40-60% Gains in Just 1 Year

India's most well-connected trader with over 35 years of experience just confessed...

"This Lucrative Market Segment Could Leapfrog Over Nifty in The Next 12-16 Months"

... thanks to a massive and irreversible mega-trend fueling its growth!

In fact, he and his partner have already identified 2 spectacular stocks from this segment... which are ready to rake in potentially 40-60% gains in just 1 year... and make you big, fat profits!

The best part of them all...

Their Details Are Packed in This Special Report (Discover How to Claim it for Free)
------------------------------
Covid-19 impact on banking sector
The Covid-19 pandemic has dampened business and consumer confidence, with the impact on reported impaired loans manifesting potentially over an extended timeframe, considering the various forbearance and relief measures by the authorities.
State banks have played a more active role in extending these measures than the private banks, which will make it more difficult to reasonably assess stress for the state banks, thus adding to the risk of weak earnings performance for a protracted period.
It should be noted that even though RBI categorised IDBI Bank as private sector bank, it continued to depend on government for capital. Now the government is trying to cut that supply by the change in management.
How the stock markets reacted to IDBI Bank's news today
Shares of IDBI Bank opened the day at Rs 40 on the BSE and Rs 40.3 on the NSE.
Its share price closed at Rs 39.4 (up 2.1%) on the BSE and the NSE.
At its current price, it is trading at a P/E of 29.2.
The share touched its 52-week high of Rs 55.8 and 52-week low of Rs 26.4 on 7 July 2020 and 27 January 2021, respectively.
Over the last 30 days, the IDBI Bank share price is up 1.5%. Over the last one year, the company's share price is up 19.6%.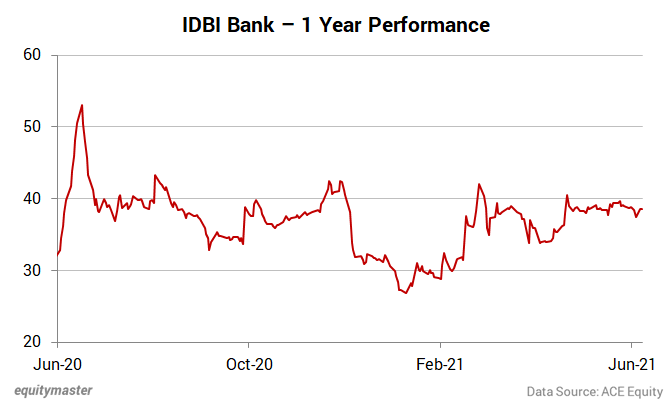 About IDBI Bank
IDBI Bank as established in 1964 by an act to provide credit and other financial facilities for the development of the fledgling Indian industry.
It is a development finance institution and a subsidiary of Life Insurance Corporation (LIC).
Many national institutes find their roots in IDBI like SIDBI, India Exim Bank, National Stock Exchange of India, and National Securities Depository (NSDL).
Initially, it operated as a subsidiary of the Reserve Bank of India (RBI) and later RBI transferred it to the government of India.
On 29 June 2018, LIC got a technical go-ahead from the Insurance Regulatory and Development Authority of India (IRDAI) to increase stake in IDBI Bank up to 51%.
LIC completed the acquisition of 51% controlling stake on 21 January 2019 making it the majority shareholder of the IDBI Bank.
For more details about the company, you can have a look at IDBI Bank factsheet and quarterly results on our website.
You can also compare IDBI Bank with its peers.
IDBI Bank vs Indian Overseas Bank
To know what's moving the Indian stock markets today, check out the most recent share market updates here.
Disclaimer: This article is for information purposes only. It is not a stock recommendation and should not be treated as such. Learn more about our recommendation services here...