Should You Buy Smallcap Stocks in a Bearish Market?
Jun 23, 2022
Buying smallcap stocks in a falling market is the last thing an investor wishes to do.
The Small-Cap index hit an all-time high (ATH) of 12,047 in January 2022 and corrected over 30% from the high. Whereas, the NSE Nifty has corrected close to 18%.
During the bearish momentum, fear leads to more sell-off in smallcap stocks.
The small-cap index is trading at a support area of the trendline, and the moving average indicates the best investment opportunity.
Small Cap/Nifty50 Ratio Chart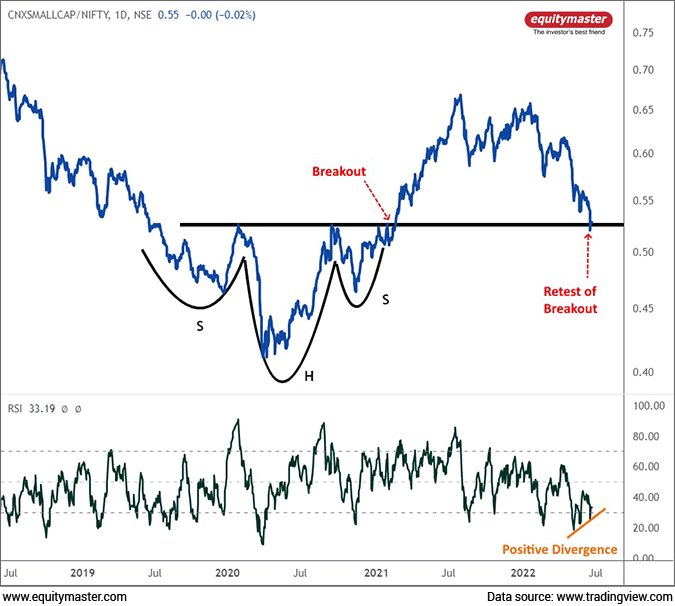 This is the ratio chart of SmallCap/Nifty50. The ratio going higher means smallcaps are outperforming against Nifty50 and vice versa.
The ratio broke out of iH&S in 2021 and I did a short video on that back in April.
The ratio has retested the breakout of iH&S indicating this is best time to buy smallcap stocks in the market correction.
The bullish divergence on RSI signals a reversal.
Investors should look for fundamentally strong smallcap stocks.
If you're interested in being part of my charting journey as I share how to create wealth from the profitable trade setups, join my telegram channel - Fast Profits Daily. You'll get access to the best trading ideas in the stock market.
Happy Investing!
Disclaimer: This article is for information purposes only. It is not a stock recommendation and should not be treated as such.
Brijesh Bhatia Research Analyst and expert chartist, is the editor of Alpha Wave Profits. Fully committed to his craft, Brijesh has mastered the art of making money by trading using technical analysis. Brijesh has an MBA from ICFAI and 16 years of experience in India's financial markets. He began his career on Dalal Street as commodities dealer and it wasn't long before he developed his own unique trading system. Brijesh worked on his trading system until it could be expected to deliver 5 units of return for every unit of risk.