Why Did Saurabh Mukherjea Exit his Position in HDFC AMC?
Jun 23, 2022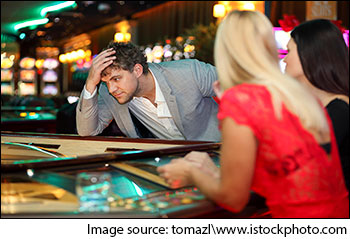 Popular super investor Saurabh Mukherjea has exited his position in HDFC Asset Management Company (AMC), one of the HDFC group stocks.
HDFC AMC is one of the largest mutual fund houses in the country. Despite good growth prospects in India's mutual fund industry, the company's stock has been under pressure of late.
Whilst staying bullish on HDFC Bank, Mukherjea's company Marcellus Investment Managers said it is exiting HDFC AMC from its 'Kings of Capital' portfolio which is focused on the financial sector.
The portfolio aims to create a basket of 10 to 15 quality financial stocks that have competitive advantage, shrewd capital allocation skills, and clean accounts.
Alongside HDFC Bank, the portfolio includes Kotak Mahindra Bank and Bajaj Finance. In a recent change, Home First Finance Company replaced AU Small Finance Bank.
A word about Saurabh Mukherjea
Endorsing the coffee can approach to investing, Saurabh Mukherjea is the founder and chief investment officer of Marcellus Investment Managers.
Mukherjea is known for his bold, often bearish, stance on the markets and the economy. Being a most erudite equity analyst, he is one of the most followed money managers on Dalal street.
Living by his thumb rule of 'sustainable growth', Mukherjea is often heard talking about entry barriers, market share potential, and at times, people running the show.
To know more about Saurabh Mukherjea, watch the recent Equitymaster's Investor Hour podcast, where he discussed his personal goals, successful calls, failures, and more.
In the hour long podcast, he also shared the investment mistakes to avoid and the one question he would like to ask Warren Buffett.
Tune in to follow an interesting conversation with one of the best investing minds.
Coming back to why he exited his position...
Why did Saurabh Mukherjea exit HDFC AMC?
In a note to investors, Marcellus Investment Managers said:
Owing to the reduction in our expected long-term earnings growth forecast for HDFC AMC, our position sizing framework has suggested an exit from the stock.
There are a number of parameters that can help determine the earnings growth forecast of a company.
Let's take a look at some of them...
#1 Past performance ratios
For any company, in financial services or otherwise, profits can consistently grow on the back of two key ingredients - high return on equity and a high reinvestment rate.
Return on equity is a gauge of a corporation's profitability and how efficiently it generates those profits.
Whereas the reinvestment rate is the percentage of a company's income being allocated to capital expenditure and net working capital, instead of being distributed as dividends.
A high reinvestment rate paints a picture of good growth opportunities available to the company.
Take a look at some key performance ratios' of HDFC AMC for the last five financial years:
| | Mar-18 | Mar-19 | Mar-20 | Mar-21 | Mar-22 |
| --- | --- | --- | --- | --- | --- |
| Net Worth (Rs m) | 22,443 | 30,613 | 40,223 | 47,637 | 54,574 |
| Net Worth Growth (%) | | 36.4 | 31.4 | 18.43 | 14.56 |
| | | | | | |
| Profit after tax (Rs m) | 7,113 | 9,306 | 12,624 | 13,258 | 13,931 |
| Profit After Tax Growth (%) | | 30.83 | 35.66 | 5.02 | 5.08 |
| | | | | | |
| Return on Equity (%) | 38.8 | 35.1 | 35.6 | 30.2 | 27.3 |
| Return on Capital Employed (%) | 57.6 | 51.6 | 46.8 | 39.9 | 36.2 |
| Return on Asset (%) | 35 | 32.7 | 33.6 | 28.3 | 25.4 |
| Dividend Payout Ratio (%) | 47.4 | 54.8 | 47.2 | 54.6 | 64.3 |
Data Source: ACE Equity
Declining growth in profit after tax and stumbling return on equity coupled with an increasing dividend payout ratio, dampens expectations of long-term sustainable growth of the company.
#2 Market share
Business growth can also be garnered by increasing the company's piece of the whole pie.
An increasing market share drives new business opportunities thus leading to increased profitability.
For a few quarters now, HDFC AMC has been losing market share to new and existing players.
New-gen tech players like Sachin Bansal's Navi and Groww, among others have started to disrupt the industry with their discount broking and lower charges.
The overall market share of HDFC AMC was consistent at around 14% till 2020. It increased to 14.5% in June 2020.
Since then, HDFC AMC has lost a 3.2% market share in the last seven quarters.
#3 Acquiring new customers
While cross-selling to an existing customer base does drive profitability, it has a cap to its potential growth.
For a business to remain profitable in the long run, it has to acquire new customers.
And if the industry in which the company operates is in the growth stage, expanding the customer base should be an easier task.
As you would be aware, the demographics of the domestic share markets seem to be changing.
While FIIs are selling stocks by the fistful these days, domestic retail investors have shown support by investing heavily in the markets either directly or via mutual funds.
Have a look at the number of unique investors joining the mutual fund industry and HDFC AMC's share of the pie:
The number of unique investors joining the industry has grown exponentially in the last year whereas there is hardly any growth of unique investors joining through HDFC AMC.
Note that HDFC MF's share in the mutual fund has decreased from 23% in March 2021 to 17% in March 2022.
How the stock of HDFC AMC has performed recently
HDFC AMC share price zoomed 3.9% yesterday, although it is down 24.2% in 2022 so far.
Read our detailed analysis on why HDFC AMC share price is falling.
HDFC AMC has a 52-week high quote of Rs 3,363 touched on 9 September last year while the stock touched its 52-week low of Rs 1,690 on 24 May 2022.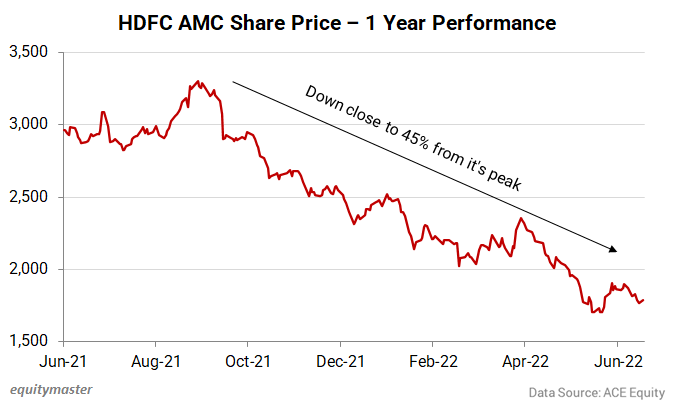 HDFC AMC currently trades at a price-to-earnings multiple of 28.3 times with a marketcap of Rs 394.6 bn.
As of March 2022, company promoters held 68.8% stake in HDFC AMC, with no shares having been pledged.
FIIs hold 10.4% stake in the company. To know more, check out HDFC AMC's latest shareholding pattern.
About HDFC AMC
HDFC AMC is an investment manager to HDFC mutual fund. The company has a diversified asset class mix across equity and fixed income/others.
Promoted by HDFC in 1999, Standard Life Investments (SLI) acquired 26% stake in HDFC AMC in 2001, and now the company operates as a joint venture between HDFC and SLI.
Through organic growth and acquisitions, such as Zurich India and Morgan Stanley MF, the firm has grown to one of the top two AMCs in India.
In conjunction with enjoying strong patronage of the HDFC brand, HDFC AMC has been the most profitable AMC in India since 2013.
HDFC AMC's average asset under management as on 31 May 2022 was Rs 4.1 tn.
To know more about the company, you can check out HDFC AMC company fact sheet and HDFC AMC quarterly results.
You can also compare HDFC AMC with its peers.
Disclaimer: This article is for information purposes only. It is not a stock recommendation and should not be treated as such. Learn more about our recommendation services here...