Why Crude Oil Price is Falling
Jul 22, 2022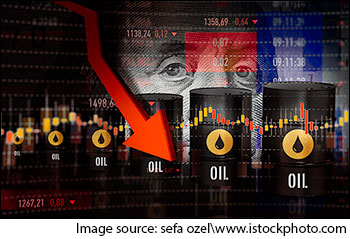 Editor's note: Another day, another fall in crude oil prices.
This has been going on for over a month now.
The recent fall is due to higher gasoline stockpiles which send crude oil prices down by more than US$3 on Thursday this week.
Data released showed a jump of 3.5 m barrels of gasoline in storage.
Crude oil is the main input to making gasoline, and if you have enough gas for now, who needs crude oil? At least for the time being...
This has affected crude oil prices and crude oil stocks in India.
Another reason for falling crude prices is the recent rate hike by European Central Bank (ECB).
The ECB joined the bandwagon and raised interest rates to tame inflation and experts are of the view that this may weigh on oil demand.
Take a look at the below chart which shows crude oil's performance so far in 2022.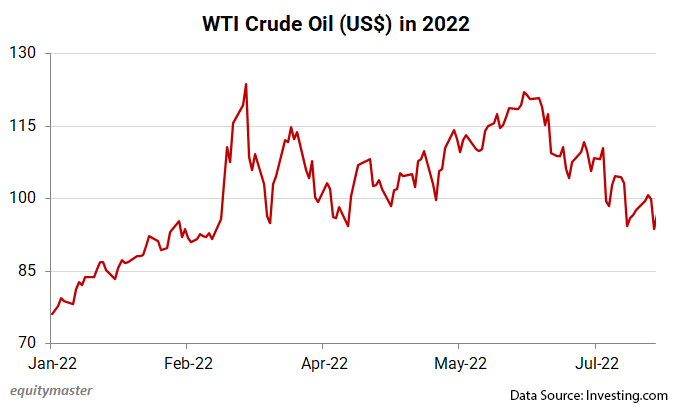 Continue reading to know more about why crude oil prices are falling...
Why Crude Oil Price is Falling
Oil has been the world's economic engine since time immemorial, and it remains so even as the search for alternative energy sources picks up steam.
Transportation, heating, and manufacturing all rely on carbon-based fuels.
While global growth is an important factor in determining oil prices, supply dynamics influenced by political developments, as well as technological advances in crude extraction and alternative energy sources, are also important oil market factors.
For the past few weeks, accounting for the above-mentioned reason, crude oil prices are dropping, which has influenced many global trends and enterprises.
As of Thursday, 24 June, MCX Crude oil price closed at Rs 8,287. It has fallen 14% in the past 10 days.
The BSE Oil & Gas index slipped by 11% in the past 3 weeks.
West Texas Intermediate (WTI) has also lost 5.6% to US$ 103.31 a barrel, while Brent is off 5.2% at US$ 108.62.
Let's try to understand this fall with probable causes.
#1 Fears of Recession
Manufacturing growth is slowing globally as China's Covid-19 curbs have increased.
Russia's invasion of Ukraine has also disrupted supply chains globally. Due to this, inflation is at its highest level in years.
As a result, there is a fear of a recession globally.
But how is a fear of recession, related to the crude oil price?
Here's how...
Whenever a recession is experienced, the liquidity in the market decreases, hence there is less mobility of money.
This leads to a decrease in consumption of all commodities and services, and crude oil is no exception.
This generates a lack of demand for crude oil. For instance, in the early months of 2020, during the early stages of Covid-19 pandemic, there was a lack of consumption, and the world experienced a recession which took the crude oil price in the negative zone.
You read that right. Crude oil prices slipped into the negative.
A similar but milder version of the same is experienced now which is one of the major factors for the recent downfall in crude oil prices.
#2 Demand-supply dynamics
The latest US Energy Information Association (EIA) report, released last week on 15 June 2022, pointed to restrained consumption which will decrease the demand for crude oil worsening the growth outlook.
It also alerted that oil demand would only reach pre-pandemic levels in 2023.
Furthermore, according to EIA data, US crude production unexpectedly increased to 12 m barrels per day last week, the highest level since April 2020.
In such a situation when demand is decreasing and supply is increasing, an increase in production capacity has resulted in the fall of crude oil prices.
Organization of Petroleum Exporting Countries (OPEC) producers, including Russia, agreed last week to accelerate output increases to tame runaway fuel prices and slow inflation.
Moreover, the rising cases of coronavirus and month-long lockdowns in Shanghai, China, have raised concerns over the demand for crude oil in China.
As above mentioned, all the factors of crude are exhibit that demand-supply is quite disrupted.
How the oil & gas sector has performed in the last month...
The oil and gas sector is among the eight core industries in India and plays a major role in other important industries.
In the past few months from February to April 2022, the prices of crude oil increased over 16%.
However, in the last month of May, crude prices started to go down. In the past 3 weeks, prices have dropped by 11%, and still continuing the downtrend.
The oil and gas stocks are also under pressure for the past 1 month.
Have a look at big oil & gas firms' performance for the month gone by.
The share prices of major oil & gas companies are facing a hard time..
Let's have a look at the Nifty Oil and Gas Index in the past month.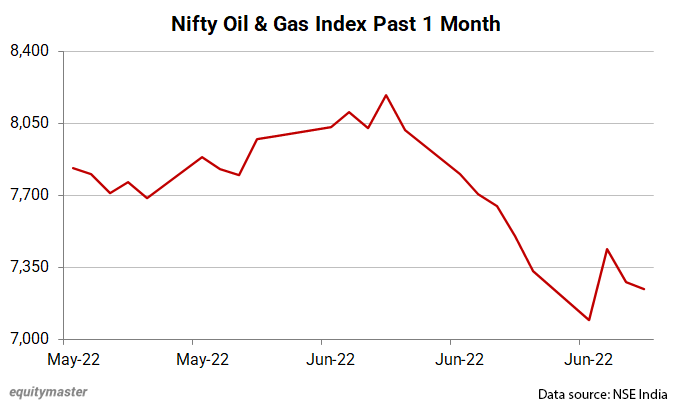 In conclusion:
In the last few weeks, a high amount of volatility was experienced in the crude oil market, thanks to fear of global recession and the see-saw effect of demand supply.
Recession fears have brought down the fastest growing companies and investors are now on the lookout for long term stocks to buy.
Well, the question is how the change in prices of crude oil will impact the stock market.
The paint industry, automotive lubricants sector, and airlines that use crude as fuel are pleased with the news of crude oil prices falling.
The fast-moving goods stocks (FMCG) will also benefit from the fall in crude oil for obvious reasons.
On the other hand, the oil and gas sector is facing a hard time.
As a result, investors must exercise greater caution when selecting stocks.
Focus on fundamentally strong stocks that can withstand storms because they will be better positioned to succeed.
India's #1 trader Vijay Bhambwani recently recorded a video on falling crude oil and its co-relation with equities.
When crude oil goes down, stocks go up and vice versa. But that's not happening. Vijay explains why in the below video.
Happy Investing.