What Led to the Recent Surge in Shares of Thyrocare Technologies?
Jun 26, 2021
API Holdings, which operates the giant healthcare startup PharmEasy, said on Friday it has reached an agreement to acquire a 66.1% stake in Thyrocare, which runs a diagnostic lab chain.
This will be the first-ever acquisition of a publicly listed firm by a unicorn startup India.
Currently, A Velumani and affiliates hold 66.1% in Thyrocare Technologies. A Velumani will be separately acquiring a minority non-controlling stake of less than 5% in API Holdings as part of a series of equity investments by existing and new investors.
The acquiring company said it will buy shares at Rs 1,300 apiece, which is a 10% discount to the last closing price on Friday. The total cost of the transaction will be Rs 45.5 bn.
The transaction is subject to regulatory and other approvals.
Docon Technologies, a 100% subsidiary of API, will be the acquirer and shall make an open offer for an additional 26% stake for over US$241 m, the startup said in a statement.
Siddharth Shah, CEO, API Holdings commented in a press statement shared by the company said,
We are delighted to be partnering with Thyrocare.

We will provide a world-class customer experience in diagnostics, rivalling our pharmacy experience by leveraging technology, and building on top of the massive scale and truly pan-India presence of Thyrocare.

It is our aim to deliver all outpatient healthcare products and services to every Indian within 24 hours.
--- Advertisement ---
[Alert] Sell These 3 Stocks Immediately

These 3 stocks are ticking time bombs in your portfolio.

It is very likely that you could be owning these 3 overvalued...

fundamentally weak... ready to crash stocks... in your portfolio today.

Because many stock brokers have painted rosy pictures of these stocks. But the reality is starkly different.

If the market crashes, then these stocks could wipe out your wealth.

You should get rid of these stocks as soon as possible.

We are going to reveal details of these 3 landmines at our upcoming special event at 5 pm on September 24.

You can click here to sign-up. It's free
------------------------------
Things to know about the Indian healthcare startup PharmEasy
PharmEasy, founded by Dharmil Sheth, Dhaval Shah, Harsh Parekh, Hardik Dedhia, and Siddharth Shah, claims to be India's number one online pharmacy and diagnostics brand.
It operates a business-to-business pharma marketplace with over 6,000 consultation clinics with 90,000 partner retailers across India.
The company has a base of 12 m consumers across the country.
It currently serves over 1 m patients for their pharmacy and diagnostics needs and conducts 3 lakh consultations on a monthly basis.
The six-year-old startup, has raised about US$572 m to date and was valued at US$1.5 bn in its most recent financing round in April.
It counts Prosus Ventures, Temasek, Eight Roads Ventures, TPG, B Capital Group, and Bessemer Venture Partners among its investors.
Views on the collaboration between the two companies
The collaboration between PharmEasy and Thyrocare is unique and transformative for the Indian healthcare sector, consumers, and the entire healthcare ecosystem.
The synergies of both, India's largest digital health platform and one of the largest, cost-effective diagnostics solution providers (by volume) will accelerate the delivery of high-quality diagnostic and outpatient department (OPD) services.
REVEALED: 3 "Super Smallcaps" You Didn't Know About
Thyrocare Technologies turns profitable in March Quarter
Thyrocare Technologies reported 44.8% year on year (YoY) rise in consolidated revenues for the March 2021 quarter at Rs 1.5 bn.
The largest segment of revenues for the company was the diagnostic testing service which saw a sharp spike in revenues of 49% at Rs 1.4 bn.
Diagnostic testing saw a lot of demand with the rising health scare of a pandemic in India.
Thyrocare is authorised by the Indian Council of Medical Research (ICMR) to perform Covid-19 tests using the RT-PCR technology.
The net profit in the quarter turned around to a profit of Rs 377.5 bn from a net loss of Rs 10.6 m in the same period a year ago.
This was driven by sharply higher sales revenues and also the exceptional loss of Rs 60.6 written off in the March 2020 quarter.
The board of directors has recommended a dividend of Rs 15 per share that is 150% of face value of Rs 10 per share for the financial year ended 31 March 2021.
An overview on healthcare startups in India
India spends just 3.6% of gross domestic products (GDP) on healthcare, a figure much lower than other countries like the US (16.9%), Germany (11.25%), China (5%), and Russia, (5.3%).
This leaves a lot of scope for the private sector to invest in healthtech startups to make healthcare affordable in the country.
Unfortunately, the pandemic that should have been the trigger point for investors to make their bets by investing more in healthtech firms, had an opposite effect.
In 2020, the healthtech segment saw a decline of 11% in the overall funding, even though the deal count increased by 24% in comparison to 2019.
The healthtech sector recorded 77 deals raising US$455 m in funding in contrast to US$512 m funding in 62 deals in 2019.
--- Advertisement ---
INSIDER SECRET: An Astonishingly Easy Way to Pile Up Potentially 40-60% Gains in Just 1 Year

India's most well-connected trader with over 35 years of experience just confessed...

"This Lucrative Market Segment Could Leapfrog Over Nifty in The Next 12-16 Months"

... thanks to a massive and irreversible mega-trend fueling its growth!

In fact, he and his partner have already identified 2 spectacular stocks from this segment... which are ready to rake in potentially 40-60% gains in just 1 year... and make you big, fat profits!

The best part of them all...

Their Details Are Packed in This Special Report (Discover How to Claim it for Free)
------------------------------
On the positive side, the year 2020 attracted big corporates to invest in healthtech startups.
Earlier this month, Tata Digital, the company that houses the Tata group's digital assets said it's set to acquire a majority stake in online pharmacy 1mg Technologies.
On the other hand, Reliance Industries acquired 60% equity in Netmeds and 100% equity in its subsidiaries for around US$85 m.
Other startups that raised funding include Curefit, 1mg, IVF Access, Healthpix, Phable, among others.
How the stock markets reacted to Thyrocare Technologies Yesterday
Shares of Thyrocare Technologies opened the day at Rs 1,365 on the BSE and Rs 1,375 on the NSE.
Its share price closed at Rs 1,448 (up 6%) on the BSE and the NSE.
At its current price, it is trading at a P/E of 67.5.
The share touched its 52-week high of Rs 1,465.9 and 52-week low of Rs 485.3 on 25 June 2021 and 1 July 2020, respectively.
Over the last 30 days, the Thyrocare Technologies share price is up 41.3%. Over the last one year, the company's share price is up 186.4%.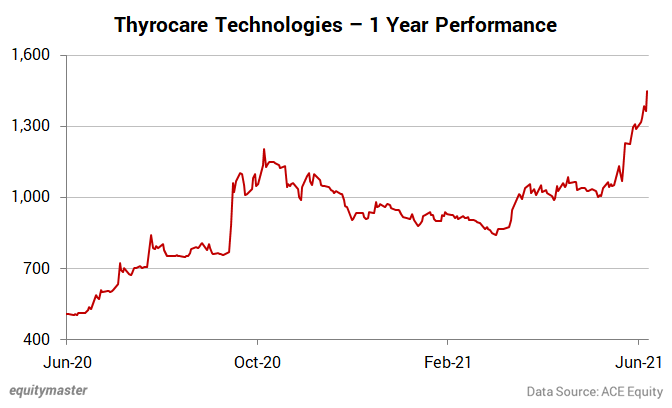 About Thyrocare Technologies
Thyrocare Technologies is a chain of diagnostic and preventive care laboratories, based in Navi Mumbai.
The company has outlets and collection centers across India and parts of Nepal, Bangladesh, and the Middle East.
It's one of the leading diagnostics solution provider by volume, performing over 110 m tests annually.
Thyrocare is one of the largest B2B players in the diagnostics space and has a network of 3,330+ collection centres across 2,000+ towns in India.
It operates a multi-lab model with a mega central processing lab, two zonal processing labs, and 13 regional processing labs across the country.
For more details about the company, you can have a look at Thyrocare Technologies factsheet and quarterly results on our website.
You can also compare Thyrocare Technologies with its peers.
Thyrocare Technologies vs Metropolis Healthcare
Thyrocare Technologies vs Dr Lal PathLabs
Thyrocare Technologies vs Fortis Healthcare
To know what's moving the Indian stock markets today, check out the most recent share market updates here.
Disclaimer: This article is for information purposes only. It is not a stock recommendation and should not be treated as such. Learn more about our recommendation services here...