Why Auto Stocks are Rising
Jun 28, 2022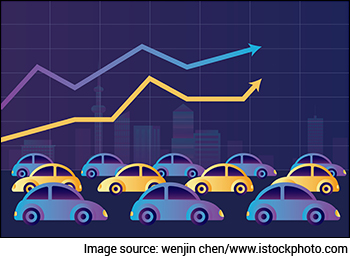 Auto stocks have been on the upswing since the stock market crash in March 2020. However since the beginning of 2022, they have been in a downtrend.
The BSE auto index fell 13% between January and March 2022.
The decline was on the back of the semiconductor chip shortage. This shortage was made worse by the ongoing Russia-Ukraine war. Russia and Ukraine are both suppliers of the raw materials used in semiconductor manufacturing.
Rising crude oil prices in March 2022 further resulted in a decline which wiped off the gains enjoyed by auto stocks post pandemic.
However, since then, the trend has changed. Auto stocks are up 25% from their 52-week lows. It seems like auto stocks are regaining their glory.
The reason for this has been weak metal prices, falling oil prices, a new electric vehicles policy by the government, and seasonal demand of products.
Both crude oil prices and metal prices have fallen in the last month. Crude oil prices slipped 11% while metal prices have fallen 20%.
Crude oil prices and auto stocks are inversely related. A reduction in the price of crude oil reduces the cost of operating automobiles, which results in an increase in demand.
A fall in metal prices reduces the companies' cost of raw materials which bodes well for the profitability of auto stocks.
Meanwhile, the government of India has announced a policy for EVs (electric vehicles). This policy introduced a battery swapping plan to accelerate the EV adoption. This news has also been a positive trigger for auto stocks.
With respect to demand, due to an early monsoon, sales numbers of automobiles are set to grow. This too been one of the factors for the rise in auto stocks.
How have auto stocks performed recently...
In the past five days, the BSE auto index is up by more than 7%.
Shares of Maruti Suzuki and Mahindra and Mahindra are up by 9.3% and 12.5% respectively. Further, shares of Bajaj Auto and Eicher Motors are up by 5.2% and 6.4% respectively. Bajaj auto shares gained 4% yesterday post its buyback announcement.
The stock of Tata Motors is also up by 5.8%.
Hero MotoCorp share price has also gained by 10%in this week, You can delve deeper and see why Hero MotoCorp price is rising.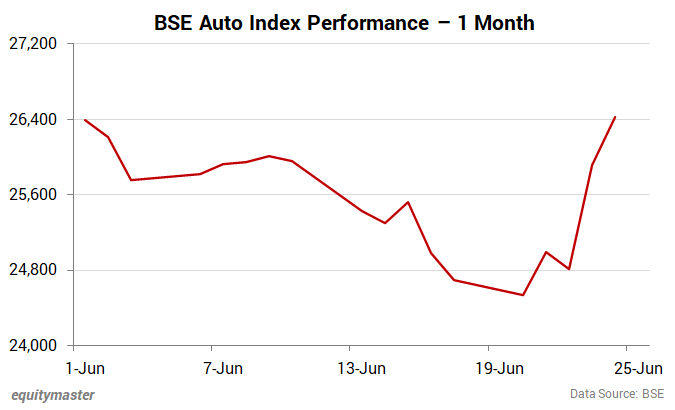 Bottom line
India's automobile industry is one of the most promising industries. It is due to the market size of the country. It is the fifth largest vehicle manufacturer across the globe. This sector comprises segments like scooters, buses, Electric Vehicles (EV) and so on.
The EV market in India is going to be a driving force of the automobile Industry.
The government of India has also announced the Production Linked Incentive (PIL) in the automobile sector. This scheme proposes financial incentives of 18%. This is to boost domestic manufacturing.
Due to all of these government initiatives, auto stocks may be good for the long-term perspective.
If you are planning to invest, assess the fundamentals and do your research to ensure these stocks are a proper fit for your portfolio.
Disclaimer: This article is for information purposes only. It is not a stock recommendation and should not be treated as such. Learn more about our recommendation services here...