Hindustan Aeronautics in Focus After Profit Jumps 31%
Jun 29, 2021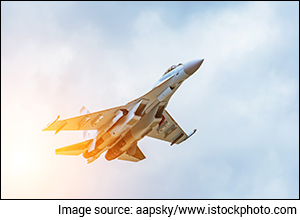 Hindustan Aeronautics (HAL) shares gained 1.5% to Rs 1,057.7 per share on the BSE after the company's consolidated net profit jumped 31.2% to Rs 16.2 bn from Rs 12.4 bn in the same quarter last year.
The company's profit got a boost from a sharp fall in the interest cost due to leverage being cut to near-zero levels as well as a sharp year on year (YoY) fall in the employee benefits costs in the quarter. Tax outgo was also lower due to deferred tax credits.
Profit before tax (PBT) increased by 6.8% to Rs 21.7 bn in the fourth quarter of 2021 against Rs 20.3 bn in the same period a year ago.
HAL reported 4.8% higher consolidated revenues for the March quarter at Rs 107.4 bn.
On a sequential basis, net sales revenues were up 97.9% compared to total revenues in the December quarter at Rs 54.3 bn.
Financial highlights for the year 2021
The company's consolidated net profit grew by 12.4% to Rs 32.4 bn in the year ended March 2021 from Rs 28.8 bn in the last year.
Its PBT came in at Rs 42.8 bn for the financial year 2021, up 7.5% from Rs 39.8 bn reported in the last year.
--- Advertisement ---
Revealed: A Massive 15x EV Opportunity

We concluded the EV Gold Rush special event yesterday.

And it was a mega success. Thousands of Indians had joined us LIVE.

But for some reason you couldn't make it to the event.

At the event, we revealed our complete research on this massive 15x opportunity in electric vehicles...

Including details of 3 EV stocks that could potentially offer you life-changing gains in the long run.

Click Here to Watch Full Details (Available for a limited time)
------------------------------
Full year revenues for the fiscal 2021 rose by 6.1% to Rs 227.5 bn in 2021 compared to Rs 214.5 bn in the previous fiscal.
HAL has been a big beneficiary from the Make in India focus on defence in-sourcing.
The company reduced its debt to near zero levels resulting in the debt service coverage ratio tripling from 21.15 to 73.52 in the March 2021 quarter.
Key Financial Indicators
| Rs in bn | Mar-21 | Mar-20 | YoY | Dec-20 | QoQ |
| --- | --- | --- | --- | --- | --- |
| Total Income | 107.4 | 102.5 | 4.8% | 54.3 | 97.9% |
| Net Profit | 16.2 | 12.435.7 | 31.3% | 8.5 | 90.1% |
| Diluted EPS (Rs) | 48.5 | 37 | | 25.5 | |
| Net Margins | 15.1% | 12.1% | | 15.7% | |
Data Source: Company's Quarterly Report
HAL said second wave of Covid-19 forced the company to declare for a phased lockdown at various divisions on substitution basis during April and May 2021.
The employees will put in additional hours for the hours lost during lockdown period.
It's therefore expected that the lost man hours will be recovered in the coming months. Hence, no significant impact is anticipated.
Equity dividend
The board of directors of the company, at its meeting held on 9 December 2020 and 26 February 2021, declared first and second interim dividend of Rs 15 per equity share respectively.
That is a total interim dividend of Rs 30 per equity share of Rs 10 each fully paid up (300%) for the financial year 2020-21.
--- Advertisement ---
[Alert] Sell These 3 Stocks Immediately

These 3 stocks are ticking time bombs in your portfolio.

It is very likely that you could be owning these 3 overvalued...

fundamentally weak... ready to crash stocks... in your portfolio today.

Because many stock brokers have painted rosy pictures of these stocks. But the reality is starkly different.

If the market crashes, then these stocks could wipe out your wealth.

You should get rid of these stocks as soon as possible.

Click her for full details of these 3 landmines
------------------------------
Rolls-Royce partners with Hindustan Aeronautics for warship engines
In the last month, Hindustan Aeronautics and Rolls-Royce signed a memorandum of understanding (MoU) to establish a support system in India for the highly regarded Rolls-Royce MT30 marine engines.
The HAL-Rolls-Royce partnership will provide packaging, installation, marketing and services support for the MT30 engine, creating a business case for the Indian Navy to consider using the engine for powering and propelling its warships.
So far, Rolls-Royce and HAL have collaborated mainly in building the Adour aero engines that power the Jaguar fighter and Hawk advanced jet trainer.
Apart from that, in February 2021, at Aero India 2021 in Bengaluru, Hindustan Aeronautics and Mishra Dhatu Nigam (MIDHANI) signed a memorandum of understanding (MoU) for development and production of composite raw materials.
Market dynamics
India's defence manufacturing sector has witnessed compound annual growth rate (CAGR) of 3.9% between 2016 and 2020.
The Indian government has set the defence production target at US$25 bn by 2025 (including US$5 bn from exports by 2025).
India's defence import value stood at US$463 m for the financial year 2020 and it was expected to be at US$469.5 m in the financial year 2021.
Defence exports in the country witnessed strong growth in the last two years. India targets to export military hardware worth US$5 bn in the next 5 years.
Speaking of the defence sector, have a look at the chart below which shows the top 5 military spending countries in the world as of 2019.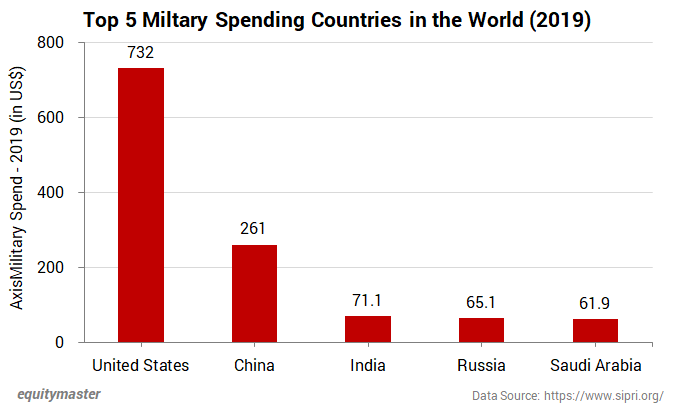 According to a SIPRI (Stockholm International Peace Research Institute) report, India was the third largest military spending country in the world in 2019.
Here's what we wrote about it in one of the editions of Profit Hunter.
If you look at the chart closely, you will realise it is likely to remain among the top spenders in the coming years.

It's because of the second largest spender shown in the chart, China.

With rising tensions between the two countries, the incentive is strong for India to keep up with China

.It all makes sense for the government to focus on this sector in a big way in the near future.

The government's 'Atmanirbhar' push will get a massive boost through local defence manufacturing. This will create profitable opportunities in defence stocks for astute investors.
Co-head of Research at Equitymaster, Tanushree Banerjee keeps a close watch on stocks in the defence space. As per Tanushree, defence will be a big wealth-creating opportunity.
Instant Updates: Join Our Telegram Channel and Get Instant Updates
Back in June 2020, she recorded a video about India's best defence stocks.
You can watch the video here: The Upside in India's Best Bulletproof Defence Stocks.
How the stock markets reacted to Hindustan Aeronautics March quarter numbers today
Shares of Hindustan Aeronautics opened the day at Rs 1,062.9 on the BSE and Rs 1,58 on the NSE.
Its share price closed at Rs 1,036.5 (down 0.5%) on the BSE and Rs 1,036.3 (down 0.6%) on the NSE.
At its current price, it is trading at a P/E of 12.4.
The share touched its 52-week high of Rs 1,423.6 and 52-week low of Rs 660 on 14 August 2021 and 4 November 2020, respectively.
Over the last 30 days, the Hindustan Aeronautics share price is up 1.1%. Over the last one year, the company's share price is up 32%.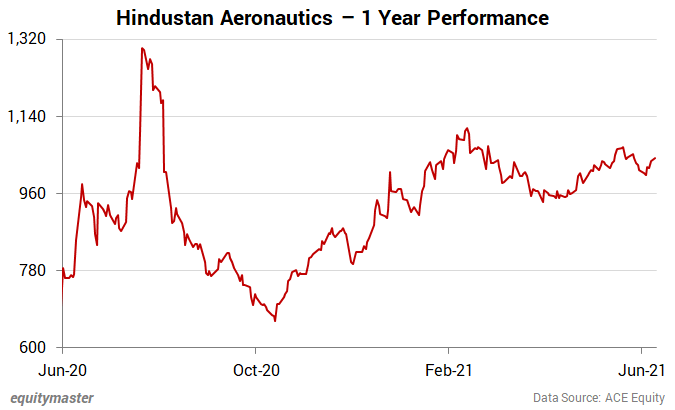 About Hindustan Aeronautics
Hindustan Aeronautics is an Indian state-owned aerospace and defence company, headquartered in Bangalore (Bengaluru), India.
Established on 23 December 1940, HAL is one of the oldest and largest aerospace and defence manufacturers in the world today.
HAL began aircraft manufacturing as early as 1942 with licensed production of Harlow PC-5, Curtiss P-36 Hawk and Vultee A-31 Vengeance for the Royal Indian Air Force.
It currently has 11 dedicated research and development (R&D) centers and 21 manufacturing divisions under 4 production units spread across India.
The company is managed by a board of directors appointed by the President of India through the Ministry of Defence Government of India.
HAL is currently involved in designing and manufacturing of fighter jets, helicopters, jet engine and marine gas turbine engine, avionics, software development, spare supply, overhauling, and upgrading of Indian military aircraft.
The HAL HF-24 Marut fighter-bomber was the first indigenous fighter aircraft made in India
For more details about the company, you can have a look at Hindustan Aeronautics factsheet and quarterly results on our website.
To know what's moving the Indian stock markets today, check out the most recent share market updates here.
Disclaimer: This article is for information purposes only. It is not a stock recommendation and should not be treated as such. Learn more about our recommendation services here...