Why TVS Motor Share Price is Rising
Jul 29, 2022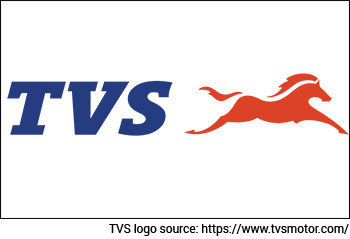 Editor's note: Share price of TVS Motor Company zoomed 10% intraday today after declaring stellar set of earnings.
TVS Motor is one of the early Indian companies betting big on EV supply chain.
It has been working on electric vehicles for the past decade to become the top EV companies in India.
Though the seriousness was captured in 2017 when it initially started betting big. In 2017, TVS Motor invested in Bengaluru-based electric two-wheeler manufacturer Ultraviolette Automotive. Over the years, TVS has invested more in Ultraviolette.
In June 2022, we wrote to you about why TVS Motor share price was rising when the entire market was under a lot of pressure.
A similar upward movement was seen back then, and we wrote about the likely reasons for the rally.
A lot has happened since then. Continue reading to know the latest developments...
Why TVS Motor Share Price is Rallying
Recently, automobile industry stocks have been rallying like there is no tomorrow. This following a decline in the prices of metals, crude oil, and other commodities.
One stock in particular, TVS Motor, has seen a large gain.
TVS Motor Company produces a diverse range of two-wheelers, ranging from mopeds to racing-inspired motorbikes to three-wheelers.
Shares of TVS Motor are presently trading at Rs 835, up from Rs 740 a month ago, an 11% increase.
Today, TVS Motor surpassed its 52-week high of Rs 813, set on 9 November 2021. It hit a new high of Rs 835.
Let's take a look at the reasons why TVS Motor Company has recently come in to the limelight...
#1 Earnings effect
TVS Motor's net profit for the financial year 2021-22 surged 18% to Rs 7,284 m.
Revenue from operations increased 24% to Rs 207,910 m.
The company's two and three-wheeler sales climbed 8% to 0.03 m units.
In the overseas market, two-wheeler sales were 1.09 m units in financial year 2022. For the first time ever, the company reached this milestone.
TVS Motor's Q4 results were also good. Profit after tax of Rs 2.7 bn was in line with what the market was expecting.
In addition to the strong gains, TVS Motor has also rewarded shareholders with an equity dividend of Rs 3.75 per share.
The company's management said the reasons mentioned below helped improve the quarterly results.
An enhanced product mix in the business
A boost in exports
Cost-cutting tactics
Update: If this wasn't enough, the company recently reported another set of stellar earnings.
TVS Motor Company posted a consolidated net profit of Rs 3.1 bn for the first quarter of the financial year 2022-23. This compared with a loss of Rs 105.5 m in the year ago quarter.
The steep jump in profit was due to increase in sales volume.
Revenue surged 57% to Rs 73.2 bn.
This quarter marked as best for TVS as is reported the highest ever revenue, EBITDA and profit after tax.
The company's motorcycle sales rose to 4.34 lakh units in the June quarter compared to 4.05 lakh units in the year-ago period. Similarly, scooter sales for the June 2022 quarter rose to 3.06 lakh units against 1.38 lakh units in the year-ago period.
TVS said it recorded the highest two-wheeler exports.
The company could just as well see another good quarter going forward as it expects to reach monthly volumes of 10,000 units gradually.
#2 Sectoral effect
Until a few months ago, the automobile sector was in a downturn and on the verge of collapse owing to the Russia-Ukraine conflict.
Russia and Ukraine are important suppliers of core parts to the chip manufacturing sector. The already dire situation of shortage of semiconductors got even worse.
Russia was especially active in supplying metals such as palladium to the semiconductor industry. Ukraine supplied particular gases for chip manufacturing, such as neon and helium.
Automobile manufacturers' share price and sales suffered as a result of the chip shortage.
In addition to this, metals and crude oil prices were also increasing due to the imposition of new Western sanctions.
The tables seem to have turned now. The automobile sector is looking up now that the consequences of the war have begun to fade.
Metal and crude oil prices have fallen, allowing these companies to breathe easier.
As a result, automobile stocks are on the rise.
The S&P BSE Auto Index is presently trading at 26,968, a 24% increase from the price of 21,669 in March 2022.
It hit a seven month high recently and traded at its highest level since 18 November 2021.
#3 EV effect & increased sales numbers
Electric vehicles (EVs) are the latest market trend that does not appear to be going away anytime soon.
In this domain, significant advances are continuing to take place. The government has also established the goal of transforming India into a worldwide manufacturing powerhouse.
TVS Motor announced big plans to expand its electric two-wheeler capacity and charging infrastructure a few months ago.
In addition, by developing new products, EVs would be introduced to worldwide markets in the near future.
That day may come very soon!
Recently, the company announced plans to launch new automobiles ranging from 5 to 25 kilowatts.
They have already unveiled three variations of the iQube, an electric two-wheeler with a range of 140 km on a single charge.
TVS has also expanded iQube's presence to 33 cities by the conclusion of current fiscal year 2021-22.
It announced that it will partner with BMW's motorbike brand to develop EVs in India.
In 2021-22, TVS Motor Company has sold over 10,000 electric vehicles.
It is also in advanced negotiations with private equity companies for financing of Rs 4,000 - 5,000 m for its expansion plan.
With the reopening of schools and colleges, it is projected that EVs will witness an increase in demand from students, working women, and the rest of the market.
TVS hopes to enhance its EV revenue share by leveraging on the growing worldwide demand for electric vehicles.
It is doubling down on electric vehicles as India focuses on decreasing vehicular pollution in cities and reducing reliance on fossil fuels in the face of rising fuel prices.
These reasons combined have sent the shares of TVS Motor to their all-time high level.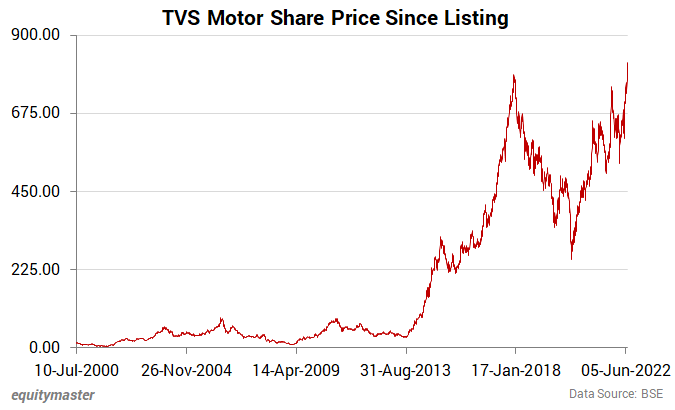 Update: TVS Motor has indicated a total spend of about Rs 11.5 bn in 2022-23.
How TVS Motor share price has performed recently
Shares of TVS Motor have risen by 30% on a YTD basis.
TVS Motors share price has a 52 week high quote of Rs 835 touched on 29 June 2022 while it hit a 52 week low of Rs 495.95 on 24 August 2021.
As of 31 March 2022, promoters owned 50.81% of the firm, while FIIs owned 11.97% and DIIs owned 28.51%.
At the current price, TVS Motors trades at a PE multiple of 53.55 and a price to book value multiple of 8.65.
There is no surprise here that TVS Motors has maintained its position as one of the top players in its segment.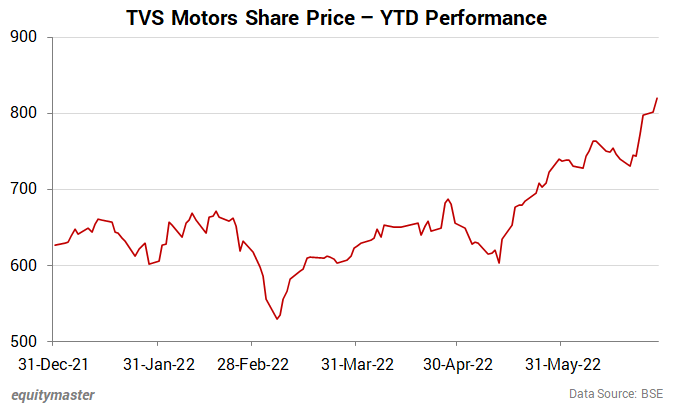 Update: TVS Motor share price continues to surpass its previous high and is currently trading at Rs 910.
It has a marketcap of Rs 431.9 bn as of 29 July 2022.
To know more, check out TVS Motor 2021-22 annual report analysis.
About TVS Motors
TVS Motor Company is a global Indian motorcycle manufacturer located in Chennai, Tamil Nadu, India.
It is the largest company in the TVS Group in terms of size and turnover.
It is India's third largest motorbike manufacturer.
TVS Motor is also India's second largest exporter, with sales to over 60 countries.
The firm operates four production facilities, three in India and one in Indonesia.
To know more about TVS Motors, check out its factsheet and quarterly results.
You can also compare TVS Motor with its peers:
Disclaimer: This article is for information purposes only. It is not a stock recommendation and should not be treated as such. Learn more about our recommendation services here...