What's Driving the Rally in UFlex Shares Today?
Jun 30, 2021
Shares of Uflex rallied over 20% to hit a 52-week high of Rs 572.9 on the BSE today after the company reported strong earnings for the March quarter.
Packaging materials company Uflex reported an over two-fold jump in consolidated net profit at Rs 2.6 bn for the fourth quarter ended March 2021.
The company had posted a net profit of Rs 1 bn during the January-March period a year ago.
Total income rose 45.1% to Rs 25.7 bn against Rs 17.7 bn in the same period of the previous fiscal.
Total expenses stood at Rs 22.4 bn in the fourth quarter of 2021, up 35.3% from Rs 16.5 bn in the same quarter a year ago.
Financial performance for the year 2021
For the full fiscal 2020-21, Uflex reported a two-fold rise in consolidated net profit after taxes at Rs 8.4 bn, up 128%. It had posted a net profit of Rs 3.7 bn in the previous year.
Revenue from operations was at Rs 89.1 bn in the financial year 2021, up 20% from Rs 74.3 bn in the last year.
Earnings before interest, tax, depreciation, and amortisation (EBITDA) improved by 64.8% year-on-year (YoY) to Rs 18.3 bn.
Key Financial Indicators
| Particulars (Rs in bn) | Q4FY21 | Q4FY20 | Growth | FY21 | FY20 | Growth |
| --- | --- | --- | --- | --- | --- | --- |
| Total Income | 25.7 | 17.7 | 45% | 89.1 | 74.3 | 20% |
| PBT | 3.4 | 1.2 | 183% | 11.4 | 4.8 | 138% |
| PAT | 2.6 | 1 | 160% | 8.4 | 3.7 | 128% |
Data Source: Company's Quarterly Report
Speaking on the results, Rajesh Bhatia, CFO at UFlex said,
Although the quarter witnessed steep increase in raw materials prices coupled with availability issues, we managed to deliver a strong performance to wrap up the year.

Our EBIDTA margins for the quarter four of 2021 improved to 20.1% vs 15.6% for the same quarter last fiscal.

We will be doubling our capacity in aseptic packaging and commissioning more packaging films lines in the fiscal 2022 in line with our earlier announced capacity expansion.

Continuing with expansion of our packaging film capacities, we commissioned a brownfield BOPP film line in Egypt with a capacity of 42,000 TPA.
He further added, 'In FY22, I expect higher volumes from our newly set-up capacities and shall strive to maintain EBITDA margins of 20%'.
Dividend
The board of directors has recommended a dividend of Rs 2.5 per share that is 25% of face value of Rs 10 per share for the financial year ended March 2021, on the paid up equity shares of the company.
Reasons behind strong performance
With packaging taking the center stage in pandemic affected last year, Uflex rose above the challenges to post exemplary performance in the financial year 2021.
The company witnessed a rise in demand for packaging materials and ancillary businesses while also adding newer clients.
This is evident by the rise in total production volume by 33.7% YoY in the March quarter that stood at 1.3 lakh metric tonnes (MT) whereas total sales volume for the quarter clocked in at 1.4 lakh MT, an increase of 43.5% YoY.
For the full year 2020-21, total production volume stood at 4.6 lakh MT and total sales volume was 4.6 lakh MT, growth of 21% and 21.5% respectively on a YoY basis.
The company also commissioned three projects, a BOPET film line in Russia and Poland each, and a BOPP film line in Egypt, thus gaining a wider reach globally.
An overview on packaging industry in India
The packaging Industry in India is expected to register a compound annual growth rate (CAGR) of approximately 26.7% during the period (2021-2026).
As the packaging Industry in India grows, this sector is becoming very interesting for investors and producers.
Subsequently, the largest part of the industry still is rigid packaging with laminate.
However, flexible packaging is on the growth path. Consequently, the sector is inter-related with other industries, such as food processing or pharmaceuticals.
Therefore, their growth impacts the packaging industry as well.
Either way, it has also helped pro-longing the shelf life of many products. In fact, this validates the increasing demand for packaged consumer goods.
Besides, there is an increasing trend of using eco-friendly or recyclable materials in packaging.
Conversely, the comparatively low manufacturing costs opens opportunities to foreign companies and technology.
Further, owing to the rising population, increasing income levels, changing lifestyles, increased media penetration through the internet, television, and growing economy, the demand for packaging is growing.
Moreover, it is one of the strongest growing sectors in the country. According to Care Ratings, more than 49% of the paper produced in the country is used for packaging purposes.
How the stock markets reacted to Uflex March quarter numbers today
Shares of Uflex opened the day at Rs 510 on the BSE and Rs 512.2 on the NSE.
At the time of writing, the company's shares were trading up by 17% on the BSE.
At its current price, it is trading at a P/E of 5.9.
The share touched its 52-week high of Rs 572.9 and 52-week low of Rs 205.1 on 30 June 2021 and 26 June 2020, respectively.
Over the last 30 days, the Uflex share price is up 28%. Over the last one year, the company's share price is up 163.4%.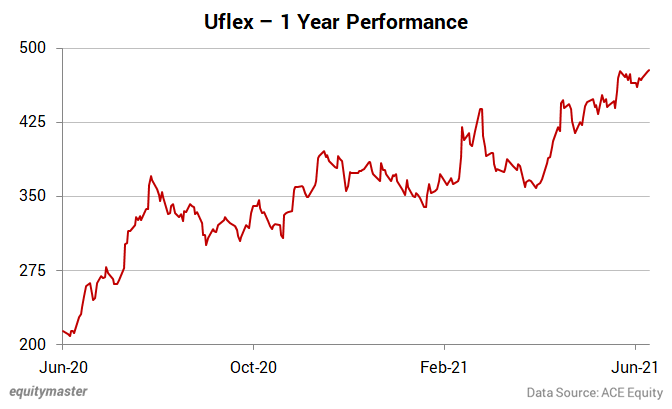 About Uflex
Uflex is India's largest multinational flexible packaging materials and solution company. It's a leading global player in Polymer Sciences.
Since its inception in 1985, Uflex has grown from strength to strength to evolve as a truly Indian multinational with consumers spread across the world.
Uflex today has state of-the-art packaging facilities at multiple locations in India with installed capacity of around 1.4 lakh tonnes per annum (TPA) and has packaging film manufacturing facilities in India, UAE, Mexico Egypt, Poland, Russia, and USA with a cumulative capacity of 4.2 lakh TPA.
Integrated within its core business profile are allied businesses like aseptic liquid packaging, engineering, cylinders, holography and chemicals which further gives Uflex an edge over competition.
Uflex offers technologically superior packaging solutions for a wide variety of products such as snack foods, confectionery, sugar, rice, other cereals, beverages, tea & coffee, dessert mixes, noodles, wheat flour, soaps, detergents, shampoos, conditioners, vegetable oil, spices, marinades & pastes, dairy products, frozen food, poultry, anti-fog, pet food, pharmaceuticals, garden fertilisers, plant nutrients, etc.
For more details about the company, you can have a look at Uflex factsheet and quarterly results on our website.
You can also compare Uflex with its peers.
To know what's moving the Indian stock markets today, check out the most recent share market updates here.
Disclaimer: This article is for information purposes only. It is not a stock recommendation and should not be treated as such. Learn more about our recommendation services here...