Why HDFC Life Insurance Share Price is Falling
Jun 30, 2022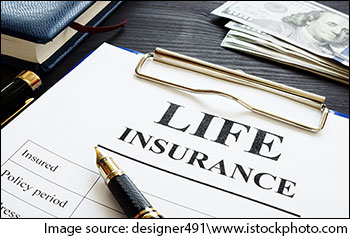 As kids, most of us wished to be a part of something historic, something big! And this wish was granted. We were a part of the great pandemic!
I guess we realised being a part of history is not always about glory.
The pandemic hit the whole world in the worst ways possible. But it did bring good news for the share markets as the economy reopened and recovered.
In late 2020 and 2021, due to the pandemic and resultant lockdown, a lot of money went into the share markets. New demat accounts surged and as a result, indices were soaring high.
However, there were a few exceptions to this rise of 2021. Businesses like life insurance took the worst hit.
Due to the high mortality rates of Covid-19, all life insurers had to pay an unexpectedly high premium. Thus, the whole insurance sector was shaken up.
In 2022, the situation should have changed. Low mortality rates and decreasing Covid-19 cases should have changed the situation.
But in recent times, all private insurance companies have taken a huge fall. HDFC Life Insurance fell 11% in the last month.
HDFC Life Insurance is a big player in its field and is bleeding.
Read on to find out why the insurance company's shares are falling...
Why is HDFC Life Insurance Share Price Falling?
#1 Business slowing down
Take an economy, boil it in a pot of a dreadful pandemic, add a long lockdown, also add a few geopolitical tensions, cover it with inflation. Once it is cooked, garnish it with rising interest rates. That is the perfect recipe for an economic slowdown.
When faced with inflation, individuals have a difficult time because all commodity prices rise. Hence, their focus is to save enough money for their primary necessities at this time.
Thus, insurance is seen as a secondary need. People avoid spending on insurance. It has no guaranteed returns. Hence people are reluctant to spend on insurance.
This has impacted the business of HDFC Life Insurance. It has seen a decrease in the growth of new premium.
HDFC Life - New Business Premium Growth
| Particulars | For the year ended March 31 2021 ( in %) | For the year ended March 31 2020 (in %) | Increase/Decrease |
| --- | --- | --- | --- |
| Participating life - Individual & group | 107.47 | 32.91 | 74.56 |
| Participating pension - Individual & group | -85.93 | -68.27 | -17.66 |
| Non participating life - Individual & group | -0.80 | 43.06 | -43.86 |
| Non participating pension - Individual & group | 204.89 | 11.55 | 193.34 |
| Non participating - Life group variable | -45.28 | -14.32 | -30.96 |
| Non participating - Pension group variable | 5.46 | 65.90 | -60.44 |
| Non participating fund - Individual & Group Annuity | 45.8 | 3.92 | 41.88 |
| Non participating fund - Individual & Group Health | -75.59 | 43.43 | -119.02 |
| Unit linked fund - Individual life | -3.14 | 38.38 | -41.52 |
| Unit linked fund - Individual Pension | -6.62 | 45.61 | -52.23 |
| Unit linked fund - Group Life | -0.84 | 51.65 | -52.49 |
| Unit linked fund - Group Pension | 0.78 | 2.48 | -1.70 |
Data source: Annual Reports
#2 FII selling
Interest rates are rising in developed markets like the USA. This makes the emerging markets less attractive for FIIs because the risk-free rate of return reduces.
Hence FIIs sell their holdings in companies operating in emerging markets like India to return to the safety of dollars. FIIs have sold Rs 2.1 tn worth equities in India so far in 2022.
FIIs are booking profits in this period hence, they have also been selling the shares of HDFC Life Insurance.
However, the stake sale in HDFC Life has been recent. FII sold its stake in March 2022. From 30.45% their stake has been reduced to 26.31%.
After increasing exposure for five consecutive quarters, they sold a huge stake in March 2022 quarter. They may have even sold in the ongoing quarter, numbers for which shall be out in a few days.
At a time when FIIs are looking for returns in any kind of market, they'll sell whatever they can, even their favourite stocks.
For more details, check out HDFC Life Insurance's latest shareholding pattern.
#3 Moving in tandem with Mr Market
Investors will talk about 2022 as the year of volatility.
It is safe to say that no matter how strong or big a company, they have all been knocked out clean by the punch of the global slowdown.
HDFC Life Insurance is not an exception to this, and it has moved with the market movements.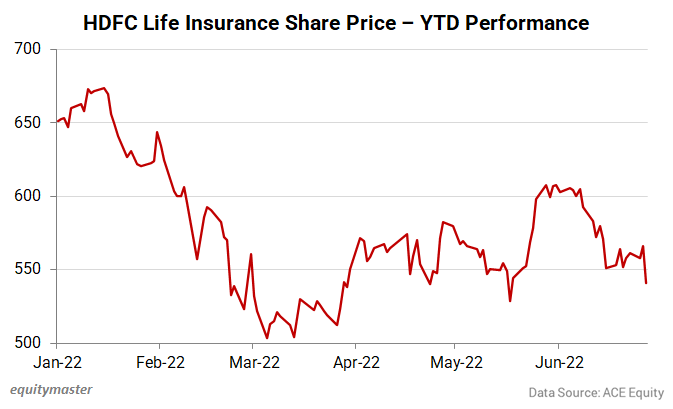 Why the fall looks like a temporary blip...
We reached out to Tanushree Banerjee, Co-head of Research at Equitymaster and editor of StockSelect, for what she has to say with regards to the current situation for insurance stocks.
According to Tanushree, the fall in HDFC life Insurance may be a temporary blip.
The stocks of private sector insurance companies including HDFC Life Insurance have corrected sharply in recent months owing to a slowdown in new business premium.

However, the trend is temporary. Also, given their large float the insurance companies are well placed to benefit from rising interest rates.

The hypothesis of large private life insurers like HDFC Life cannibalising into LIC's market share is playing out well and will continue to do so in the coming years.

For HDFC Life, the additional catalyst is the HDFC-HDFC Bank merger. Powered by its strong brand and distribution network (especially bancassurance reach), HDFC Life can execute its strategy very well by being agile and innovative.
Hence, it looks like HDFC Life Insurance share price will recover as Indian share markets recover.
To know more about the company, you can visit its factsheet and quarterly results.
You can also compare HDFC Life Insurance with its peers.
HDFC Life Insurance vs SBI Life Insurance
HDFC Life Insurance vs Life Insurance Corporation of India
Happy Investing!
Disclaimer: This article is for information purposes only. It is not a stock recommendation and should not be treated as such. Learn more about our recommendation services here...