Why Reliance Share Price is Falling
Jul 25, 2022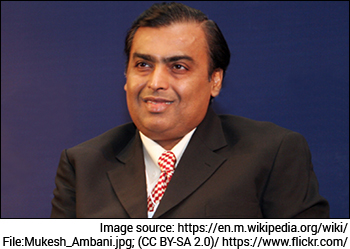 Editor's note: The top company in India by marketcap Reliance Industries fell over 3.5% in intraday trade today after it posted Q1 results last week.
A 46% jump in net profit failed to enthuse investors as Reliance missed estimates.
Analysts were expecting the Mukesh Ambani led company to post bumper profits in the growth range of 90-100% because it captured the biggest discount available on Russian crude oil and exported all fuel when margins peaked.
While today's fall may be attributed to the quarterly results, there are other reasons too why Reliance Industries share price has come under pressure of late.
Earlier this month on 1 July, we wrote about those reasons and explained why Reliance was falling.
Since then, a lot has happened in the space. Continue reading this updated article to know more...
Why Reliance Share Price is Falling...
Reliance Industries share price fell over 8% intraday on 1 July 2022. To everyone's surprise, Indian share markets ended on a flat note.
A fall of more than 8% in India's most valuable company should have sent the stock markets deep in the red, right?
After all, the stock alone contributed to more than 550 points down-side for the BSE Sensex.
BSE Sensex - Index Contribution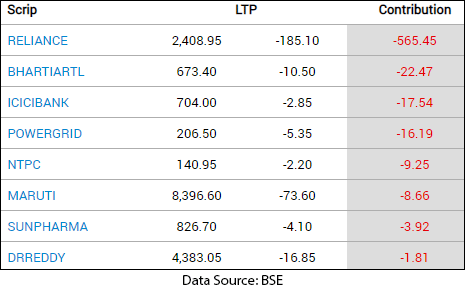 Well, other index heavyweight stocks ITC, Bajaj twins, Asian Paints and HUL came to the rescue and helped the markets managed a flat close.
Coming back to why Reliance Industries share price took such a big hit ...
What suddenly change that sent the stock tumbling? Did any foreign investor sell a huge stake or was there some policy change?
Read on to know more...
Why is Reliance under pressure?
#1 Windfall Tax
Shares of Mukesh Ambani led Reliance Industries plunged over 8% earlier this month after the government imposed taxes on export of petrol, diesel and the fuel used in airlines (ATF) shipped overseas by Indian companies.
The centre levied a tax of Rs 6 per litre on exports of petrol and ATF and Rs 13 per litre on exports of diesel.
Apart from this, the government also announced taxes on windfall gains made by crude oil producers. The government imposed an additional cess of Rs 23,230 per barrel on domestic crude production.
But why did the government do all of this? And why now?
The above measures are taken to meet the demand of the domestic market.
Domestic gasoline supplies at gas stations have run out in states like Gujarat, Madhya Pradesh, and Rajasthan as oil refining companies preferred to sell fuel abroad.
After Russia invaded Ukraine, oil refiners made a killing by shipping fuel to Europe and US.
Now, the government's move will reduce Reliance Industries' profits as nearly 40% of Reliance's business comes from the oil refining business.
Not just Reliance, this will affect other companies like ONGC too. These oil refinery companies profited big time from higher crude oil prices. No wonder ONGC posted record margins.
Companies benefitting from the rising crude oil prices will see some effect in their profits now as the government took away windfall gains.
Update: After announcing windfall taxes earlier this month, the government recently decided to bring down the taxes.
Last week, the centre reduced the windfall tax on domestically produced crude to Rs 17,000 a tonne and also cut the levy on exports on diesel by Rs 2 and aviation-fuel exports would be cut by Rs 2 a litre.
It also exempted special additional excise duty levied on exports when done from the special economic zone.
Owing to this, shares of Reliance and other oil & gas companies including ONGC, Chennai Petroleum rallied.
Read our editorial on how the windfall tax cut benefits Indian oil & gas companies.
#2 Quarterly results
Last week, Reliance reported a 46% year-on-year (YoY) jump in its net profit to Rs 179.6 bn as compared to Rs 122.7 bn reported last year.
This jump was due to solid earnings from oil refining segment as well as an uptick in telecom and retail businesses.
The company's revenues also showed solid growth of 54.5% to Rs 2,231.1 bn.
So if the results were good, why did shares fall?
It appears the street was expecting Reliance to post even better results.
Analysts were expecting Reliance to post bumper profits in the growth range of 90-100% because it captured the biggest discount available on Russian crude and exported all fuel when margins peaked.
How Reliance Industries has performed recently
Reliance Industries share price fell over 8% to hit a low of Rs 2,365 on 1 July 2022. It settled 7% lower at Rs 2,406.
This fall marked Reliance's biggest decline in about 18 months.
Reliance has a 52-week high quote of Rs 2,855 touched on 29 April this year while it has a 52-week low of Rs 2,016 touched last year in July.
Reliance erased all of its 2022 gains and is now left at the levels it was trading at the start of the year.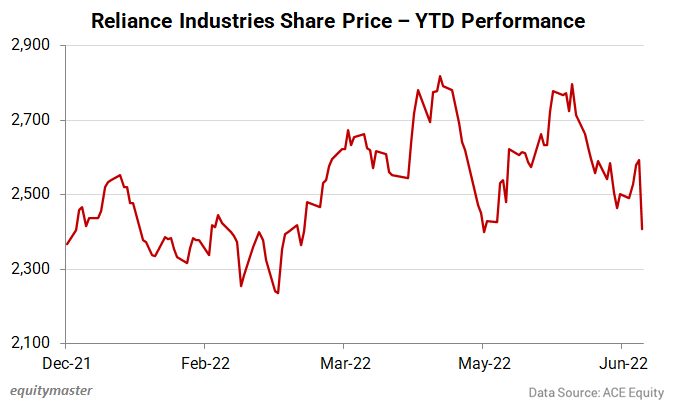 To know more, check out Reliance news and analysis and its latest shareholding pattern.
Also read out editorial on whether the recent dip in Reliance industries presents a buying opportunity is or not.
About Reliance Industries
Reliance Industries is a Fortune 500 company and the largest private sector corporation in India. It has evolved from being a textiles and polyester company to an integrated player across energy, materials, retail, entertainment and digital services.
Reliance's products and services portfolio touches almost all Indians on a daily basis, across economic and social spectrums.
To know more, check out Reliance Industries financial factsheet and its latest quarterly results.
You can also compare Reliance with its peers:
Disclaimer: This article is for information purposes only. It is not a stock recommendation and should not be treated as such. Learn more about our recommendation services here...