3 Cryptos that Rose Over 50% in June 2021
Jul 1, 2021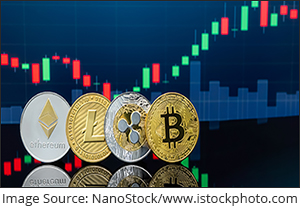 After beginning the week on a bearish note which saw bitcoin trade as low as US$29,000, the crypto market has stabilised with major altcoins trading in green.
And it's no surprise that bitcoin is leading the pack.
Of course, other cryptos followed suit. Ethereum, Dogecoin, Binance Coin, XRP, and Uniswap, among others, rose 6-10%.
At the time of writing, bitcoin was trading at US$34,000 levels. Bitcoin is up nearly 30% from the year's low of US$27,734 hit on 4 January 2021.
While crypto markets have been stabilising over the past three days, altcoins can face considerable risk at the moment.
Following China's crypto crackdown, UK's Financial Conduct Authority (FCA) has started a fresh crackdown.
Britain's FCA has ordered the largest cryptocurrency exchange by trading volume, Binance, to stop undertaking any regulated activity in the country.
The reason behind this? The firm lacked authorisation.
That's not all. Mexican financial authorities have also issued warnings.
Now this was supposed to create panic as shutting down of the biggest crypto exchange is no small thing.
However, the opposite happened.
Since the Binance shutdown news, bitcoin has gained significantly, rising as high as US$35,400.
Two weeks ago, we wrote to you about the hot topic 'Bitcoin vs Gold' and how bitcoin has been called 'digital gold' of late.
--- Advertisement ---
3 Hidden Forces are Converging for the First Time Ever...

This convergence is going to unleash a once-in-a-generation wealth boom.

A wealth boom that could potentially mint countless new dollar millionaires as the stocks at the heart of this event return thousands of percent over the long term.

It's a story of ground-breaking consequences that cannot be ignored.

Our co-head of research, Tanushree Banerjee, is going to reveal all about this historic event on the evening of September 24.

Tanushree believes, those who invest in the companies at the heart of this event could turn a small stake into generational wealth.

Just head to this page to get more details about this historic event...
------------------------------
Now, there's enough evidence for that.
An article in The Economic Times stated that crypto investments in India grew from about US$200 m to nearly US$40 bn in the past year.
Even as RBI outlines risk towards crypto assets and the Indian government proposes a trading ban, Indians continued to pour money into crypto asset class.
On the bitcoin vs gold debate, co-head of Research at Equitymaster, Rahul Shah says, at the end of the day, be it gold or bitcoin, it's all a game of perception.
'If enough people believe Bitcoin is safe and a good store of value, it can really hold its own against gold.'
With that, let's move on to the top gainers and losers in crypto markets for the month of June.
Note that we have considered the top 100 coins by marketcap for the categorisation.
#1 Quant
Quant's (QNT) price defied the bearish market trend by rallying as much as 60% after a successful listing on Coinbase.
Quant is an interoperability-focused project, designed to help enterprises integrate and operate distributed ledger technology (DLT).
The Quant platform was launched in 2018 to bridge the gap between blockchains so that they can interoperate efficiently on a global scale.
Quant also connects applications to other applications within the same blockchain, such as Ethereum.
--- Advertisement ---
SPECIAL REPORT REVEALS: Real Estate Success Secrets of India's Most Respected Traders...

• A Secret 33-Year-Old Pattern That Has Just Remerged to Practically Guarantee a Massive Bull Run in Real Estate Over the Coming Years!

• The #1 Trend You Need to Know Before Investing in Real Estate This Year (Even if You Deal with Traditional Real Estate Investing and Have Nothing to Do with Stocks, this is a MUST KNOW)

• INVESTING IN COMA: Why People Who Invested in Real Estate Before 2019 Didn't Make Any Money (and Why Now is The Right Time to Get Started)

Here's How to Grab a FREE COPY Today
------------------------------
Its price dipped to US$44 on 22 June as the entire crypto market faced a sell-off. Later on, the price surged more than 125% to establish a new record high at US$99.11 on 25 June.
Endorsements from well-established tech companies also supported the coin's price.
Cloud infrastructure provider Oracle and professional services network Deloitte included the project in its nominations for the most disruptive fintech award for 2021.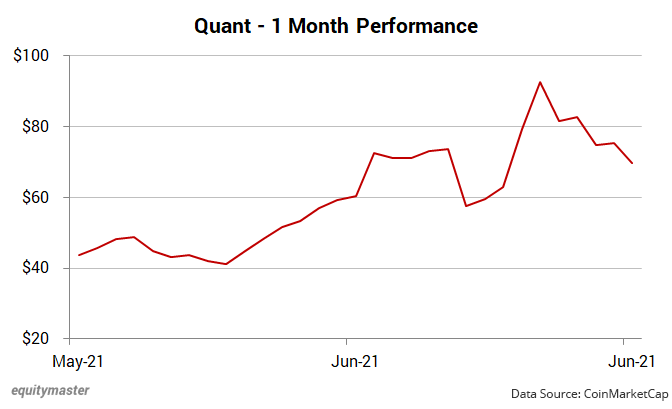 #2 AMP
On the second place among the top 100 cryptos, we have AMP. In the month on June, AMP gained 50%.
Just like Quant, AMP too gained traction this month following its listing on Coinbase. Every day, a new crypto is in focus and this time, it's AMP.
Of late, this crypto has become a major topic on social media, whether it's Twitter, Reddit, or Discord.
So what is AMP and what does it do?
AMP is a collateral token on the Ethereum blockchain, built on Ethereum and is used to collateralise payments on the Flexa network.
This means it can be used to cover any financial transactions that go wrong if the need arises.
AMP has partnered with several major services, such as Flexa, CoinGekco, Gemini, Sushi, and Uniswap.
There is a fixed value of AMP in circulation.
REVEALED: Details of 3 "Super Smallcap" Stocks Nobody Tells You About...
#3 Waves
Waves gained as much as 17% for the month of June.
Waves is an all-encompassing gateway blockchain protocol that builds future technology. It enables users to create and launch custom-made crypto tokens.
Founded in 2016 by Ukrainian scientist Alexander Ivanov, Waves aims to improve blockchain platforms by increasing transaction speed, utility, and user-friendliness.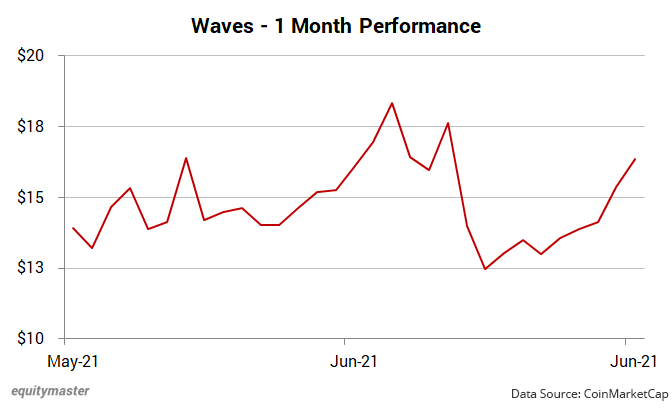 Other coins that gained the most in June 2021
Apart from the above three, here are other coins from the top 100 list which were the top gainers in the month of June.
| Name | Price (US$) | 1 Month % Change |
| --- | --- | --- |
| XinFin Network | 0.08 | 38% |
| Theta Fuel | 0.4 | 16% |
| Solana | 34.44 | 8% |
| UNUS SED LEO | 2.49 | 4% |
Data Source: CoinMarketCap
Top losers dominate the list
An important point one must note is that there were many losers this month with heavy losses.
The top 10 losers from the top 100 coins by market cap lost in the range of 35-60%.
That's huge.
Top Losers in June 2021
| Name | Price (US$) | 1 Month % Change |
| --- | --- | --- |
| Internet Computer | 47.58 | -58% |
| THORChain | 6.38 | -48% |
| Kusama | 202.33 | -45% |
| Synthetic | 7.14 | -45% |
| Polygon | 1.12 | -42% |
| Horizen | 64.44 | -40% |
| Qtum | 7.27 | -40% |
| Chainlink | 18.76 | -40% |
| NEAR Protocol | 1.99 | -39% |
| EOS | 4.08 | -37% |
Data Source: CoinMarketCap
Equitymaster's technical view on bitcoin
We reached out to Brijesh Bhatia, Research Analyst at Equitymaster, and Editor of the premium monthly recommendation service Fast Profits Report, for his technical view on bitcoin.
Here's what he has to say...
'Crypto trading is like visiting an amusement park with ride so fascinating and the biggest ride you see from far away excites to you visit the park, but at the same time you are afraid to enjoy the ride.

It all started with Bitcoin which you saw from far away and now when you entered the park, you got some exciting smaller and fun rides but by the time you reached the biggest ride (Bitcoin), you experienced the waggish people (sell-off).

I must say, don't be afraid as it's the time for you to enjoy the best ride.
Is this new asset class exciting & rewarding?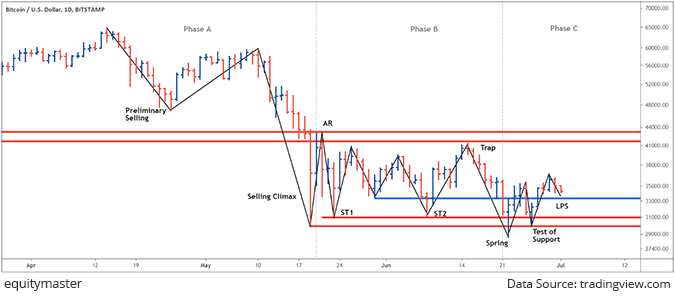 Bitcoin has formed the major bottoming structure as per Wyckoff Theory.

It has formed Spring or Shakeout at US$28,600 which means the weak hands are thrown out and the new rally is unfolding.

We are entering Phase C of theory where prices are expected to go higher.

As per the theory, pattern negates if the level of spring is taken out.

With the exciting rides and reward as fun, the risk is also involved so does with crypto trading.'
Equitymaster's Take on Cryptos
We don't get cryptos. Honest.
It's something that has caught our imagination but we just can't figure out a way to value it. Fundamentally speaking.
Chartists like our very own Brijesh, study prices and suggest various levels. That makes sense to us.
Having said that, our 'fundamental' take on cryptos is simple...
It's in line with the approach anyone should have when dabbling in a space one does not understand.
Invest only what you can afford to lose. Nothing more.
Happy Investing!
Disclaimer: This article is for information purposes only. It is not a stock recommendation and should not be treated as such. Learn more about our recommendation services here...